Alewife

American Nouveau $5-$25

5-14 51st Ave.




Queens

,

NY

11101

Neighborhood:

Long Island City

Phone: 718-937-7494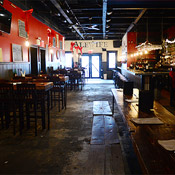 5
The 200-person space has two floors and a back patio and, should you wind up lingering over one of the 29 draught pours, or the hard-to-find High & Mighty Beer of the Gods, or De Ranke XX Bitter, there's an ambitious food menu to accompany. Chef Gregorio Pedroda is in the kitchen turning out a hops-friendly, seasonally changing menu.
http://alewifequeens.wordpress.com/
Hours

Mon-Fri, 4:30pm-2am Sat-Sun, noon-3am

Prices

$5-$25

Payment

American Express MasterCard Visa

Special Features

Singles Scene Bar Scene Dine at the Bar Reservations Not Required Late-Night Dining

Alcohol

Full Bar

Reservations

Not Accepted
Menus provided by Menupages
small plates

chicken wings

choice of buffalo, chipotle bbq, garlic parmesan. tell us if you want them mild or hot

10.00

mac n cheese

applewood smoked cheddar, lemon salt, cornbread crumbles

12.00

irish nachos

smoked cheddar, pickled jalapenos, sour cream, pico de gallo, guacamole

11.00

sigmunds pretzels

regular, garlic parsley, truffle cheddar served w/ pub cheese, whole grain mustard

13.00

mussels

apricot nectar, hard cider, dijon cream, soft herbs

11.00

baby back ribs

chipotle bbq, roasted corn, cabbage slaw

14.00

salads

winter greens

pommegranates, pinenuts, fennel tops, shaved root vegetables, parmesan, truffle vinaigrette

11.00

duck proscuitto salad

mission figs, roasted sweet potato, mint, roquefort, toasted cumin vinaigrette

12.00

bar snacks

market oysters. ask our servers for catch of the day

bar snacks $5

marinated olives

rosemary

truffle or garlic shoestrings

pickled vegetables

ginger-coffee beef jerky

rosemary spiced nuts

between the bun

blt

nueske bacon, mizuna, roasted tomato, egg salad

12.00

alewife burger

mizuna, roasted tomato, dill relish, grilled onions, irish cheddar, garlic spread

14.00

pulled pork sandwich

chipotle bbq sauce, roasted corn, cabbage slaw

13.00

fried chicken sandwaich

pickled jalapenos, tomato jam, blue cheese dressing

12.00

bratwuerst sandwich

roasted peppers and onion, sauerkraut, whole grain mustard

9.00

desserts

please ask servers for our nightly specials

10.00
brunch
11am-4pm: saturday & sundays only
all you can drink plus one entree 12-3pm

bloody mary, mimosa, drafts, house mixes, wines on draft

30.00

yogurt and granola

sheep's milk yogurt, housemade granola

7.00

winter greens salad

pommegranates, shaved root vegetable, sunflower seeds, parmesean, truffel vinaigrette

11.00

mussels

hard cider, apricot nectar, dijon cream, soft herbs, spices

12.00

chicken wings

choice of buffalo, chipotle bbq, garlic parmesan

10.00

breakfast burger

bacon, sauteed spinach, onions, mushrooms, fried egg, irish cheddar, tomato jam, garlic spread

15.00

mac n cheese

applewood smoked cheddar, lemon salt, thyme, cornbread crumbles

11.00

belt

thick cut bacon, mizuna, roasted tomato, fried egg

12.00

smoked cheddar scrambled

turkey leg confit, hen of the woods, shallots, braised cranberries, soft herbs

10.00

pork n grits

bbq pulled pork, corn grits, fried egg

12.00

biscuits n gravy

fried chicken, buttermilk biscuits, gravy, fried egg, market greens

12.00

french toast

rum creme fraiche, banana compte, spiced nuts

10.00

pancakes

braised berries, salted whipped cream

10.00

sides

bacon

4.00

home fries

with gravy

toast

2.00

beverages $3

harvey & sons tea

classic specialty blends

earl grey supreme

decaffeinated ceylon

paris

hot cinnamon

mint vebena

chamomile

coffee

juices

orange, pineapple, grapefruit, cranberry

johnnie ryan sodas

cola, diet cola, root beer, orange, black cherry, ginger ale

4.00
5 courses & 5 beers
chef nicholas nostadt will be doing an all pork dinner a nose to toes if you will dinner inspired by matt's own mantra local food, local beer, bacon!
smoke and spice salad

frisee, pea tendrils, mache, pink grapefruit, pepitas, candied speck, purple sisho, danish blue cheese, smoked poblano vinaigrette

"fish and chips"

prawn skewers, pickled watermelon rind, fried pig ears

milk braised pork cheeks

soubise, wild mushrooms, sage vinaigrette

"bacon and eggs"

egg yolk ravioli, pork butt bolognese

banana nut bread

jalapeno jam, whipped maple-pork butter

the beers

cask big black voodoo daddy

this is our imperial stout that we age in conditioning tanks with oak staves. this adds a classic character of old world aging with out the bourbon tones. this black ale is about 12% alc. and very rich in roasted and chocolate malt tones. velvety smooth and able to be aged for years

cask 4 season's ipa

4 seasons ipa is a series that we are starting. we feel that one ipa is not enough, so we are doing four. each season there will be a different style and flavor profile. 4 seasons will evolve, as do the seasons, from earthy and malty to citrusy and crisp. we will select the hop and malt profile to fit what we like when we like it, this way we can keep drinking ipa and not get bored with only one. in pennsylvania we have 4 seasons and suns, now we can enjoy them even more

pilzilla

a voodooized blend of czech, german, and polish pilsners as it is higher in alcohol and much hopper than is typical for the style. brewed with a blend of 8 different european hop varieties, pilzilla is crisp and refreshing

wynona's big brown ale

well, i love the song, the band and that darn beaver. it made me want to make a beer in it's honor. generous amounts of brown malt and marris otter malt make you want to love this ale. we hop this ale with simcoe, amarillo and northern brewer to enhance the flavor and the aroma of wynona for your enjoyment! so get down with the brown

gran met

gran met (grand master) is a flash of delicate flavors. this holy grail of belgian styles is on for the connoisseur of craft beer. we at voodoo use a special technique of adding the beet sugar to the ale as it is fermenting to soften the alcohol flavor production. this helps in the delicate nature of this ale. we also use traditional brewing for the unique profile. we hop you feel that we are doing our best to honor this wonderful heritage

draught beer

oatmeal stout

(16oz) founders brewing, mi, sweet stout nitro

8.00

gl

cream ale

(16oz) empire brewing, ny, cream ale nitro

7.00

gl

pikeland pils

(16oz) sly fox brewery, pa, pilsner

special double cream ale

(16oz) bell's brewery, mi, american stout

7.00

gl

kalamazoo stout

(17oz) bell's brewery, mi, american stout

7.00

gl

runaway ferry

(14oz) port jeff brewing, ny, dipa

rubaeus

(14oz) founders brewing, mi, fruit beer w/ raspberry

8.00

gl

drink'in in the sun

(14oz) mikkeller aps, den, pale wheat ale

porter

(16oz) bell's brewery, mi, american porter

7.00

gl

gran met

(14oz) voodoo brewing, pa, tripel

9.00

gl

wynona's bog brown ale

(16oz) voodoo brewing, pa, american brown ale

java stout

(14oz) bell's brewery, mi, coffee stout

7.00

gl

cherry stout

(16oz) bell's brewery, mi, stout

7.00

gl

backstage series #9 smoked porter

(14oz) founders brewing, mi, smoked porter

8.00

gl

bronx black ale

(16oz) bronx brewing, ny, black pale ale

freshchester

(16oz) captain lawrence, ny, american pale ale

matt's burning rosids

(12oz) stone brewing co, ca, imperial cherry wood smoked saison

8.00

gl

money ipa

(16oz) barrier brewing, ny, american ipa

scurry

(14oz) off color brewing, il, altbier

8.00

gl

backstage series #8 sweet repute

(8oz) backstage series #9 smoked porter, mi, barleywine

10.00

gl

grand cru

(12oz) rodenbach, bel, sour / wild ale

9.00

gl

curmudgeon

(12oz) backstage series #8 sweet repute, mi, old ale

8.00

gl

peeper ale

(14oz) maine brewing, me, american pale ale

pilzilla

(14oz) voodoo brewing, pa, keller bier

expedition stout

(12oz) bell's brewery, mi, russian imperial stout

9.00

gl

space cowboy

(14oz) oxbow brewery, me, saison

8.00

gl

imperial stout

(12oz) backstage series #8 sweet repute, mi, imperial stout

9.00

gl

third coast

(12oz) bell's brewery, mi, barleywine

10.00

gl

oil city with columbus & cascade

(16oz) barrier brewing, ny, black ipa

8.00

gl

big black voodoo daddy

(8oz) voodoo brewing, pa, imperial stout

7.00

gl

4 seasons ipa

(14oz) voodoo brewing, pa, american ipa

8.00

gl

bottles beer

extra bruin

achel, bel, quad

29.00

(25oz)

speedway stout

alesmith, ca, put your seatbelt on a be ready for a ride

35.00

(25.4oz)

dubbel

allagash brewing, me, dubbel

8.00

(11oz)

odyssey

allagash brewing, me, belgian strong ale

45.00

(25oz)

merveilleaux

allagash brewing, me, sour w/ bourbon & wine barrels

32.00

(22oz)

the oak melchior

alvinne, bel, ale w/ mustard seeds

45.00

(25oz)

wild west

alvinne / stillwater, bel, golden blonde aged in bordeaux barrels

25.00

(22oz)

galaxy

anchorage brewing, ak, white ipa

38.00

(25oz)

kaiser

avery brewing, co, imperial pumpkin

14.00

(22oz)

bruin

bink, bel, belgian brown

10.00

(12oz)

silver anniversary lager

brooklyn brewery, ny, doppelbock

35.00

wostynje

brouwerij smisje, bel, torhouts mustard ale

12.00

(11oz)

st. gilloise

cantillon, bel, gueuze

45.00

(25oz)

original

crispin, mn, hard apple cider

7.00

(12oz)

st. bretta

crooked stave, co, witbier w/ brett

16.00

(12.7oz)

surette

crooked stave, co, barrel aged saison

16.00

(12.7oz)

vielle

crooked stave, co, dry hopped saison w/ brett

16.00

(12.7oz)

origins

crooked stave, co, burgundy sour ale aged in oak

30.00

(13oz)

biere darbyste

de blaugies, bel, saison made with fig juice

27.00

(25oz)

la moneuse

de blaugies, bel, saison special winter ale

32.00

(25.4oz)

saison d'epeautre

de blaugies, bel, saison using barley and spelt

32.00

(25.4oz)

vermontoise

de blaugies / hill farmstead, bel, saison w/ spelt & amarillo hops

45.00

(25oz)

kuro oni

de la senne / dieu du ciel, bel, de la senne / dieu du ciel

13.00

(11oz)

saison de dottignies

de ranke, bel, a classic saison

10.00

(11oz)

hop harvest

de ranke, bel, belgian ipa w/ xx bitter hops

38.00

noir de dottignies

de ranke, bel, sweet and bitter stout

10.00

(11oz)

saison de dottignies

de ranke, bel, saison bitter and strong

10.00

(11oz)

xx bitter

de ranke, bel, ale, perfect combination

10.00

(12oz)

61minute

dogfish head, de, ipa w/ syrah

8.00

(12oz)

saison dupont

dupont, bel, true saison

22.00

(25oz)

bozo beer

evil twin, den, imperial stout

28.00

(22oz)

christmas eve at a new york city hotel room

evil twin, den, imperial stout

10.00

(12oz)

imperial biscotti break natale pretty please with cherry on top

evil twin, den, imperial porter

25.00

(16oz)

pissenlit

fantome, bel, saison brewed with dandelions

35.00

(25oz)

session black

full sail, or, schwarzbier

6.00

(11oz)

session lager

full sail, or, pale lager

6.00

(11oz)

kolsch

gaffel, ger, german kolsch

7.00

(12oz)

prize old ale 2003

gales, eng, old ale

13.00

(11oz)

conquest ale masterbrew

gales, eng, old ale

13.00

(12oz)

discovery

greens, uk, gluten free !english strong ale

12.00

(16oz)

quest

greens, uk, gluten free! abbey tripel

12.00

gueze tilquin

gueuzerie tilquin, bel, gueuze

15.00

(12oz)

25.00

(25oz)

oude gueuze

hanssen, bel, gueuze

23.00

(12oz)

oudbeitje lambic

hanssens, bel, lambic ale w/ strawberries

23.00

(12.7oz)

boson de higgs

hopfenstark, bel, saison

34.00

(22oz)

le petite prince farmhouse table beer

jester king, tx, saison

26.00

(15oz)

fuego del otono

jolly pumpkin, mi, brewed w chestnut & spices

18.00

(22oz)

oro de calabaza

jolly pumpkin, mi, golden stron ale aged in oak barrels

30.00

(25oz)

madrugada obscura

jolly pumpkin, mi, belgian stout

18.00

marcaibo especial

jolly pumpkin, mi, belgian strong ale

22.00

(25oz)

la roja

jolly pumpkin, mi, flanders red ale

34.00

(25oz)

weizen bam

jolly pumpkin, mi, farmhouse hefeweizen

22.00

(25oz)

luciergnaga

jolly pumpkin, mi, belgian pale ale grand cru

28.00

la parcela

jolly pumpkin, mi, pumpkin ale

25.00

collaboration time iii

maine / nogne, me, rye saison/pale ale

20.00

mo

maine brewing, me, american pale ale

15.00

2012

maine/allagash/in'finiti, me, american pale ale brewed only once on 10/29/13

20.00

(16oz)

cluster single hop ipa

mikkeller, den, single hop ipa

11.00

(12oz)

galena single hop ipa

mikkeller, den, single hop ipa

11.00

it's alright

mikkeller, den, belgian pale ale

10.00

(12oz)

sorachi ace

mikkeller, den, single hop ipa

14.00

yeast series 2.0 lager

mikkeller, den, pale ale

15.00

(12oz)

yeast series 2.0 american-style

mikkeller, den, pale ale

15.00

(12oz)

wheat is the new hops

mikkeller / grassroots, den, ipa with wheat

14.00

(11oz)

melange a trois

nebraska brewing off menu bottles, na, saison w/ apricots & black pepper

55.00

(25oz)

panil barriquee

panil barriquee, itl, sour/wild ale

55.00

(25oz)

sour in the rye

the bruery, ca, oak aged sour stout

53.00

(25oz)

oude tart

the bruery, ca, sour ale aged in red wine barrels

55.00

(25oz)

tart of darkness

the bruery, ca, stout - sour aged in oak barrel

55.00

(25oz)

la bavaisienne blonde

theillier, fra, biere de garde

32.00

(25oz)

jaipur

thornbridge, eng, india pale ale

14.00

(16oz)

nano kegs beer

brew free or die ipa

21st amendment, ca,

6.00

(12oz)

white rascal

avery, co

6.00

(12oz)

original cider

crispin, mn

6.00

(16oz)

bikin beer

evil twin, den

7.00

(12oz)

old chub

oskar blues, co

6.00

(12oz)

dales pale ale

oskar blues, co

6.00

(12oz)

deviant dale's ipa

oskar blues, co

7.00

(16oz)

the crisp

sixpoint, ny

6.00

(16oz)

bucket o'beer

special, 5 cans of beer

20.00

classique

stillwater, md,

7.00

(12oz)
wines by the glass
the bubbles

de bortoli - day trippers bubbly, nv, australia

fresh, sweet fruit flavours

8.00

louis perdrier - brut excellence, nv, fra

light, crisp, ripe apples and citrus

9.00

the whites

arauco - chardonnay 2012, chile

tropical fruit bouquet, nice acidity

9.00

casas patronales - sauvignon blanc, 2012 chile

fresh, green chilli pepper, grapefruit

9.00

guenoc - culinary chardonnay 2011, ca

apricot, peach, pear, touch of oak

9.00

harlow ridge - chardonnay 2011, ca

nuances of apple, vanilla and hint of butter

10.00

p.j. valckenberg - madonna, kabinett, 2011, ger

light, delicate sweetness, floral,

10.00

proud country cellar - sauvingnon blanc ny

crispy fruitfulness with a lemon twist

8.00

san osvaldo rocca rossa - pinot grigio 2011

apple, pear and citrus

8.00

washington hill - riesling 2011, wa

pineapple, honeysuckle and peach

9.00

the rose

anthony road rose of cabernet franc, 2012, finger lakes

crisp, lively, strawberry finish

9.00

penascal estate - tempranillo rose 2010, spn

fresh and fruity, red berry

9.00

proud country cellers white zinfandel ny

semi dry light pink, fruity aroma

8.00

the reds

25 lagunas - malbec 2012, san juan, argentina

raspberries, prunes, soft tannins

9.00

augey - red bordeaux fra 2010

blackcurrant, plum, spice, velvety texture

9.00

canaletto - pinot noir, pavia, itl, 2011, igt

cherry bouquet, ripe fruits, raspberry

9.00

domaine bousquet - merlot 2012, argentina

ripe cherry & blueberry, soft velvety tannins

10.00

nugan state third generation - shiraz 2011, australia

ripe berry fruit, spice, black pepper

9.00

san osvaldo rocca rossa - cabernet savingnon, doc

wild blackberry, ripe cherry

8.00

wild hare petite sirah, paso robles, ca

berry, pepper, sharp tannins

8.00

desserts

foris - muscat frissante, 2011, or

warm peach, apricots, honey, lemon,

9.00
Menus provided by Menupages