Zeytin

Turkish $16-$24

519 Columbus Ave.




New York

,

NY

10024

Neighborhood:

Upper West Side

Phone: 212-579-1145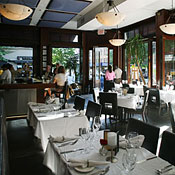 5
This venue is closed. Kemal Binici is Turkish, and finally, after a couple of short-lived French (La Bicyclette) and Italian (Il Fiore) incarnations, so is this Upper West Side restaurant he opened. How can you tell? The mosaic-and-kilim redesign, the assortment of meze, and main dishes ranging from simple kebabs to more elaborate items, like grilled quail wrapped in grape leaves and braised lamb shank encased in eggplant.
http://zeytinny.com/
Prices

$16-$24

Payment

American Express Discover MasterCard Visa

Special Features

Delivery Lunch Take-Out Online Ordering Brunch - Weekend

Alcohol

Full Bar

Reservations

Recommended

Delivery Area

70th St. to 100th St., Central Park West to Riverside Dr.
Menus provided by Menupages
lunch
appetizers

eggplant salad - pathcan salatasi

char-grilled eggplant puree mixed with roasted red pepper, seasoned with extra virgin olive oil and garlic

6.00

haydari - haydari

thick homemade drained yogurt with dill, mint and garlic

6.00

hummus - humus

chickpeas puree and tahini paste seasoned with extra virgin olive oil, garlic and black caraway seeds

6.00

tarama

whipped red caviar with extra virgin olive oil

6.00

fava

mashed fava beans, dressed with olive oil and lemon juice, topped with dill

6.00

pilaki

dry bean cooked with carrots, potatoes, onions and garlic in a delicately flavoured tomato sauce

6.00

stuffed grape laves - zeytinyagh yaprak sarma

extra-thin vine leaves stuffed with rice, pine nuts, black currants and herbs, served with red cabbage, dill and lemon

7.00

artichoke heart - zeytinyagh enginar

fresh artichoke heart topped with broad beans, carrots, cocktail onions, dill, potatoes and extra virgin olive oil

8.00

stuffed baby eggplant - imam bayddi

char-grilled baby eggplant stuffed with sauteed tomatoes and herbs

7.00

mixed appetizer plate - karisik meze tabagi

selection of hummus, tarama, haydari, eggplant salad and stuffed grape leaves

13.00

red lentil soup - kirmuzz mercimek corbast

turkish house tradition, crushed red lentil with onion

5.00

zucchini pancake - mucver

oven baked zucchini and dill pancake served with homemade thick yogurt

6.00

steamed mussels - midye

steamed mussels with garlic, white wine sauce, leeks and fresh tomato

6.00

crispy phyllo cheese rolls - sigara boregi

golden crisp pastry rolls filled with aged gruyere cheese

7.00

falafel platter - falafel

tasty fried balls of spiced chickpeas, served with tahini sauce

7.00

manti - manti

homemade poached lamb dumplings served with garlic-yogurt, butter sauce and sprinkled with dried mint

fried calamari - kalamar tava

crispy calamari rings served with chef's special dipping sauce

7.00

grilled octopus - ahtapot izgara

grilled octopus, served on bed of arugula salad with chopped tomatoes and red onions, dressed in olive oil and balsamic vinegar

9.00

salads

arugula salad - roka salatasi

chopped baby arugula and red onion, topped with aged balsamic vinegar and slivers of parmigiano reggiano

7.00

shepherd salad - coban salatasi

freshly diced tomatoes, cucumbers, onions, green peppers and parsley, drizzled with extra virgin olive oil and lemon

7.00

shrimp salad - karides salatasi

mixed greens and arugula salad topped with grilled shrimp and cherry tomatoes

8.00

mediterranean salad - akdeniz salatasi

romaine lettuce, oil cured black olives, fresh dill, tomatoes, carrots and crumbled feta cheese in lemon vinaigrette

7.00

with grilled chicken

12.00

with grilled steak

14.00

sandwiches & wraps

grilled kasseri cheese & spicy beef sausage sandwich - kasarh ve sucuklu tost

grilled kasseri cheese and spicy beef sausage sandwich, served with field greens

11.00

grilled chicken wrap - izgara tavuk durum

with melted kasseri cheese, lettuce and tomatoes, served with filed greens

13.00

grilled steak wrap - izgara et durum

with caramelized onions and peppers, served with filed greens

15.00

burger & french fries - hamburger re potatoes kizartmasi

chopped sirloin steak burger with cheese or mushroom topping, served with fries, romaine lettuce and tomatoes

12.00

main courses

mixed vegetable guvee - selneli guvee

eggplant, potato, green beans, celery, green peppers, onion, garlic cooked with tomato sauce in traditional clay casserole

14.00

kasseri cheese kofte - kasarh kofte

char-grilled meat patties made of ground meat, kasseri cheese, onion, parsley and spices, served with chef's special rice and steamed vegetables

14.00

iskender

slices of grilled lamb served on top of diced pita bread, topped with chef's special sauce

18.00

chicken shish - tavuk sis

cubes of marinated chicken breast, grilled on skewers with green peppers and onions. served with rice

14.00

chicken adana - tavuk adana

ground chicken with roasted tomatoes and peppers, grilled on flat skewers, served with rice and steamed vegetables

15.00

penne alla turca - krymali makarna

penne pasta sauteed with peas, shiitake mushrooms, ground meat and parsley in creamy tomato sauce, topped with slices of grilled lamb

14.00

karniyarik - karniyarik

whole eggplant lightly fried in olive oil and stuffed with ground meat, tomato, onion, garlic, herbs and spices. served with white rice and chef's special puree

15.00

seafood pasta - deniz mahsullu makarna

linguini with steamed mussels, clams, calamari and shrimp in tomato fennel sauce with fresh basil

16.00

grilled salmon - izgara somon

grilled salmon seasoned with bay leaves, topped with sauteed leeks, served with rice and steamed vegetables

16.00

red snapper - kagitta mercan

whole boneless red snapper broiled in parchment paper with shiitake mushrooms, asparagus, dill and tomatoes

17.00

side orders $3.50

french fries

potatoes kizartmast

spinach - ispanak

baby spinach sauteed with garlic and onion

rice - pilav

rice cooked with butter

steamed vegetables - haslama sabze

seasonal mix of steamed vegetables
dinner
cold appetizers

eggplant salad - pathcan salatasi

char-grilled eggplant puree mixed with roasted red pepper, seasoned with extra virgin olive oil and garlic

6.00

haydari

thick homemade drained yogurt with dill, mint and garlic

6.00

hummus - humus

chickpea puree and tahini paste seasoned with extra virgin olive oil, garlic and black caraway seeds

6.00

tarama

whipped red caviar with extra virgin olive oil

6.00

fava

mashed fava beans, dressed with olive oil and lemon juice, topped with dill

6.00

stuffed baby eggplant - imam bayddi

char-grilled baby eggplant stuffed with sauteed tomatoes and herbs

7.00

red lentil soup - kirmuzz mercimek corbast

turkish house tradition, crushed red lentil with onion

6.00

pilaki

dry beans cooked with carrots, potatoes, onions and garlic in a delicately flavored tomato sauce

6.00

stuffed grape leaves - zeytinyagli yaprak sarma

extra-thin vine leaves stuffed with rice, pine nuts, black currants and herbs. served with red cabbage, dill and lemon

7.00

artichoke heart - zeytinyagh enginar

fresh artichoke heart topped with broad beans, carrots, cocktail onions, dill, potatoes and extra virgin olive oil

9.00

mixed appetizer plate - karisik meze tabagi

selection of hummus, tarama, haydari, eggplant salad and stuffed grape leaves

16.00

hot appetizers

zucchini pancake - mucver

oven baked zucchini and dill pancake served with homemade thick yogurt

7.00

steamed mussel - midye

steamed mussels with garlic, white wine sauce, leeks and fresh tomato

7.00

crispy phyllo cheese rolls - sigara boregi

golden crisp pastry rolls filled with aged gruyere cheese

7.00

falafel platter - falafel

tasty fried balls of spiced chickpeas, served with tahini sauce

7.00

manti (small)

homemade poached lamb dumplings served with garlic-yogurt, butter sauce and sprinkled with dried mint

8.00

fried calamari - kalamari tava

crispy calamari rings served with chef's special dipping sauce

8.00

grilled octopus - ahtapot izgara

grilled octopus, served on a bed of arugula salad with chopped tomatoes and red onions, dressed in olive oil and balsamic vinegar

9.00

salads $8

mediterranean salad - akdeniz salatasi

romaine lettuce, oil cured black olives, fresh dill, tomatoes, carrots and crumbled feta cheese in lemon vinaigrette

arugula salad - roka salatasi

chopped baby arugula and red onion, topped with aged balsamic vinegar and slivers of parmigiano reggiano

shepherd salad - coban salatasi

freshly diced tomatoes, cucumbers, onions, green peppers and parsley, drizzled with extra virgin olive oil and lemon

shrimp salad - karides salatasi

mixed greens and arugula salad topped with grilled shrimp and cherry tomatoes

main courses

mixed vegetable guvec - sebzeli guvev

eggplant, potato, green beans, celery, green peppers, onion, garlic cooked with tomato sauce in traditional clay casserole

16.00

kasseri cheese kofte - kasarli kofte

char-grilled meat patties made of ground meat, kasseri cheese, onion, parsley and spices, served with chef's special rice and steamed vegetables

17.00

lamb steak - islim kebabi

baby lamb shank braised with tomatoes and onion, wrapped in eggplant slices, served with rice

19.00

doner

vertically roasted and thinly sliced lamb and beef served with rice and cacik

17.00

sultan's delight - hunkar begendi

eggplant puree topped with lamb chunks cooked in light tomato sauce

19.00

iskender

vertically roasted slices of lamb and beef served on top of diced pita bread, topped with chef's special sauce

19.00

chicken shish - tavuk sis

cubes of marinated chicken breast, grilled on skewers with green peppers and onions. served with rice

17.00

karniyarik

whole eggplant lightly fried in olive oil and stuffed with ground meat, tomato, onion, garlic, herbs and spices. served with white rice and chef's special puree

17.00

manti (large)

homemade poached lamb dumplings served with garlic-yogurt, butter sauce and sprinkled with dried mint

15.00

harem roll - harem sarmasi

chicken breast stuffed with rice, pistachios, peppers and currants served on a bed of sauteed spinach with white wine tarragon sauce

19.00

chicken adana - tavuk adana

ground chicken with roasted tomatoes and peppers, grilled on flat skewers. served with rice and steamed vegetables

18.00

seafood pasta - deniz mahsullu makarna

linguini with steamed mussels, clams, calamari and shrimp in tomato fennel sauce with fresh basil

19.00

penne alla turca - kiymali makarna

penne pasta sauteed with peas, shiitake mushrooms, ground meat and parsley in creamy tomato sauce, topped with slices of grilled lamb

16.00

grilled salmon - izgara somon

grilled salmon seasoned with bay leaves, topped with sauteed leeks, served with rice and steamed vegetables

18.00

red snapper - kagutta mercan

whole boneless red snapper broiled in parchment paper with shiitake mushrooms, asparagus, dill and tomatoes

18.00

branzini - levrek

whole mediterranean fish, marinated in chef's special spices, served with green salad dressed in virgin olive oil and fresh lemon juice

19.00

side orders $3.50

french fries

potatoes kuzartmasu

spinach - ispanak

baby spinach sauteed with garlic and onion

rice - pilav

rice cooked with butter

steamed vegetables - haslama sebze

seasonal mix of steamed vegetables
brunch
eggs

scrambled eggs

with chopped tomatoes, sweet peppers and scallions

9.00

mediterranean omelet

three eggs served with home fries and choice of any two: feta cheese, blue cheese, fresh tomato or mushrooms

9.00

classic egg benedict

9.00

with spinach

10.00

with smoked salmon

12.00

turkish omelet

with spicy beef sausage, caramelized onions, potatoes and peppers

10.00

smoked salmon with scrambled eggs

served with home fries

10.00

pastrami omelet

turkish pastrami omelet with kasseri cheese

12.00

appetizers

red lentil soup - kirmizz mercimek corbast

turkish house tradition. crushed red lentil with onion

5.00

eggplant salad - patlican salalasi

char-grilled eggplant puree mixed with roasted red pepper, seasoned with extra virgin olive oil and garlic

6.00

haydari - haydari

thick homemade drained yogurt with dill, mint and garlic

6.00

hummus - humus

chickpea puree and tahini paste seasoned with extra virgin olive oil, garlic and black caraway seeds

6.00

tarama

whipped red caviar with extra virgin olive oil

6.00

fava

mashed fava beans, dressed with olive oil and lemon juice, topped with dill

6.00

pilaki

dry beans cooked with carrots, potatoes, onions and garlic in a delicately flavoured tomato sauce

6.00

stuffed grape leaves - zeytinyagli yaprak sarma

extra-thin vine leaves stuffed with rice, pine nuts, black currants and herbs. served with red cabbage, dill and lemon

7.00

artichoke heart - zeytinyagli enginar

fresh artichoke heart topped with broad beans, carrots, cocktail onions, dill, potatoes and extra virgin olive oil

8.00

mixed appetizer plate - karisak meze tabagi

selection of hummus, tarama, haydari, eggplant salad and stuffed grape leaves

13.00

zucchini pancake - mucver

oven baked zucchini and dill pancake served with homemade thick yogurt

6.00

steamed mussel - midye

steamed mussels with garlic, white wine sauce, leeks, and fresh tomato

6.00

crispy phyllo cheese rolls - sigara boregi

golden crisp pastry rolls filled with aged gruyere cheese

7.00

falafel platter - falafel

tasty fried balls of spiced chickpeas, served with tahini sauce

7.00

manti

homemade poached lamb dumplings served with garlic-yogurt, butter sauce and sprinkled with dried mint

8.00

fried calamari - kalamar tava

crispy calamari rings served with chef's special dipping sauce

7.00

grilled octopus - ahtapot izgara

grilled octopus, served on a bed of arugula salad with chopped tomatoes and red onions, dressed in olive oil and balsamic vinegar

9.00

salads

arugula salad - roka salatasi

chopped baby arugula and red onion, topped with aged balsamic vinegar and slivers of parmigiano reggiano

7.00

shepherd salad - coban salatasi

freshly diced tomatoes, cucumbers, onions, green peppers and parsley, drizzled with extra virgin olive oil and lemon

7.00

shrimp salad - karides salatasi

mixed greens and arugula salad topped with grilled shrimp and cherry tomatoes

8.00

mediterranean salad - akdeniz salatasi

romaine lettuce, oil cured black olives, fresh dill, tomatoes, carrots and crumbled feta cheese in lemon vinaigrette

7.00

with grilled chicken

12.00

with grilled steak

14.00

sandwiches & wraps

french toast

with strawberries and honey glazed pecans

10.00

grilled kasseri cheese & spicy beef sausage sandwich - kasarli ve sucuklu tost

grilled kasseri cheese and spicy beef sausage sandwich, served with field greens

11.00

grilled chicken wrap - izgara tavuk durum

with melted kasseri cheese, lettuce and tomatoes, served with field greens

13.00

grilled steak wrap - izgara et durum

with caramelized onions and peppers, served with field greens

15.00

burger & french fries - hamburger ve patates kizartmasi

chopped sirloin steak burger with cheese or mushroom topping, served with fries, romaine lettuce and tomatoes

12.00

main courses

kasseri cheese kofte - kasarh kofte

char-grilled meat patties made of ground meat, kasseri cheese, onion, parsley and spices, served with chef's special rice and steamed vegetables

14.00

iskender - iskender

slices of grilled lamb served on top of diced pita bread, topped with chef's special sauce

18.00

chicken shish - tavuk sis

cubes of marinated chicken breast, grilled on skewers with green peppers and onions, served with rice

14.00

seafood pasta - denix mahsullu makarna

linguini with steamed mussels, clams, calamari and shrimp in tomato fennel sauce with fresh basil

16.00

grilled salmon - izgara somon

grilled salmon seasoned with bay leaves, topped with sauteed leeks, served with rice and steamed vegetables

16.00

side orders $3.50

french fries

potatoes kuartmast

spinach - ispanak

baby spinach sauteed with garlic and onion

rice - pilav

rice cooked with butter

steamed vegetables - haslama sebze

seasonal mix of steamed vegetables

desserts

baklava

thin phyllo-dough sheets filled with pistachios

7.00

rice pudding

classic baked rice pudding with a hint of vanilla

8.00

three chocolate mousse cake

a sponge base topped with white and dark chocolate mousse, coated with chocolate and topped with white chocolate shavings

8.00

baked apple

baked apple with light cinnamon syrup, served with ice cream

6.00

kazandibi

traditional milk pudding with caramelized bottom

8.00

cream fraiche

poached apricots filled with creme fraiche, sprinkled with pistachios

7.00

sorbet or gelato

please ask your waiter for today's selection

7.00

coffee and tea

regular or decaf coffee

2.00

tea

2.00

espresso

3.00

cafe latte or decaf cafe latte

3.00

turkish coffee

4.00

draft beer

samuel adams

6.00

weihenstephan

7.00

stella artois

6.00

efes pilsner

6.00

bottle beer

heineken

6.00

corona

6.00

amstel light

6.00

efes pilsner dark

7.00

duvel belgian ale

9.00

schneider hefeweizen, germany

9.00

chimay blue label, belgium

10.00
wines
wines by the glass
whites

115. villa maria '08 s.blanc, marlborough

new zealand

12.00

116. laurent miquel 07' chardonnay viognier languedoc

france

9.00

118. ca, donini '08, pinot grigio

italy

8.00

124. paso a paso, verdejo '08, la mancha

spain

8.00

126. kavaklidere cankaya '08

turkey

8.00

127. kavaklidere angora '08

turkey

9.00

reds

223. parducci 'o7 pinot noir mendocina, california

usa

10.00

230. cht. saint sulpice '06, merlot, bordeaux

france

8.00

231. hayman & hill '07 cabernet sauvignon, california

usa

11.00

234. diseno '07 malbec, mendoza

argentina

8.00

237. la griveliere '07 cotes du rhone

france

8.00

239. kavaklidere selection '06

turkey

9.00

240. kavaklidre yakut '07

turkey

8.00

rose

128. laurent miquel rose '08, cinscuelt syrah languedoc

france

8.00

sparkling

129. lamberti, nv, prosecco

italy

10.00

130. sparkling rose prosecco

italy

8.00

cognacs

courvoisier vs

8.00

armagnac vsop

10.00

courvoisier vsop

12.00

remy martin vsop

12.00

courvoisier xo

18.00

cordials

frangelico

7.00

sambuca romano

7.00

grappa di nebbiolo

7.00

amaretto di saronno

8.00

grand marnier

8.00

calvados

8.00

ports

tatli sert

turkey

7.00

calem fine ruby

7.00

sandeman founders reserve

8.00

churchill's 10 year old tawny

9.00

roze's 20 year old port

13.00
Menus provided by Menupages