Episode Summaries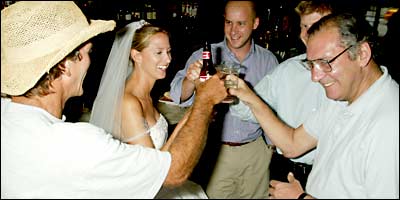 Episode 1
When Wall Street trader Vanessa persuades her fiancé, Dan, to forgo buying a house in favor of a big old wedding, it causes all sorts of tensions between the happy couple. Fashion PR rep Karen knows her clothes, and knows that her wedding dress doesn't fit properly. She also knows how to speak her mind to sort it out. Julia, a clinician, employs a wedding planner to help create her fantasy wedding. But what she really needs is a counselor -- not a consultant. Actress Cynthia is doing thorough research into her new role as a bride, having bought hundreds of books on the subject. She's getting help with the preparations from her best friend and bridesmaid, Rick.
Episode 2
Joe thinks he's found the perfect bride in Japanese-born Miho. But he knows she's got very high standards, so he's employed a planner to help him pull off what he hopes will be Miho's perfect day. But before they can have a big wedding, Joe has got to get Miho to City Hall in order to keep her in the country. It's not the most romantic of places, but Miho doesn't seem to feel particularly romantic towards Joe anyway… Julia, the Bronx bride, loses it when she finds out that one of her bridesmaids hasn't gotten the champagne-colored dress Julia specified she wear… We get a preview of what could happen at Karen's wedding, when the fashionista cracks under the strain of simultaneously planning her wedding and coordinating the launch of a new fashion store… Reluctant groom Tim refuses to take the whole wedding planning as seriously as his very serious fiancé Amy.
Episode 3
Kate is a British wedding planner who works on some of New York's most exclusive nuptials. Her bride Brooke has set her quite a challenge by wanting her wedding on an inaccessible island off the east coast of Connecticut. Her cake will be flown in from the mainland and her photographer from Paris. It's a recipe for disaster… Joe thinks he has a cute idea for how to announce dinner at his wedding to Miho, who gives the idea a resounding thumbs-down. So do the wedding planner and the DJ… Highly emotional bride Julia reveals her ability to cry at a moment's notice, when she learns been she's given the gift of a choir to sing at her ceremony… Tim packs up his bachelor apartment, as his blonde bride Amy's mother and sister are overcome at her perfect table setting.
Episode 4
High-flying advertising executive Tricia never thought she'd get married. But now that she's taken that step, she wants something really unique - and with the help of uber-trendy wedding planner Susan Holland, she's spending money like a rock star - despite fiancé Jeff's desire for a low-key City Hall affair… PR girl Karen tries to keep her cool as fiancé Emmet threatens to blow thousands of dollars at his bachelor party in Vegas… Miho reveals her love of designer brands and makes a beeline for the shops on Fifth Avenue -- even though fiancé Joe hasn't currently got a job to pick up her bills… Actress Cynthia's therapist recommends she twice a week in order to help cope with the wedding stress.
Episode 5
Joe and Miho have only had six weeks to plan their wedding and get reacquainted since Miho returned from a visit to Japan. They have a wedding planner, Lynn, who should help make things easier, but Miho's wedding day is nonetheless not exactly going according to plan… Uptown girl Amy takes a gamble by trying to buy a dress for the rehearsal dinner from an alternative downtown designer. She likes one of the dresses, but the service really isn't to her taste… Karen is still on the lookout for the perfect hairdo. She's found another stylist, but has concerns about whether he'll be able to meet her very high expectations… Actress Cynthia is having more luck doing her hair, but of course she's got bridesmaid Rick to help her.
Episode 6
British bride Michelle works in the wedding industry, so planning her own nuptials can seem more like work than pleasure. It also means that Michelle has dealt with her fair share of nightmare brides: She intends to avoid turning into a nightmare herself. But with just four days to go, Michelle is starting to take on some of monstrous tendencies… Fashion PR Karen's off to the Hampton's for her bachelorette weekend. All goes to plan, until there's a mix-up over the party decorations and the limo company makes a hash of her booking… Beautician Julia, who cannot wait to get married, makes a last-minute dash to pick up her wedding license, and nothing -- not red lights or police roadblocks -- will stop her… Amy and Tim finally finish their preparations and tie the knot at a sumptuous New Jersey wedding.
Episode 7
Kathleen is organizing the New York wedding she's always dreamed of. She's flying in her relatives from all across the country and has hired wedding planner Kate Edmonds to make sure everything is perfect… Actress Cynthia is facing bridal meltdown. It's only four days before her wedding and she hates the dress that's been made for her. She needs another trip to the therapist… Karen is also having dress nightmares -- at her sixth fitting! And Julia is driving her work colleagues crazy with her non-stop wedding talk. They admit they'll be glad when her wedding is finally over.
Episode 8
Brides Julia, Cynthia and Karen have all made a huge investment in making their big day perfect. Forty-three-year-old Julia has been planning her wedding for two years -- and dreaming about it since she was seven. The day has finally arrived, and the emotional girl is screaming for her mother and struggling to hold back the tears… Cynthia's wedding day has finally arrived, and the poor girl is nursing a fierce hangover after over-indulging at her rehearsal dinner. Her black mood isn't helped when she goes to collect her wedding dress four hours before the ceremony and it's not ready! Karen tries to keep herself calm on her big day, even though things don't go as planned during the cocktail hour at her wedding reception.