Mini's First Time
Nick Guthe / Discovery
Here's how I imagine the pitch meeting for the worst film I've seen at Tribeca: "Dude, it's like Thirteen, only she's 18 and we can get away with more! Like, you know, she sleeps with her stepdad and kills people!" It even stars Thirteen's Nikki Reed, as the ne'er-do-well rich girl who takes revenge on her pill-popping Hollywood Mom (Carrie-Ann Moss) and sleazy stepdad (Alec Baldwin) in an implausible and obnoxious series of twists that aren't so much offensive as idiotic. When Reed signs up to be a prostitute for a few nights and meets her own stepdad on her first gig, you know the oh-so-racy satire's going to keep banging down on your head like so many Acme anvils. Sure enough, the plot more devolves than develops, as Baldwin and Reed merrily molest one another, all the while smarmily delivering corny one-liners with all the misplaced confidence in the world.—L.H.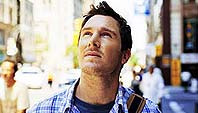 New York Waiting
Joachim Hedén / NY, NY Narrative Feature
There must be a dozen little Tribeca dramas as tone-deaf as this one, but none as sentimental. The first few shots alone are laughably corny: lovers kissing in the rain; a man throwing his cell phone into the ocean, after inviting a long-lost lover to meet him in New York (apparently, so that he can't receive his lover's RSVP—in a critical misunderstanding, he doesn't quite understand the mechanics of voice mail). By the time the Nora Ephron setup warms up, you're slack-jawed watching as this guy takes cute pictures with a Polaroid camera and falls in love with a stranger he meets at a cafe—on his way to meet his starcrossed lover (repetition of "long-lost love") at, yes, the top of the Empire State Building (he even carries a little paperweight souvenir with him). No matter how much the director Joachim Hedén attempts to complicate his structure, he's still left with the silliest and most maudlin arc for his characters. Most bizarre, the film is a Swedish production, so there are some odd tics in the stilted dialogue, which may explain, in part, how this movie got lost in translation.—L.H.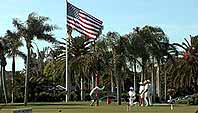 The One Percent
Jamie Johnson / NY, NY Documentary Feature
The phenomenally obnoxious Jamie Johnson, heir to the Johnson & Johnson fortune, adopts the impetuous tone of an overprivileged private-school student sniffing at his tutor in this disappointing follow-up to Born Rich. Exploring much the same territory as his first documentary, Johnson tries to make some greater claims about the grotesque and growing gap between the extraordinarily wealthy and everyone else. Despite his recent Oprah guest spot, Johnson just isn't up to the important task. So puffed-up with pride at his soft rebellion against his parents, Johnson films scenes of himself arguing with his father as if they're shocking exposés—and his father comes out on top, arguing, quite sensibly, that his son has taken on an important project but doesn't know what he's doing. Some of the A-list interviews are strong (Steve Forbes recalls his father saying: "Nothing wrong with nepotism, so long as you keep it within the family") but Johnson really needs to do some more legwork if he wants to make a stronger point. This slapdash effort isn't the strong argument this issue deserves.—L.H.
Pittsburgh
Kyle LaBrache, Chris Bradley / Spotlight
Trouble starts with a "T" which rhymes with "P" and that stands for, um, Pittsburgh? This juiced-up comic documentary, like its star Jeff Goldblum, may be a little insane, but that's fine by me. Both have a kind of goofy energy that's immensely likable. Sure, the film plays with truth and fudges the facts, but it's too silly to get bogged down in some meta-meditation on the nature of documentary truth. The setup is the real-life love affair between Hollywood star Jeff Goldblum and musical-theater actress Catherine Wreford. The execution is all very-much like something Christopher Guest might dream up: The initial, hokey staged footage shows the May-September couple (Goldblum's 51, his love 23) frolicking in the crashing waves on the shore, mugging like newlyweds aboard a carriage ride in Central Park, and skating gleefully in Rockefeller Center. But when Goldblum realizes that his Canadian love is about to be deported, he hatches a scheme to get her a work visa and keep them together: They'll both star in a homegrown production of The Music Man at the Civic Light Opera Theater in his hometown of Pittsburgh. Fact and sketch-comedy intermingle recklessly, as Goldblum persuades his pals Ed Begley and Illeana Douglas to co-star, Begley enlists Goldblum to help him sell the fake environmental energy invention "Solar Man 2000," and Douglas breaks up with her onscreen boyfriend Moby (who gamely plays along as a man fascinated with amateur porn). Of course, it does get a little meta—as Goldblum becomes a real-life music man, cajoling his friends into creating a big, beautiful cast (if not band) that gleefully plays to a Pittsburgh audience. (The mayor names a holiday after him in the end!). You'd have to think that the old huckster Harold Hill would approve.—L.H.