News
The Long Goodbye
Losing friends and family, seeing the horror of the World Trade Center disaster firsthand, changed lives in myriad, unpredictable ways. Here are 15 personal stories.
PHOTOGRAPHED BY MELANIE DUNEA, CPI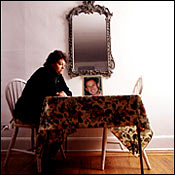 Mary Maciejewski
A clerical worker, Maciejewski, 41, lost her husband, a waiter at Windows on the World.

Jan's normal shift was lunch, so he'd get there at 10:30 a.m. But the Friday before, his manager called and asked if he could work breakfast. My office is about ten blocks away on Water Street. The minute I got to my desk -- I work on the forty-sixth floor -- people were screaming and running to the windows. Then my phone rang, and it was Jan. He told me that there was smoke, awful smoke, and that they were in touch with the Fire Department, who told them not to move, that they were going to come and get them. I told him to go wet a napkin and put it over his face so he could breathe. He told me there was no water anywhere so he was going to go get some from the flower vases. Then at that point, the second building was hit, and they decided to evacuate my building. Jan told me to hang up and get out, so I would be safe, and to call him back on his cell phone when I got outside. But there was no connection.
Jan wanted kids right away. I kept saying, "Let's wait till we can afford a house." Now I really regret it. I see mothers with their children and I think, I'm never going to hear somebody call me Mommy, and Jan never had the opportunity to have someone call him Daddy. I meet once a week with a group of women who lost their husbands at the World Trade Center. It's what gets me through the days. There are two of them who have children, and I tell them how lucky they are because they have a part of their husbands left.
Every day, the subway I take passes under the Trade Center, and I'll talk to him or say a prayer. I can't bring myself to go to the site, so this is my way of being there.
In the beginning, I slept at my sister's, on one of those blow-up mattresses. I just couldn't go back to the apartment. Jan had an identical twin and he lives upstairs, and seeing him was excruciating. Now I'm home, and Jan is everywhere. But I need that. I have his shirt that he wore the day before and the shorts that he wore around the house. And on one hanger I have about ten of his shirts and I'll just take the hanger out and hug it. They haven't found Jan. And I don't want them to find him, because my biggest fear is that he suffered. I'd rather think that it happened fast and that he was in the air when the buildings fell. I dread that the doorbell will ring and they'll tell me, "We found the remains of your husband." — LISA DEPAULO
Jessica Trant
A 19-year-old freshman at Pace University from Northport, New York, Trant lost her father, Daniel, a bond trader at Cantor Fitzgerald.

I was waiting for my business-law class to start when two of my friends told me about the World Trade Center. I got up and ran to my room. My phone was ringing; it was my mom. She was like, "Daddy called. He said he was gonna make it out; everything's gonna be all right." She called a Town Car for me. I came home to see my brother, Daniel, curled up in a ball, crying. Then my mom told me what my dad had really said: that a plane had hit the building, there was fire everywhere, the smoke was unbearable, and he probably wasn't going to make it but he was going to try. And that he loved her and he loved the children, and to take care of the children for him.
March 2 would have been the thirteenth anniversary of the day my dad adopted me. That was a day he always had just for us. My mom took me shopping and we went to dinner. I had this really weird dream. My dad called me on the phone saying that he forgot who he was, but he finally remembered and he made it out. He's like, "I made it home for our anniversary." And then he's like, "I gotta go now." And I started crying and I was like, "Don't go, Dad!"
My mom is having the roughest time; they were so in love. That's the hardest part for me. Not a day goes by that she doesn't cry to me on the phone. Sometimes she looks like she's wasting away; she has to drink Ensure.
I told my friends they can ask any question they want. They asked what it's like not having his body. There's nothing left of him; there's nothing left to bury. It's just not a way to go. I know they've found body parts, like bones, from some people. I sure don't want that; I want my father, so I can go somewhere and have my own time with him. — ETHAN SMITH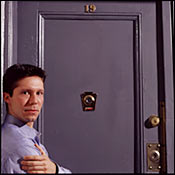 Chuck Platz
An investment banker, Platz, 24, needed to find a new roommate after his friend Welles Crowther died.

Welles was always out the door early. He was an equities trader at Sandler O'Neill. We met in '98 in Madrid -- partners on an internship, learning how the international markets worked. We hung out all day at work and had sangria and cigars at night. We'd talk about how Spanish women were the most beautiful in the world.
After I graduated and came to New York, we agreed to share an apartment in the West Village. Welles said it was perfect, it was No. 19 -- he said that was his lucky number, his lacrosse number. Living with Welles was an honor. It was always an adventure. He'd burst into my room and say, "Come on, we're going out!"
His room was untouched for the longest time. His glass of water was still on his dresser. Not that I was scared -- it was just that maybe I was nervous it would set in that he wasn't coming back. I looked and looked for someone. The problem I ran into was that people were worried about their jobs and not sure about moving into a room in a $2,600 apartment. Welles's family tried to help. I met Kara in December. She was supposed to move out of New York to get married, but the night before leaving, her boyfriend called the wedding off. So she moved in.
The apartment's pretty different now. Kara brought in the Speed Racer poster, the lamp, the leopard chair, and the cat. But everything else looks the same. The aquarium was Welles's. It's in pretty bad shape. We bought pH test kits but we couldn't keep a fish alive for more than three weeks.
I was really nervous about living with someone I didn't know well. I told Kara I was really lucky, because living with her was a nonadjustment. She smiled and gave me a hug.
-- ROBERT KOLKER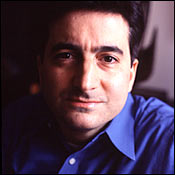 Dr. Robert Klitzman
An author and assistant professor of clinical psychiatry at Columbia University, Klitzman lost a sister who worked at Cantor Fitzgerald.

I got a call from my mother at ten to nine as I was walking to a meeting. Even though my sister Karen worked at Cantor Fitzgerald, I thought the odds were good that she'd be okay. But then I passed a security guard who was watching TV. There were torrents of black smoke coming from the World Trade Center. I thought, Are we going to have to set up a memorial? Are we going to have to sit shivah?
Sitting down for bagels and coffee at the meeting, I felt like I was already sitting shivah. We didn't have the meeting, of course; the entire psych department, almost 300 of us, watched TV. When the towers fell, there was utter silence. I was the only one at the time who knew someone there, and the rest of my family, my mother and Karen's twin sister, Donna, were stuck outside of Manhattan, so it was a lonely feeling.
I called St. Vincent's and said, "I'm a physician, and my sister worked in the World Trade Center." They said, "If you're coming down to look for your sister, don't bother. We're mobbed with families. But if you want to come as a physician, we could use you." I went anyway and offered my services. Then a doctor, covered in soot, burst into the hospital. He said that everyone had been vaporized. I thought, How do I tell my mother that my sister has been vaporized? The memorial was scheduled for the following Sunday and it went well, even though I was so nauseous that I'd shared a bottle of Extra Strength Tylenol with the cantor and my sister Sue in the elevator.
It's been very difficult for the families of people who worked in the Trade Centers. The press focuses on the cops and firefighters, but you don't hear much about families like ours. The groups representing the families seem very ad hoc, so I don't feel like there's a real sense of community there. But I don't feel like I need a support group; I'm suddenly talking to everyone in my family once a day, which didn't happen before. And I've reestablished a lot of friendships. But I don't feel a sense of closure -- there's no body, there's no grave site. Every step -- disconnecting her phone, turning the cable TV off, packing up her books, cleaning out her bathroom -- hammers another nail into the coffin. But there isn't one.
-- ETHAN BROWN

1 | 2 | 3 | 4