News
The Long Goodbye
page 2 of 4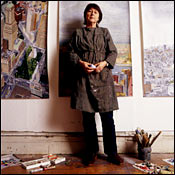 Karin Batten
Batten, 54, is an artist who had a studio on the ninety-first floor of Tower One.

I got a grant from the Lower Manhattan Cultural Council to paint for four months, from June to October. I've done aerial views -- paintings of New York -- since the late eighties, so I was so happy to get this grant. But I'll tell you, every time I went up there on the elevators, it was always in my mind that if anything happened there was no way you could get out.
That morning, I'd gotten my son off to school -- I.S. 89, by the World Trade Center -- and decided I'd better go vote at Westbeth, where I live. The voting went so slowly, and when I was finishing up, we started hearing sirens going by. Once I found out what happened, I knew I had to go get my son. Luckily, I found him, and all the kids told me they saw the plane coming by their classroom and hitting the tower and they saw people jumping from the building. Then we all turned around and Tower One -- where all my work, my supplies, everything, was -- was coming down. Several children whose parents worked at the World Trade Center just screamed.
I was in shock for six weeks, I couldn't do anything. An artist I was supposed to meet up there walked down ninety-one floors and made it, but she's never been the same, she's in bad shape.
A friend of mine convinced me, because the air quality was so bad and my family is young, that it made sense for us to leave for the weekends at least, and so every weekend I went away until shortly before Christmas.
At the end of November, I knew I had to really force myself to do something, that if I went back to painting it would make me feel better. I started painting views from my studio at the World Trade Center, from photographs and from memory. I thought that's maybe how I would get the sadness and the fear out of my system. But sometimes I just stand there and start crying.
-- ARIC CHEN
Andrea Refol
The owner of a vintage-clothing store in Park Slope, Refol started having contractions when she saw the second plane hit.

It was our 4-year-old Jordan's first day of pre-kindergarten. We left our house at 8:22 a.m.; I was on my way to a doctor's appointment, the radio was on, and we heard the news report. I had my first contraction. We were driving down Sackett Street in Brooklyn, and we watched the second plane make contact. My first thought was, Oh, my God, my appointment -- I'm supposed to have a baby!
We went home. I was going nuts. I told myself this is just one baby, one child, compared with the worst thing to happen in American history. But it was my baby. My doctor called from New Jersey and told me he could get in the next day and that I should get to the hospital any way I could.
I didn't sleep that night, because I was having contractions. The next morning, they really started coming. We left Jordan with a friend because they'd canceled school. There were roadblocks everywhere. At the Manhattan Bridge I said to this cop, "I'm in labor! I've got to get to the hospital!" He said, "Are you sure?" I said, "I'm pretty sure." As we were going over the bridge, there was smoke coming up so you couldn't see lower Manhattan. My husband asked, "Are you crying because you're in pain?" I said, "No. I'm crying because they fucking blew up my city." When we got to the hospital, people were starting to post pictures. My blood pressure skyrocketed so my doctor said, "Let's do this now -- in an hour, my team may not be available. Let's get this show on the road." They did a C-section.
We sent an e-mail around to say Griffin was born, but it was hard to show joy or elation -- the term we used was hope. Hope seemed right.
Six months after, it's almost unimaginable to me that the shadow of this event will ever dissipate. I am thinking more globally than I ever have before. I don't remember thumbing through the paper in the same way when Jordan was a baby. When she was born, I was focused on just her; I was fully absorbed in her care and well being. Now that Bloomberg and Pataki are talking about possible threats to the city, I am very fearful for my children.
-- ARIEL LEVY
Ada Rosario Dolch
Principal of the High School for Leadership and Public Service on Trinity Place, Dolch lost her sister Wendy, who worked for Cantor Fitzgerald.

I was about to head over to the World Trade Center to buy a battery for my watch when the first plane hit. I was in the lobby, which became an instantaneous command center, trying to make decisions, with no real understanding of what was going on, trying to create a sense of calm, with hordes of people running in looking for safety.
We had 500 kids upstairs, our teachers, our cooking staff, and our security officers. I remember I said a prayer because my sister was there, but I didn't think about her again until I got home at 4:30 p.m. I just couldn't, because if I'd stopped, I wouldn't have been able to concentrate on my kids.
After the second plane hit, there was an interlude -- I realize now it was only 40 minutes, but it seemed like hours -- we were planning, thinking, wondering: Where do we go? How do we move them out? What do we do about our girl in a wheelchair? Our girl who's blind? Our girl who's just had heart surgery?
We made it to Battery Park. As we were entering, the buildings collapsed. Some people remember a roar; I remember a snapping, must have been those girders, just in my face, loud. I see the tsunami wave, as tall as those buildings. The black cloud came, we sucked in that stuff, then it became gray and then this white snow.
We planted bulbs in the park, and it's very therapeutic to go back there because that was our refuge. We spent four and a half months at the High School of Fashion Industries, and that was a very difficult journey. It wasn't our home. Every day that we couldn't return created a greater loss. All the gifts and therapy in the world weren't helping us move ahead. Moving ahead meant that we had to go home.
The kids are phenomenal. They wanted to come back to school -- because we all experienced this together. Their families at home weren't ready. I keep saying, "We're moving forward." That's my mantra. I tell them, "You are history-makers. People will look to you and ask you to tell the story." And I tell them, "If you fall apart, you will never be able to help this world be rebuilt." Are we moving ahead quickly? No. We have lost a lot of the academic year. Will we be able to recover? Yes. Just not right now.
-- LOGAN HILL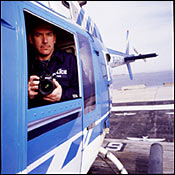 David Fitzpatrick
The most senior member of the NYPD's Technical Assistance Response Unit, Fitzpatrick photographed the burning towers from a police helicopter.

I went up in a copter just after the second plane hit. As soon as a chopper would land for fuel, I would jump in another one.
We couldn't believe what we were seeing. Our pilot had heard that there were two more jumbo jets unaccounted for and that we should be on the lookout, so our eyes were peeled in all directions, looking at the Statue of Liberty and the Empire State Building, waiting for another plane. The copter we had was incapable of rescue, but we didn't see anyone on the rooftops at all. When the first tower came down, it was just horrible; we were just above the building, and we felt so helpless.
1 | 2 | 3 | 4