News
The Long Goodbye
page 3 of 4
I spent eighteen days documenting ground zero, and not a day goes by when I don't relive it. One strange thing: I was in the cemetery near Trinity Church, and I took a picture to show the relationship between the church and the World Trade Center. Two weeks later, I picked up my loop and looked at it. I saw that in the back of one of the tombstones there's an American flag sitting in the dirt. And there's something about the tombstone, either a crack or some dirt, that makes it look like a silhouette of George Washington's face looking at the flag. I showed it to people, and even without my saying anything, they say that's what it looks like. It was like a positive thing, you know?

I still go down to Zero periodically now just to do aerial and ground photos. There's still a sense of camaraderie there -- police and firefighters, of course, but also the construction workers and volunteer workers. But the site, it's never lost its feeling of devastation. Even though I go there so often. That never goes away.
-- ROBERT KOLKER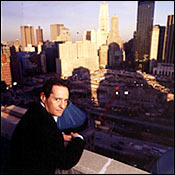 Richard "Flash" Polatchek
President of the options-trading firm Heights Partners, Polatchek works on the floor of the American Exchange and, until September 11, lived on the thirty-fourth floor of Gateway Plaza in Battery Park City.

I had just flown back from Italy on September 10 and was still jet-lagged. When the first plane hit, I was in the shower. I pulled on some jeans and rushed out onto my terrace, which looked right out over the Trade Center. Then I heard this terrible roar, just over my right shoulder. The plane was so close I could read the BOEING 767 painted under the cockpit window. Then all of a sudden, the pilot cut the engines. That's what no one talks about. He just glided in for the last couple hundred yards. There was this weird, horrible silence right before that plane hit.
I ran outside, just in my jeans -- no shirt, no shoes, no wallet, no keys. That's when I saw all these firemen come running out of Tower Two, screaming to get away, the building was imploding. When the building came down, it wasn't a "cloud of dust," it was just this wave of debris -- concrete, wire. It was knocking people off their feet.
There was a fireboat docked next to the promenade, so I just jumped onto the deck. Some people near me were jumping into the river. By that point, though, other boats were coming in, sending out these really big wakes, throwing our boat up against the promenade. I'll never forget, I looked down right next to the boat and saw this one woman, maybe 45, wearing business clothes. She had jumped into the river, and she just vanished.
I've been renting in SoHo, and now I'm looking to buy there. It's a real neighborhood, with the restaurants and the shops. It's very emotional to try to go back home now; I don't want to be in that space anymore. They've done so much cleanup work there in the last few months, it looks like a parking lot now. To me, it's like looking out at a graveyard. My ex-wife and daughter still live in the area, but if I do anything more than go down and pick up my daughter, it brings that whole day back. I just don't need that.
Going to work is better now. It's still emotional, but I don't know, when you're at work, it's like you block a lot of it out. Business is back; last month was one of the best months we've ever had. For a long time, we were pissed off about the tourists who came down. Why do people bring children down here? I guess you used to come to New York, you'd look out the top of the Trade Center. Now you come to look at what was there.
-- ALEX WILLIAMS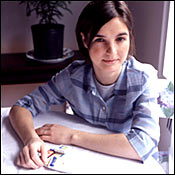 Inez Holderness
The beverage director at Windows on the World, Holderness, 24, was out of town on September 11.

When I left work on Tuesday, September 4, I had cleaned the office and given everyone my phone numbers and a "what to do" list in case anything went wrong while I was in North Carolina for my sister's wedding. The previous week, I had just promoted Steve Adams, one of our assistant cellar masters, to beverage manager, so I was also nervous about leaving him, since he was so new to the job.
I woke up at 9 a.m. on Tuesday, the 11th, to find my mother standing over me and crying. I am very blessed not to have been there, and I'm blessed that Stephen, my boyfriend and the restaurant's sommelier, wasn't due in to work until noon. He doesn't like to talk about it; I could talk about it every minute of the day, but only to him.
I miss Windows so much. I miss the people and the 63-second elevator ride to the top and the cafeteria and my desk. Stephen and I were convinced that if we got back into the swing of things, we would return to normal. It was obviously the wrong approach. Stephen often has nightmares, and I cry more than I talk. I found another job as a beverage manager in midtown, but going to work is a chore now, and I have trouble finishing anything I start. We have finally decided it's time to leave New York. We both feel like we have to. I want to be near my family. Then we're going to France to pick grapes.
Stephen and I got engaged. It's so helpful having the closest person to me understand my feelings of the past six months. My parents are concerned that the foundation of our relationship is this tragedy, but I know that we love the same things and have the same ethics.
-- BETH LANDMAN KEIL
Dr. Jeffrey Burkes
Burkes is the chief dental consultant to the office of chief medical examiner.

You always have to have a "what if" mentality. For years, we always talked about "What if a jumbo jet hit another jumbo jet?" We were thinking 500 people; that's what we prepared for. So far we've issued over 740 death certificates; more than 460 were dental I.D.'s. The tooth is the body structure that's most resistant to pressure, fire, heat. We still don't have a complete set of antemortem records for each victim, though. It's the families. A lot of people are in denial. They don't want to say, "Well, let's get the dental records, he's probably dead."
The biggest problem I had was that people would want to work eighteen-hour days, come back in, and get burnt out. It sucked you in like a black hole. One guy's wife called and was very upset; she hadn't seen him in two days. I had to put the guy in a car and drive him home myself.
Now it's more routine, less frantic. Four or five dentists at a time, seven days a week from 7 a.m. to about 8 p.m. Around Christmas, one of my daughters wrote me a note saying, "We miss you, we want you to come home, but we know what you're doing is important." I missed their basketball and softball games, but I made it to the final cheerleading competition.
Other parts of the country think we're okay. But we're not okay. It's taken its toll on me. My income is down for the first time ever because I'm not in my office. I'm sure I lost patients who couldn't wait.
But I don't want any relative ever thinking, Well, it's not his sister, what does he care? I would like to see everybody identified. The United States is a country of law; we have to settle estates, probate wills, and we need a positive identification to do that. I'm still shooting for 100 percent. We're not down to the bottom yet. I don't assume that anybody was so badly burnt, vaporized, that we're not going to find remains. If someone disagrees, I would like to know what they base their opinions on, because I know of no other jurisdiction where two 110-story buildings, an acre apiece, collapsed. It's never happened. This is something very special.
-- SARAH BERNARD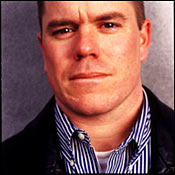 John Maguire
A 28-year-old finance associate with Goldman Sachs, he helped carry Father Mychal Judge.

I served as a tank officer in the Army after graduating from West Point in 1995. From my office at Goldman Sachs, I learned pretty quickly what was happening, and I wasn't going to sit and watch as my country was being attacked.
I made my way up to City Hall Park when the south tower crashed down. At the escalators at the WTC, I saw the firemen carrying a man I later discovered was Father Mychal Judge in a chair. I offered them a hand. It took five men because the ground was shifting on top of the debris, which made it difficult to walk. We carried him to a street corner and laid his body on the sidewalk. I pushed on his chest with a thought of starting CPR. No response. We folded his hands and covered his face with a jacket.
I went back and helped evacuate another man, with blood coming from his ears. Then I heard a huge roar. My Army instinct took over and I dove for cover under a truck. With all the material bearing down on me, I thought I was going to die. I saw an injured guy on the ground, and with a firefighter who had a headlamp, we dragged him to an office building. I took his dentures out, cleared his mouth of ash, and helped him into an ambulance.
I had problems breathing weeks after it happened, and in the first few weeks it was hard to focus. I didn't talk to any professionals; I decided to go the informal route, to talk to people who I knew and who knew me. Are things more difficult now? Yes. My commute is longer, and life seems a little more stressful. But that is a small price to pay in light of what others lost.
I find it hard to relax. The source of the stress is not something you can put your finger on now. Seeing fire trucks racing down the street, when the plane crashed at JFK -- those things brought it back right when I thought I was getting over it.
I think my way of dealing with it was just getting back to work. When you have too much time to think, that is when it overwhelms you. I've had nightmares, and I have not been able to throw away the clothes I wore that day. If I have children some day, I want to be able to show them the torn clothes.
-- JONATHAN KAPLAN
1 | 2 | 3 | 4