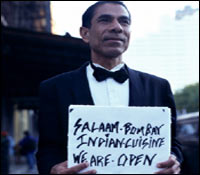 17 Ways to Help New York
Just three weeks ago, our taxi-riding, NoLIta-shopping, cocktail-consuming ways were seen — even sometimes by ourselves — as a sign of decadence, if not a Sex and the City script. Now we realize how innocent we were. Now, we learn, eating and drinking and theatergoing and spending (not to mention giving and volunteering) are the patriotic duty of all who consider themselves New Yorkers. The city still needs heroes. And on the following pages you'll find innumerable ways to help save your city — whether or not you're a credit-card-carrying American.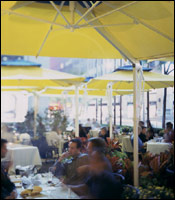 Medi in Rockefeller Center


1. Three-Star Rations
Get out of the kitchen: Armies march on their stomachs. And the army of rescue workers at ground zero has eaten well indeed — catered to by some of the best chefs in the country. Now, however, downtown restaurateurs say they need their own Marshall Plan to bring back paying customers.

"The restaurant business can't sustain weeks of this," says Drew Nieporent, who owns Nobu, Montrachet, Tribeca Grill, and Layla, all below Canal. A shuttle bus should begin operating within the next few days, says Jacques Capsouto, of Capsouto Frères, who will also cut prices by 25 percent. Local businesses, including restaurants such as Chanterelle, Bouley Bakery, and Bubby's, have formed the TriBeCa Organization in the hopes of luring visitors with neighborhood-wide discounts the weekend of October 12.

Of course, midtown has also been thinly populated. "We are depending almost exclusively on our regular customers right now," says Le Cirque's Sirio Maccioni. Lutèce is introducing an à la carte menu, and Medi, the costly new Rockefeller Center restaurant from French chef Roger Vergé, has a special $29.95 prix fixe "I Love New York" menu.

As on Broadway, restaurant workers are making sacrifices for the greater good. "The staff is being wonderful," says Maguy Le Coze, owner of Le Bernardin, which closed for a week because she couldn't get fish that met her standards. "They have agreed to take a cut in salary for as long as it is needed.'' Customers are beginning to return the favor. "Some people I haven't seen in a while are coming," says Le Coze. "There has been a definite increase since last week." Don't forget to tip. —BETH LANDMAN KEIL
2. The Showgoers Must Go On
Every other year, it seems, there's a campaign to save Broadway. But this time it actually needs it. Five musicals have already shuttered — The Music Man and The Rocky Horror Show among them. Others are barely hanging on. "Unless you're The Lion King or The Producers, you need help," says one theater publicist.
Pay tribute to the casts of Les Miz, Phantom, and Kiss Me, Kate — who have taken whopping salary cuts of 25 to 50 percent so that their shows may go on — but don't forget that the stylish 1997 Tony-winner Chicago could also use some help.
Plays always have a tough time standing up to the megamusicals. Our picks for this season? Ibsen's Hedda Gabler, starring Kate Burton; August Strindberg's Dance of Death, starring Ian McKellen and Helen Mirren; and Michael Frayn's Noises Off should all be terrific. "There's a sense of community on Broadway that I haven't felt in a long time," says Noises Off's Peter Gallagher. "I think this can actually be a real romantic time, because it's hard to sustain the bullshit when you're faced with these realities."
Buy any Broadway ticket right now and five bucks goes to the Twin Towers Fund (rescue workers, firemen, policemen, and their family members can get tickets for just $25). You can also buy tickets for any Off Broadway show (including The Vagina Monologues and Havana Is Waiting) and get a ticket to another for half-price, through October 31. It would be a shame if the late Jonathan Larson's sensational (if now somewhat unfortunately titled) autobiographical musical Tick . . . Tick . . . Boom! and the irreverent satire Reefer Madness had to close before they got the chance to become cult classics. —LOGAN HILL
3.

Unfurl Your Dollar Bills


If red, white, and blue are your new favorite colors, let your dollars do double duty: At Bendel's, proceeds from all things flag-hued go to charities, including the September 11th Fund. Ditto the profits from Old Navy's flag tees ($5) and Saks' Trade Center commemorative tops ($20). And if you're not keen on parading around in your purchases, the dog will be happy to oblige: At The 4 Paws Club, 65 percent of proceeds from Ella Dish's dog leash ($42) and collar ($40) go to the FDNY. After your patriotic shopping spree, kick back at Bliss, where $10 from every massage or facial through 2001 goes to the Twin Towers Fund.
4. Take A Stand Against High-Rise Anxiety


With workers looking to leave their jobs in conspicuously tall buildings — and a new Gallup poll finding that 35 percent of Americans are now less willing to walk into a skyscraper — it's time to get right back onto that elevator and hit PH. One great spot to amplify your vertigo is The View, the rotating bar and restaurant on the forty-seventh and forty-eighth floors of the Marriott Marquis (212-704-8900). For more stationary — but equally breathtaking — vistas, try Above, on the twenty-first floor of the Times Square Hilton (212-642-2626), or Top of the Tower, on the twenty-sixth-floor penthouse of the Beekman Tower Hotel (212-980-4796). Or head to the Rainbow Room on the sixty-fifth floor of Rockefeller Center (212-632-5100). Consider it practice: a way to work up your nerve to take the elevators up to the Empire State Building Observatory. —ABBY TEGNELIA
5. Bunker Down (For the Weekend)


What if you created a sleek Philippe Starck stage set for Manhattan's beautiful people — and nobody showed up? That's just about what's happened in the hotel business since the disaster. "The industry has taken a body blow," says Emanuel Stern, who owns both the Tribeca and SoHo Grand. "Not only aren't tourists coming, but business people are making do without meetings in New York."

Fall is usually the most expensive time of year to stay in the city. But now that occupancy rates have dropped to as low as 12 percent, some top hotels have, for all intents and purposes, become bargain destinations. So it's your patriotic duty to take a little second honeymoon — you can travel by subway. The Tribeca Grand (212-519-6600), not surprisingly, has dropped its rates dramatically; a room that went for $309 per night on September 10 is only $199. A $395 room at the Mercer (212-966-6060) can be had for $300. The W (212-755-1200) has a special "We Care" package for $199 (down from $295).

In midtown, the Drake (212-421-0900), with its new Q56 restaurant and buzzing cocktail scene, has dropped its $259 weekend rate to $179; the Dylan (212-338-0500), which houses the restaurant Virot, has reduced $355 rooms to $199; and the Hudson, which has seen more celebs pass through its doors this year than the Dorothy Chandler Pavilion, is offering a special crisis rate of $245, down from $310. The Bentley (212-644-6000), at 500 East 62nd Street, currently has a sweet deal of $125 per night, reduced from $265.

So sleep while you can — it may be a while before we see these prices again. "This week, we've actually seen people making, not just canceling, reservations," quips The Four Seasons' Leslie Lefkowitz. —BETH LANDMAN KEIL

Photo by Magdalena Caris, top; Kenneth Chen, second.