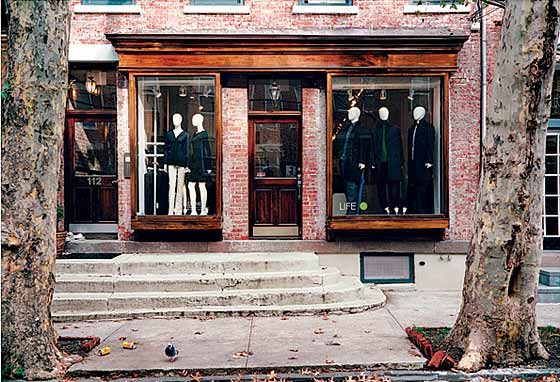 Toronto, where I came from, is a metropolitan, multicultural, dynamic city in which people are notorious for talking wistfully of living somewhere else. I assumed that by moving to New York I'd escape that wistful longing, and I did, sort of. But what I found is that in New York, people don't fantasize so much about other cities—London, Montreal, San Francisco, Berlin—as they do about other eras. A friend of mine recently moved to Bushwick, the next frontier in gentrified Brooklyn, and he always sells it by saying, "It's like Soho in the eighties or Williamsburg in the nineties." You need only to flip through On the Street, Amy Arbus's new book of photos taken in the East Village in the early eighties, or read reviews of Up Is Up But So Is Down, an anthology of writing from the same era, to be reminded of a time when, as one reviewer put it, the city was "infused with the energy and violence of a city where blackouts and social protests were routine, the East Village was still filled with tenements, and the subway was covered with graffiti"—and then, oddly, to feel nostalgic for that time. And yet we regard this nostalgia with a self-mocking irony. Gawker, for a time, reported gruesome murders under the snarky catchall heading "NYC Is EDGY!"—the joke being that we're glad it really isn't while simultaneously kind of wishing it still was.
This perpetual churn of nostalgia is what drives us to seek out a present that feels like the past, to find the next neighborhood that will remind us of the neighborhood that's already gone. It's what spurs Ingrid to talk fondly of the Williamsburg of ten years ago, or prompts Amy Dubin, the cheerful, spiky-haired proprietor of a downtown Jersey City tea shop called Janam, to remark, "I love New York. But compared to the New York of the seventies, it's not so...colorful, in terms of music and fashion and art. It feels kind of muted." In Jersey City, by contrast, "there is an excitement here. People feel like this is a movement that could have historical significance, like Williamsburg has."
It's understandable to want to recapture—or, I guess, capture—the feel of that bygone New York that lured you here in the first place. This desire, as it happens, also makes for a great sales pitch. All across America, developers are pitching new loft conversions or luxury condos as having "a Soho feel" or "a Williamsburg vibe," or, magically, both. "We want it to be a cross between Williamsburg and Soho," said a Philadelphia developer of his $100 million development to the New York Times last year.
As I drive around downtown Jersey City with Steven Fulop, the area's recently elected 29-year-old city councilman, he offers me a tour of Waldo, which is Jersey City's own version of Brooklyn's Dumbo, complete with derelict warehouses, an overarching development plan, and a marketing-friendly acronym (it stands for Work and Live District Ordinance). "It will have a Soho-Village kind of vibe," he says. "It's like the Village was 40 years ago. Not that it's going to take us 40 years to get there."
In fact, downtown Jersey City, with its mishmash of brownstones and warehouses and condos and Williamsburgian industrial blocks, is like a tabula rasa for gentrifiers. There's a burgeoning art scene side by side with a blooming skyline of luxury waterfront towers. (And, as one satisfied owner said to me, "When I look out, I've got a view of the sun rising over the Manhattan skyline, while over there you're looking at the sun setting over New Jersey.") On the picturesque streets around Van Vorst Park, if you squint, you could almost be in Park Slope. Then again, if you turn around and walk in the other direction, you could almost be in downtown Toledo, stranded on a windy office block near a Chili's or a coffee shop inexplicably named Hawaii Cup-O.
Whatever your dream of New York life is, downtown Jersey City is ready to fulfill it, or at least some reasonable facsimile. "When we opened this store, people were like, 'Wow, this is amazing. This feels just like the West Village,' " says Cliff Rullow, an Englishman who owns Life, a high-end men's boutique.
"We've been called the sixth borough, but everything here is better than Brooklyn. I like to call us the second borough," says Fulop, the young councilman.
"At Marco + Pepe, you could convince yourself that you are in Chelsea," writes a reviewer of the charming restaurant right across from City Hall—on the same corner, in fact, where Helene Stapinski grew up.
"When she said we were going to Jersey City, my first reaction was 'Ugh,' " says John, a Brooklynite, of his companion Betsy, a Manhattanite, while returning from a house party on the 12:15 a.m. path train to New York . "But it's really gentrified well. They should make it a borough."