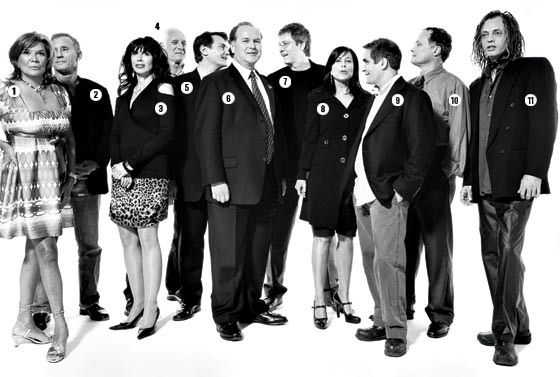 1. CARMEN D'ALESSIO, 59
Then: Public Relations. "I created Studio 54!" says D'Alessio. "I'm the most important person to talk to." According to the modest Peruvian, she brought Schrager and Rubell "hand-in-hand from the boroughs to the Big Apple," and presented them at a preopening dinner attended by Warhol, Halston, and Calvin Klein. She found them Armani suits at Barneys. And then she put the club on the map by throwing parties like the one where Bianca Jagger rode in on a white horse, or Valentino got to act as the ringleader of real circus animals, or Armani was fêted with a drag-queen ballet. She also popped out of her own birthday cake in a skimpy gold lamé Norma Kamali bathing suit. Her breast popped out later, too.
Now: Club Owner. Unlike her Studio cohorts (most of whom she didn't mingle with because she was a "little diva," she says), D'Alessio has never lost a taste for nightlife. "Studio didn't impress me," she says. "I've always been a jet-setter. Andy Warhol said I am the jet-setter." Now, after promoting every nightclub in the city, from Limelight and Tunnel to Cain and Plumm, she's fulfilling a dream and opening a restaurant-bar-lounge of her own back home in Lima, Peru.
2. IAN SCHRAGER, 60
(See Q&A here.)
3. MYRA SCHEER, 56
Then: Executive Assistant. After several months of going to Studio as a customer, she was hired as Rubell and Schrager's gal Friday. "I would get on the phone with Andy Warhol, Liza Minnelli, Diana Ross, Halston, and invite them to Steve's 'backdoor' parties," which were private parties held behind a backdrop from 10 p.m. to midnight. "Then at midnight the backdrop would lift and they'd become part of the club."
Now: Fund-Raising Consultant. "I did nightclub PR until I had an awakening: I didn't want to drink anymore." She went into beauty and health PR, "kind of the antithesis of disco," and works for nonprofits like the Rainforest Foundation Fund. "Now I'd rather work out to disco music than dance to it."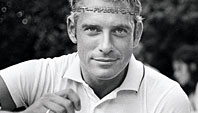 4. R. SCOTT BROMLEY, 68
Then: Architect. D'Alessio asked Bromley to drop by to see the raw space. "I walked in, and all of a sudden it hit," says Bromley. "I said, 'You know, everyone wants a little bit of fame. So we'll rip out all the seats and turn the stage into the dance floor.' They loved the idea. We were designing it on napkins." They hired a crew of tough Irish kids from the neighborhood and hammered and nailed it all together themselves.
Now: Architect. Approaching 70, Bromley now only goes out to eat. ("Your legs go out. It just fades.") But he's still a clubber at heart: "The scuttlebutt on my block was that there would be a new nightclub moving in, and all the people my age were pooh-poohing it. 'We don't want the traffic. We don't want the noise.' I thought, How wonderful! It will liven up the place. We'll have lots of kids!"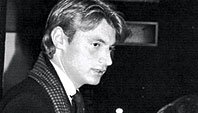 5. MARC BENECKE, 50
Then: Doorman. As a 19-year-old political-science student at Hunter College, he went with a friend to check out the club before it opened. "It was April. We walked in the door. I met Steve Rubell, and he asked me what I was doing for the summer. I said, 'Nothing,' and he said, 'How would you like to work here?'"
Now: Real-Estate Broker. "After Studio closed, I didn't realize the party had ended, and it took me a long time. Let's put it this way: Now I only drink red wine." He spent years running his own bars and restaurants in L.A., then, in 2000, he reconnected with Schrager to help open the Clift hotel in San Francisco. This year, he changed careers, becoming a residential real-estate broker. What happened? "You'll have to ask Ian." Are you friendly? "We speak. I was very close with Steve. I miss Steve."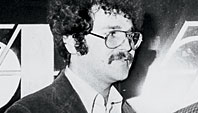 6. CHUCK GARELICK, 49
Then: Head of Security. Garelick watched out for all the workers—especially Benecke, who was constantly in danger of being slugged by people he refused to let in. When the crowd outside got too big, Garelick and his men would link arms in a V formation and plunge in to swoop up Benecke's chosen revelers and escort them inside.
Now: Managing Director of GSS Security Services. Though he managed security for the Palladium in the eighties, Garelick has permanently gotten out of the nightclub business—his firm works with special events, hotels, and stores. "I like daylight," he says. "And the nightclub business has changed. It used to be that if you banged into someone in a club, you'd turn around, say, 'Excuse me. Sorry.' They might even buy you a drink. Now it's progressed to the point where if you bang into someone and say, 'Excuse me,' they'll shoot you."