Wendy Williams on The Rock
I love the Rock's swirliness. If you squint, he's white. If you open your eyes a lot, he's black. And if you close one eye, he might be Hispanic. Now, I've never met the Rock, but I would love for him to come to my show and curl me. I'm a larger-framed woman, and the idea of a guy who could pick me up … I was a late walker as a baby because I was scared of standing and then falling, and I've never liked to be picked up. But I think the Rock would be just the guy to do it.









Dan Harmon on alpha female Tori Amos
When I was living in an attic in Milwaukee and looking up at the plywood ceiling, I was fantasizing: There's got to be a way I can get to Los Angeles and write for a living. I had two Tori Amos CDs, Little Earthquakes and Under the Pink. She had a lot of fury and passion in her voice, and she was kind of a mother and a sister, letting me know that there was something inside me that was going to explode forth. She just made a fitting Athena to my ­Odysseus at that point. I certainly ­fantasized about her car breaking down while on tour in ­Milwaukee and my changing the tire and maybe just helping her out, and her singing a song in exchange for changing the tire. I never would have laid a finger on her, but that's ­probably why I wouldn't be her type. I would be a beta male, and I would just be intimidated and helping her move a lot.
Zoe Kazan on Robert Downey Jr.
I used to write Robert Downey Jr. letters while he was in prison—letters I never sent, but nonetheless I wrote them. They might be in a drawer somewhere.














Liz Meriwether on Keanu Reeves
I watched Speed, and I watched it by myself. I fell in love with Keanu Reeves, but I was also aware of the impossibility of it. I felt this sadness, because I was never going to be able to have him. It's confusing, because I've mostly dated smart people who live in their heads.












Cat Marnell on Bald Britney
If I could have a dream list of people that I really like, it would be bald Britney; Anita Pallenberg; Keith Richards; Knut, the polar bear who died. But of those, bald Britney was the most important beauty moment of my generation. I was 16 when "… Baby One More Time" came out, and all of a sudden, beauty was this unattainable ideal. You were supposed to be tanned; belly-button rings, abs, hair extensions, midriffs, and none of that existed until that Britney moment. But Britney, I fucking swear, she did it for us. She was so hot, and then she went, "No!" She finally let herself be ugly. It was the most generous thing she could do.


James Deen on Fairuza Balk
When I first saw The Craft, I really wanted to have sex with Fairuza Balk. The type of girls I'm ­consistently attracted to have dark hair, serious attitude, with a slightly alternative look. I totally wanted to have sex with Balk in American History X, too. But that was also because she was a Nazi and I'm Jewish, and I always want to have sex with Nazis, because Nazis are really hot. I don't know why.







Robin Thicke on Molly Ringwald's Mouth
It must have been that ­lipstick trick in The ­Breakfast Club. That was enough for a pubescent boy. I ended up meeting her at a Dodgers Game, probably when I was 10 years old, and it was one of those ­nervous-kid moments. She was a big star. So I just shook her hand. I don't think an appropriate opening line for a 10-year-old would have been "I like your mouth."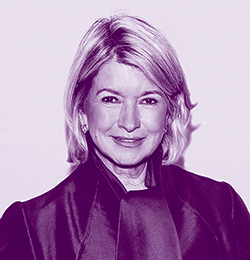 Saïd Sayrafiezadeh on former work-crush Martha Stewart
Of all the beautiful women who worked at Martha Stewart Living Omnimedia—and there were many—the most beautiful of all was Martha Stewart herself. As fortune would have it, I sat closer to Martha than any of the 500 other employees, with my desk about six feet from her enormous glass office that faced the Hudson River. My proximity was purely ­random, considering that I was a lowly "production associate," and I had no ­reason ever to speak to her. So I didn't. In my eight years employed at the company, I interacted with Martha probably no more than three times. The most memorable was shortly after I'd been hired, when, walking through the hallway, Martha inquired, to no one in particular, where the water fountain was located. I knew enough to answer straightaway. "Down the hall and to your right," I said. She was pleased with my response, and gave me such a warm, enveloping, inviting smile. I'm sure a moment later I'd been erased from her memory.