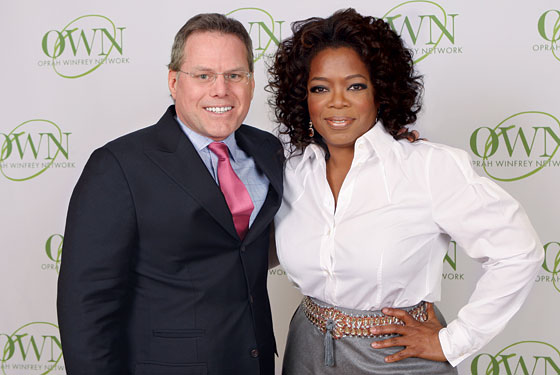 Oprah had never been much of a manager. At Harpo, anything not having to do with the creative side of the business often fell into disarray. The show's costs ballooned at one point to $50 million a year (insane by most shows' standards); Harpo suffered from a rash of staff departures; and an ex-employee lawsuit (since settled) claimed an atmosphere of "dishonesty and chaos." Those closest to her say Oprah is warm and open—the ultimate girlfriend to other women. She's also said to be generous, offering high salaries, trips to her homes in Santa Barbara and Fisher Island, just off South Beach, and shopping sprees and luxurious gifts. But she can also be distant and capricious. Other people generally deliver bad news, and her appraisal of employees is often based on her personal opinion of them. That can create a culture of turf battles and dysfunction. "Everyone undermines everybody else to get more access to Oprah," Elizabeth Coady, a former senior associate producer who quit in the nineties, once said, "and I think she encourages it." Another bitter former employee dubbed Oprah's company "a narcissistic workplace."
At O: The Oprah Magazine, Oprah had installed Gayle King as her representative. But she still made changes as she saw fit. By June 2000, the magazine's original editor, Ellen Kunes, had resigned. "The problem is that Ellen Kunes does not really know me," Oprah had said. She was replaced by Amy Gross, who was strong-willed but also understood Oprah and was able to successfully interpret her vision. "It's my ship, but Oprah's the North Star," she said. The magazine has gone on to become one of the most successful launches in recent history.
By the time she turned 50 in 2004, Oprah and The Oprah Winfrey Show were traveling down some strange roads. The woman who once said, "One of my greatest assets is knowing I'm no different than the viewer" was now devoting episodes of her show to past-life regression and reincarnation therapy and telling audiences she had had many lives. She indulged in New Age attempts to beat back aging (like the Thermage one-hour face-lift, which proved dangerous to many of its practitioners) and relieve stress (she told her viewers she wore a watch that emits a signal to block electromagnetic rays). She took some bizarre stabs at spirituality, like The Secret. She had Jenny McCarthy on in the fall of 2007 to talk about how vaccines may cause autism and how her son was somehow "in recovery," and never bothered delving deeply into the science behind McCarthy's assertions (later, Oprah would announce a deal to develop a talk show for McCarthy, too). For every Mehmet Oz, the reputable heart surgeon whose show she agreed to launch, there was someone like Suzanne Somers, whose extreme synthetic hormone-replacement regimen was featured on an Oprah episode.
Oprah seemed edgy now, and anxious. Exploding at James Frey for a full hour in 2006 was, she'd later admit, a mistake. So was canceling the book club afterward, a decision she reversed a year later. Oprah talked openly about ending the show, but "I truly don't know what to replace it with," she said. "As soon as I do, I'm pullin' those people from their chairs."
Still, every few years, she would sign on for another year or two of syndication, getting paid more each time she renewed. It was hard to say no, not with the pulpit she had, the chance to do good—and the money, an estimated $275 million a year.
In 2007, Oprah stepped into the political fray for the first time in her career and endorsed Barack Obama for president—a move that many say may well have won him the election. Her hold on the culture seemed stronger than ever. Tim Bennett says she was ecstatic. But the endorsement also cost her. Oprah's Republican fans felt alienated, Hillary Clinton supporters felt outright betrayed, and still others were offended by being preached to about politics by a billionaire entertainer. A Gallup poll released in October 2007, months after she endorsed Obama, found that her favorable rating dropped by eight percentage points and her unfavorable rating increased by nine. "You saw people, her fans, accusing her of being a racist," says Janice Peck, a media-studies professor at the University of Colorado at Boulder and author of The Age of Oprah. Her five-year run as the favorite TV personality in a January Harris online poll also came to an end. The new winner: Ellen DeGeneres.
That same year, Oprah founded a boarding school in South Africa, achieving a longtime dream and bringing her closer to the ideal established by her friend and mentor, Nelson Mandela. But from the start, the Oprah Winfrey Leadership Academy for Girls faced accusations of noblesse oblige. Pouring $40 million into the school, she handpicked the china, the linens, the pleated-skirt uniforms, the fabrics ("the sort I'd like in my own home"), while critics wondered if the money might be better spent. "These girls deserve to be surrounded by beauty, and beauty does inspire," she responded. Gayle King remarked that the school was Oprah's shot at motherhood. There was a distinct air of penance to the project, too, as if she were renouncing a life of materialism. "This is what the show is for, what the fame and notoriety is for," she said. "Not just for me to make money to buy Jimmy Choo shoes."