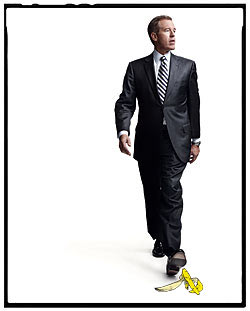 In his many visits to the show since, Williams has embraced the absurdity of the world Fey has created and fully inhabited the outrageous character she's written for him. He's spread rumors about Liz's love life ("Ritchie and Liz spotted in tree, eyewitnesses report k-i-s-s-i-n-g"), and invited buxom women cast off by Tracy Jordan over to his house in Connecticut. Just last week, he appeared in an animated short made in celebration of the sitcom's 100th episode. In the clip, Williams tries to trade the last serving of frozen yogurt in the NBC commissary to Jack Donaghy in exchange for a role in Law & Order: SVU playing "a handsome reporter driven to serial murder by a busybody morning weatherman." In perhaps Williams's funniest appearance, in the season-four episode "Audition Day," he learns that TGS is holding tryouts for a new cast member and throws his hat in the ring. He bombs. "Have you ever wondered what happens in the refrigerator after the light goes off?" he asks during his audition. "Does the milk say, 'Let's go down to the crisper drawer and make trouble'?"
Consider the complexity of that brief scene: It's Williams doing "Williams" doing bad Seinfeld. The anchor's cameos are not merely a matter of dropping by the 30 Rock set, reading a line, and dashing back to the safety of the newsroom. He's pushed onto the sitcom's high-wire and expected to keep his balance like everyone else.
Told of Meyers's appreciation for his "comic instrument," Williams replies, "That's odd. We've never belonged to a health club together."
It helps that Williams is a student of the form. Fey accuses him of having "a nerdy obsession with comedy," the kind you typically find among comedians. Williams confesses that while he dreamed of being Cronkite as a kid, he stayed up to watch Carson every night he was allowed to. He pored over the work of Pryor and Kinison. He sent away for Saturday Night Live tickets after watching the premiere episode. (He got them and attended a season-two episode that, according to Williams, Lorne Michaels still considers one of the worst nights in the show's 36-year run. Broderick Crawford hosted.)
Williams told me he occasionally marks up 30 Rock scripts because the material they want him to do is too risqué. Fey confirmed that she gets notes from the anchor—with suggestions on how to improve the jokes.
The body of work Williams has written as well as performed is small but accomplished. Back in 2007, when he hosted SNL, he was a full partner in drafting his opening monologue. Then in his third year in the anchor's chair, Williams was concerned that hosting the show might diminish his journalistic stature. That week, Williams moderated a debate in Philadelphia for Democratic hopefuls on Tuesday night, typically a writing night for SNL. Afterward, he got in a car and went directly to Seth Meyers's office in New York, where they got started on his monologue around 2 a.m. Together, they took Williams's ambivalence and turned it into material. "I would like to point out that at this very moment, we all have something in common," Williams told the studio audience on Saturday night. "Each one of us, myself included, is thinking, Now, is this really a good idea?" It was, and Williams was a hit—in no small part, Meyers notes, thanks to his experience reading the news, which gave him a poise onstage that guest hosts often lack. (Think January Jones, visibly struggling to read her cue cards.)
One of Williams's most-beloved performances, at least among New Yorkers, was a bit entirely of his own composition. It came at the end of the winter, while Williams was taking part in a panel discussion on MSNBC's Morning Joe. The panelists were debating the top media story of 2010, offering up the predictable hosannas for the iPad, when Williams, out of nowhere, took the conversation in a different direction, delivering a riff full of mock marvel at the New York Times's sincere, wide-eyed coverage of Brooklyn bohemians:
"Once a day, there's a story about all the riches offered in that borough. There are young men and women wearing ironic glasses frames on the streets. There are open-air markets, like trading posts in the early Chippewa tribe, where you can make beads at home and then trade them for someone to come over and start a small fire in your apartment that you share with nine others. Artisanal cheeses, for sale on the streets of an entire American borough. It's been fascinating to watch the paper venture over the bridge. Venture through the tunnel. Go out to the outer reaches."
It was a devastating comic set piece, perfectly capturing the paper's penchant for writing about outer-borough hipsters as if they were some newly discovered Iron Age society whose folkways demand documentation. ("They are making grilled cheese sandwiches in the streets," Williams added. "It's like Marrakech over there.") Even fellow panelist Brian Stelter, a Times reporter, couldn't help but laugh. The clip quickly went viral.