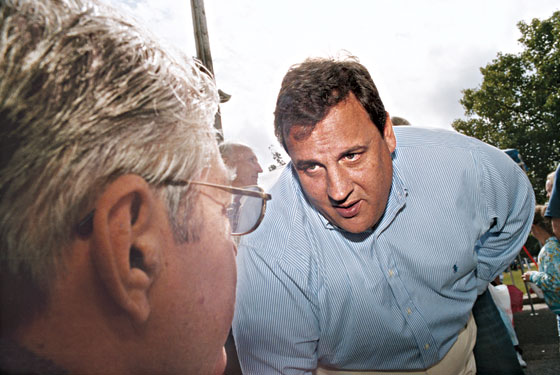 Christie lacks the easy charm of a traditional front-runner. For one, he's fat. In a state where dirty politics competes with the Jets as the favored spectator sport, Christie's weight has become fodder during a race that has been intensely personal and nasty, at times comically so. "He looks hideous! And unhealthy," says longtime Democratic state senator Ray Lesniak. "That doesn't portray the discipline that's necessary to lead this state." This summer, the Corzine campaign ran an unflattering television spot that featured slow-motion shots of Christie's massive gut after members of a focus group responded that they were turned off by his tubby physique. "They chose to run with the ad because people were appalled by his obesity," one Democrat close to the Corzine campaign told me. In September, another Corzine ad took a more direct approach, saying that Christie "threw his weight around" as prosecutor. Comella says the ad "is clearly part of an overarching strategy to personally attack Chris Christie." The Corzine campaign denies this. "The ad's only purpose was to show how Chris Christie used his position as U.S. Attorney to get out of traffic stops," responds Corzine's spokesperson, Sean Darcy.
But with voters still raging at Wall Street elites, Christie's rotund appearance and Everyman appeal—he's a Jersey native and avowed Springsteen fan—have served him well against an opponent who earned more than $300 million at the highest echelons of Goldman Sachs and continues to spend many nights across the river in Manhattan. Privately, even Democrats acknowledge Corzine has been a major disappointment as governor. When he first ran, Corzine promised to bring his hard-nosed business skills to Trenton. "Hold me accountable," he declared in his inaugural address. He then installed a coterie of former Goldman executives to key posts, only to watch his administration clash with the Legislature and fail to complete signature agenda items like turning over management of the turnpike to private companies and cutting property taxes.
"I had two conversations with [Rove] in seven years, I don't know if you'd call that a relationship," says Christie, who knew Bush well enough to have a nickname: Big Boy.
Beginning this summer, Democrats pushed news that Karl Rove admitted he had advised Christie on his future political plans while he was a sitting U.S. Attorney, a potential violation of the Hatch Act, which bars prosecutors from engaging in campaign politics (Rove didn't respond to multiple calls for comment). The Corzine campaign has filed a Freedom of Information Act request to gain access to any communications Christie may have traded with Rove, but so far has been rebuffed in its efforts. Christie is putting as much distance as possible between him and his former mentors. "I had two conversations with [Rove] in seven years," Christie tells me, "so I don't know if you'd call that a relationship. You and I are now halfway to my relationship with Karl Rove, so you know, I didn't have to apologize for it, certainly."
Days after the story broke, in August, it was revealed that Christie had failed to report interest on a $46,000 loan he gave to his friend and assistant U.S. Attorney Michele Brown, who later resigned over the flap. News of the loan swirled through New Jersey political circles as the prospect of a race-altering scandal energized Democrats. It was quickly followed by other embarrassing headlines over his driving record and previous charges that, as a prosecutor, he gave millions of dollars in no-bid legal contracts to his former boss John Ashcroft, as well as to a federal prosecutor who spared Christie's brother Todd, a trader with the Wall Street firm Spear, Leeds, while fourteen other Spear employees were charged with fraud. "He's a failed governor," Christie fires back. "And failed governors can't talk about their own record, so what they do instead is try to demonize their opponent."
In a state with a $7 billion budget gap, of course, any proposal of a way forward is liable to be unpopular. Corzine has carved out a platform involving green jobs, expanding early-childhood education, and expanding health-insurance programs. He touts a major recent victory in allocating school funding to troubled schools. "When someone is really under the gun, their life is struggling, I think there is a role for government to be there with a helping hand," he says. Christie's mantra, meanwhile, is cut, cut, cut, the old Republican standby, albeit with few specifics, a flaw that has become increasingly apparent recently. The struggles of both campaigns have left the door open for the independent candidate, Chris Daggett, to score points. Daggett, a former EPA official, promises to cut property taxes by 25 percent, partly by expanding the sales tax. His surprisingly witty and proficient performance in the October 1 debate gave him momentum; in a Fairleigh Dickinson Poll, he reached 17 percent by one measure. Most of his support seems to be coming from Christie.