Nightlife NewsMore
"This chain, themed restaurant is totally out of character with this area of the Quarter."
Everything Guide
By Jordana Rothman

Avant-garde arts clubs, hard-partying secret collectives, and other conclaves that might just have you as a member.


Best of New York More
Picnics with a view, roller-skating nostalgia, and a party for gay headbangers.


Guide
By Kurt Soller

A survey of the city's gay scene, complete with the requisite go-go boys, outré drag artists, and low-key lounges for people who just want to drink.
This Is Growing up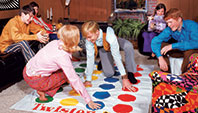 By Jordana Rothman

How to take part in slumber parties, ping-pong marathons, and Seven Minutes in Heaven as a grown-up.
Recent Bar & Club Openings
10 Most Popular Bar Searches