Someone you love is injured and you find yourself needing a Personal Injury Attorney—you will settle for nothing but the best. New York Law Journal's Personal Injury Litigators of 2015, includes attorneys from the greater metropolitan area who handle all types of personal injury cases-slips and falls, burns and disfigurements, brain injuries, asbestos poisoning, and much more. Learn about the talented individuals profiled here who are raising the bar for success in their field, and next time you are in need of an attorney, consider what they could achieve representing you.
Shaevitz, Shaevitz & Kotzamanis
"Clients aren't just statistics. They are real people with special needs."
Law Offices of Michael S. Lamonsoff
"I love to win, and my clients love me for it."
Hach & Rose, LLP
"We believe that clients deserve a law firm that will be immediately responsive to their needs."
Ogen & Sedaghati, P.C.
The team has a proven record of 7-figure and 6-figure verdicts and settlements.
Hecht Kleeger & Damashek
"We strive to provide unparalleled legal representation while supporting our clients."
Jacob Oresky & Associates, PLLC
"I want clients to know that their case is very important to me, and that my firm is ready to go right to work for them."
Paris & Chaikin, PLLC
"We emphasize close client relationships that endure past the conclusion of a client's case."
Paul B. Weitz & Associates
"We put the necessary time and money into every case to get the best results for our clients."
Robinson & Yablon, P.C.
"At our best when you're at your worst."
Douglas & London, P.C.
"No one at Douglas & London will stop until justice is served."
Gair, Gair, Conason, Steigman, Mackauf, Bloom & Rubinowitz
"Our primary goal has always been to obtain justice for our clients and their families."
Lindstadt Law PLLC
"Standing Apart From The Rest."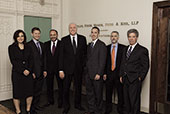 Queller, Fisher, Washor, Fuchs & Kool, L.L.P.
"We offer the time and dedication to our clients to attain a common goal: positive closure."
Raphaelson & Levine, PC
Since 1992, the firm has prided itself on serving as a "Voice for the Injured."
Jonathan C. Reiter Law Firm, PLLC
"Fighting for justice when every injury is personal."
Rheingold, Valet, Rheingold, McCartney & Giuffra LLP
For over 35 years, the firm has provided the best possible legal representation.
Fatos Dervishi, Esq.
Mr. Dervishi is active in the Albanian community, assisting residents with their legal needs.
Sullivan Papain Block McGrath & Cannavo P.C.
The firm has 40 attorneys devoted solely to the representation of those who have been seriously injured.
Schwartzapfel Lawyers, P.C.
"We recognize we're dealing with people, not simply numbers."
Dell & Dean, PLLC
"The client always comes first."
Kerner & Kerner
"We pride ourselves on preparing every case for trial."
Bergman, Bergman, Goldberg, Fields & Lamonsoff, LLP
"Clients can be assured they will not be turned over to an associate."
Hach & Rose, LLP
"We believe that clients deserve a law firm that will be immediately responsive to their needs."
Law Offices of Nicholas Rose, PLLC
"Our goal is to ensure clients are treated as people, not case numbers."