You needn't mourn the lower-Manhattan art scene, all but gentrified out of existence. Today's Cedar Taverns are just a subway line (or two) away from the major downtown galleries, in areas where lofts are still cheap and artists have room to make a big, experimental mess. Though the emerging talents of "Greater New York" come from all over the tri-state area, the heat in this intense market is radiating from several concentrations of future stars, located in established art enclaves like Williamsburg and Long Island City as well as new ones like Harlem and outer Brooklyn. Watch these spaces for things to come.
Harlem
Who's there: Former Columbia M.F.A. students Dana Schutz, Mika Rottenberg, Ryan Johnson, Laleh Khorramian, and current student Dasha Shishkin; former Studio Museum in Harlem resident artist Deborah Grant; friends eager to maintain a sense of community and escape rising Williamsburg rents.
Connections: Painter Dana Schutz and sculptor Ryan Johnson are a couple who work out of a building across from Fairway, at 2331 Twelfth Avenue. Rottenberg and conceptual video artist Aaron Young (also a couple) share a building with Khorramian at 128th and Amsterdam, and Grant and others work two blocks over, at 129th and Broadway. "We all stayed uptown to be together," says Khorramian.
Hangouts: Toast or Floridita for lunch; the posh new Cherry Lounge for late drinks. "They let us in after hours," says Young. Adds Khorramian, "We can stay in the studio much later."
Galleries: Triple Candie (pictured) "is wonderful about showing people in the area," says Schutz. And the Studio Museum in Harlem. Artistic Vibe:Wry humor. Young staged a photo of the Yale soccer team spitting blue Gatorade into parabolic arcs; Schutz invented a lonely beach bum as the central figure in a cycle of paintings; Grant scavenges comic books and pop culture for her ink drawings.
Atmophere: More bodegas and café con leches than French cafés. Socializing starts (and often ends) in the three studio buildings.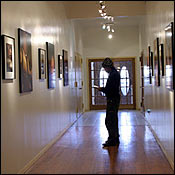 Clinton Hill and Bedford-Stuyvesant
Who's there: Video artist and painter Derrick Adams, sculptor and photographer Adia Millett, painter Mickalene Thomas, sculptor Matthew Day Jackson; former Pratt students; artists looking to exchange views of truck routes for trees.
Connections: Millett is friends with Thomas and Adams, who both went to Pratt and have studios next to each other in Clinton Hill, where artist Luis Gispert also works; Jackson and Adams were at Skowhegan together in Maine.
Hangouts: Restaurant row (Chez Oskar, Madiba, Liquors) on DeKalb Avenue in Fort Greene; Tillie's coffee shop. "Tillie's is a place of comfort," says Thomas, who regularly chats up the owner. "It's a community spot," agrees Adams, whom Matt Jackson most recently ran into at Freddy's, a bar on Dean Street whose owner is known for showing arty videos.
Galleries: On Grand Avenue, Danny Simmons's Corridor Gallery (pictured) shows almost-outsider art.
Artistic Vibe: Multidisciplinary, multicultural explorations of community, identity, and the built environment. Millett's detailed models of people's homes are inspired by wood-paneled apartment buildings and prefab houses depicted in the Grand Theft Auto video game, while Jackson's wooden constructions meld American Indian and Viking styles.
Atmophere: Diverse, adult, historic. "It's a professional community— like a home away from home," says Thomas.