Fast & Delicious
48-19 Vernon Boulevard, Long Island City
(718-729-9988)
Restaurants with adjectives for names rarely live up to them: One often discovers, for example, that while Pepe's Fresh and Tasty Taco does stuff a soft corn tortilla with various savory fillings, the end result is neither fresh nor tasty, and, furthermore, the owner's name is Josh. Fast & Delicious, though, delivers on both counts. The specialty of this spotless Brazilian takeout canteen is a top sirloin churrasco ($14.95) deftly carved from the spit and finished on the charcoal grill. It's six or seven good-sized slabs of beef, remarkably flavorful and tender enough to cut with a plastic fork (though you get the deluxe steakhouse model if you dine in). Sautéed collard greens and black beans and rice make fine accompaniments. And good rotisserie chicken ($7.50)—"marinated in Corona beer," boasts the cook—not to mention Saturday's feijoada ($12.95) are likewise swift and satisfying.
Financier Patisserie
62 Stone Street
(212-344-5600)
Saturated with fast-food outlets and plagued by lackluster saloons, the financial district has always been a budget-dining desert. This elegant café, an offshoot of Bayard's and Harry's on Hanover Square, is an oasis—not only for its mouthwatering patisserie but for its lunchtime panini, North Fork salad greens, and satisfying soups. We're partial to the chicken and goat cheese on Tom Cat Bakery ciabatta ($6.50) but are easily swayed by the equally compelling San Danielle prosciutto-mozzarella-pesto or the house-cured tuna ($7 each). Bonus points: genteel service, real china, and outdoor seating on a lovely cobblestone street.
First Hungarian Literary Society
323 East 79th Street
(212-288-5002)
The good news is that the owners of A Touch of Hungary, the terrific College Point source for home-style Hungarian cooking in portion sizes fit for a Japanese hot-dog-eating champion, have moved closer to home—our home, that is—taking up residence at the First Hungarian Literary Society on East 79th Street. The bad news is that the portions—to suit the less ambitious appetites of the elderly club members, most of whom have never participated in a frankfurter-eating contest—have shrunk a little. Never fear: A single $16 four-course meal, typically including an appetizer like pickled herring, cold sour-cherry soup, a toothsome goulash or sliced pork with sour cream and bacon, and dessert, still has the potential to completely destroy your 30-days-to-killer-abs regimen. The club dining/card-playing room is open to the public, but you need to call a day in advance to reserve a table.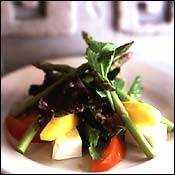 Itzocan Café
438 East 9th Street
(212-677-5856)
Tex-Mex you've heard of, but French-Mex? That's the best way to describe the offbeat fusion perpetrated at this unexpectedly gourmet hole-in-the wall. The Puebla-born chefs (who happen to be brothers) picked up a few tricks working at French bistros around town, which accounts for the asparagus "a la plancha" with mango and Oaxaca cheese in passion-fruit vinaigrette ($6), the inspired combination of huitlacoche and truffle oil in the signature soufflé cakes ($6), and specials like roast leg of lamb stuffed with feta and spinach in merlot-pasilla jus ($14.50). For dessert? Blue-corn crêpes, of course.
Ivo & Lulu
558 Broome Street
(212-226-4399)
Marc Solomon and Blue Grant have a habit of opening tiny, intimate restaurants off the beaten track, first launching A on upper Columbus, then this kindred-spirited spinoff on Soho's farthest fringes. But their fans seek them out as much for the dinner-party-caliber hospitality as for the exceedingly affordable, mostly organic French-Caribbean fare, like wild-mushroom cassoulet with coconut cream and curried tofu, and free-range-rabbit-and-ginger sausage with carrot-miso sauce. The menu's got a mere eight items, and the $6–$10 price range can't be inflated by bar tabs—it's BYOB.
Khao Homm
39-28 61st Street, Woodside
(718-205-0080)
Off-the-menu orders stymie some kitchens, but not this ultra-accommodating, multitalented Thai one. We asked for deep-fried-catfish salad, and the chef complied, topping shredded lettuce with gossamer-crisp fish, julienned papaya, roasted cashews, and a sweet-and-sour dressing we wanted to lap up. Instead, we turned our attention to the exquisitely curried chu chee salmon ($12) and pad kee mao ($6), seductively soft broad noodles permeated with chili and basil. It's not only the food and gracious service that have earned this yearling a loyal Thai clientele—the karaoke machine packs 'em in, too.
Kitchen 22
36 East 22nd Street
(212-228-4399)
Kitchen 82
461 Columbus Avenue, at 82nd Street
(212-875-1619)
Some people—not us—call it Dining for Dummies. But Charlie Palmer is smart enough to realize that a foolproof, hassle-free evening out is just what a lot of people want right now: No lengthy list of specials to ponder. Just point to what you want on the tiny menu of five appetizers, five entrées, and five desserts, then grunt and rub your belly. The two wine suggestions—one white, one red—lined up next to each entrée make ordering simple enough for a small child, should he or she be carrying the proper I.D., and the staff takes care of everything else except cutting up your steak into tiny chokeproof pieces and calculating the tip. Sure, on most nights, three out of five entrées on the $25 prix fixe menu are going to be chicken, salmon, and hanger steak, but they're done with enough élan—are those purple Peruvian potatoes with my fillet?—to make you glad you didn't attempt it at home for more than you'll pay here.
Kuma Inn
113 Ludlow Street
(212-353-8866)
New York–Born King Phojanakong's "Asian tapas" menu seamlessly fuses the cooking of his Filipino mother and his Thai father with a bunch of tricks he learned under the tutelage of David Bouley and Daniel Boulud, among others. Mom and Pop's influence shows in wonderful dishes like chicken adobo, Chinese sausage with Thai chili sauce, and simple garlic-fried rice. The novel Japanese-Austrian fusion of pan-fried pork tonkatsu sliced into delicate strips and layered over a watercress salad, on the other hand, owes its rich (and decidedly un-Japaneselike) butteriness to the chef's schnitzel days at Danube. This is beautifully presented, exceptionally fresh, highly imaginative food at bargain-basement prices (from $2.50 to $10). A great sake list and the cool second-floor hideaway location make it a real find.
La Maison Du Couscous
484 77th Street, Bay Ridge, Brooklyn
(718-921-2400)
Devoid of the usual "atmospherics," this terrific Moroccan restaurant focuses on the food—succulent tagines and fluffy couscous—instead of exotic décor and shimmying entertainment. Even so, it would take an especially hyperkinetic belly shaker to distract us from juicy kafta sandwiches adorned with garlicky peppers ($5), a flaky, aromatic chicken b'steeya ($8.50), or a fragrant lamb tagine ($8.95), its meat as soft as the plump raisins and prunes it's cooked with. Local expats congregate here for strong coffee and honey-steeped pastries, and if we lived anywhere nearby, so would we.
La Pollada de Laura
102-03 Northern Boulevard, Corona
(718-426-7818)
This Peruvian hole-in-the-wall ups the ante on the rotisserie-chicken competition with a beyond-the-bird menu featuring fresh seafood. Seviche is the specialty of the house: octopus, mussels, crab, shrimp, and conch in various outsize kitchen-sink combinations all get the "cooked"-in-lemon-juice treatment. One of the best is expertly sliced fillet of corvina smothered with red onions and served with a stack of fried calamari ($11). Almost as tasty are the sweetly marinated rotisserie-chicken combos ($4.45 to $22) and fried seafood ($9 to $15).
Le Zoccole
95 Avenue A
(212-260-6660)
The rustic, open-fronted East Village spinoff of Le Zie does the Chelsea original one better as far as bargain dining is concerned: The Venetian-style tapas called cicchetti, already a steal at $15.95 for a massive two-person appetizer assortment, are also served individually at the bar, freeing the fickle diner to pick and choose among delectable morsels like sardines in saor, airy cod mousse, spiced chickpeas, and marinated octopus with celery. Fans of Le Zie's spaghetti and meatballs and truffle-larded macaroni and cheese will be pleased to discover them here as well.