Schnäck
122 Union Street, Carroll Gardens, Brooklyn
(718-855-2879)
Screw Mickey D's. we ought to sue the pants off Alan Harding before we burst another seam. At his kitschy new burger joint, he's created a kind of fantasy-junk-food camp for middle-aged Augustus Gloops. Just look at the evidence: the Schnäckie, Harding's take on the slider. Cute name. Only 1.5 ounces of freshly ground beef on a house-baked minibun. Seems harmless enough, right? Wrong. You'll want twelve, minimum. Need more proof? How about spicy fries, big fat onion rings, eight kinds of hot dogs and kielbasa, and a homemade Orange Julius for chrissakes, and nothing over eight bucks? And Schnäck's Asian-inspired idea of diet food? Crazy-sounding specials like knockwurst and bacon in a Japanese coconut-curry sauce with rice. C'mon. If that's not a class-action lawsuit waiting to happen, we don't know what is.
Sichuan Dynasty
135-32 40th Road, Flushing
(718-961-7500)
The gap in our Sichuan-craving appetite left by the recent closing of Spicy & Tasty has been handily filled by this equally fiery six-month-old Sichuan kitchen, where the $16.95 "family dinner" buys three choices from a 59-item menu—plenty for two to share, with leftovers. Pick and choose from the familiar (an estimable kung pao chicken) and the obscure (kidney with sesame oil), and splurge on the à la carte double-cooked pork ($9.95). And the setting, with its glossy Marimekko-ish tabletops, comfortable booths, and mezzanine bar stocked with California wines, is a natty notch above the profuse competition.
The Soul Spot
302 Atlantic Avenue, Boerum Hill, Brooklyn
(718-596-9933)
Bare-bones and fluorescent-lit, this place looks like a hundred other storefront steam-table soul-food joints. But something extraordinary must be going on back in the kitchen. Supersavory chicken and dumplings ($7.50) tread a delicious murky brown gravy. Moist meat loaf ($7.95) is slicked with an eerie but tasty candy-apple-red glaze. Nicely seasoned collards actually show signs of life—a refreshing departure from the norm—while sweet, juicy yams pack a cinnamon-sugar punch. And habit-forming coconut cake is worth remaining fully clothed at the beach this summer. No wonder that even late at night, there's a steady stream of customers filing in to ponder their two generous sides.
Soy Luck Club
115 Greenwich Avenue
(212-229-9191)
If you can't see yourself saying "chai tea soy latte," this isn't the place for you. Which is too bad, because the sunny, stylish café isn't only a refuge for the health-minded subset of the laptop-toting, coffee-drinking subculture—it's a source of delicious (but not exclusively) soy-based food and drink. If that's a foreign concept to you, consider pressed bagels with banana, honey, and soynut butter ($4.50), avocado-and-tofu-salad sandwiches ($6.75), and vegan pumpkin-praline tarts you'll want to order for Thanksgiving dinner ($4.75). Turkey, tuna, and curried-chicken salad insinuate their way into the menu, so carnivores won't feel left out.
Taste Good II
53 Bayard Street
(212-513-0818)
The last time we visited Taste Good, the Malaysian restaurant in Elmhurst, we left disappointed, thinking that perhaps they should change the name to something less ambitious, like Taste Okay. Maybe it was an off night for the kitchen or our taste buds, because with the opening of a new Chinatown branch, that name seems charmingly inadequate. If the owners knew how rare it is to find food this vibrantly full-flavored—as exemplified in dishes like tender beef rendang (get it with springy noodles and a side of greens, $4.95), a sizzling platter of ethereally light and fluffy house-made tofu with its delectable ground-pork-and-vegetable gravy ($7.99), and roti telur, a delicate egg-filled Indian pancake to dip in lip-smacking curry ($3.25)—they'd come up with a boastful new name, raise the prices, and open a Park Avenue South location.
That Little Cafe
147 East Houston Street
(212-475-5303)
The fare at this eclectic Lower East Side café ventures way beyond Illy espresso and Ceci-Cela pastries into South American and Middle Eastern territory. The co-chefs are from Israel and Brazil, and so are their recipes for egg-and-vegetable-stuffed bourekas ($6.25) and "Romeo & Juliet" guava-and-cheese panini ($3.50). A front for a catering company, the fifteen-seat café drums up future gigs with enticements like warm panzanella salad with pancetta and poached eggs ($7.95) and prosciutto sandwiches with mascarpone-fig spread ($7.25).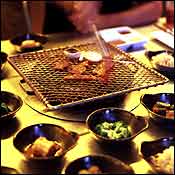 36 Bar and Barbecue
5 West 36th Street
(212-239-5000)
After dining at this modern, industrial-chic Korean barbecue house, you'll emerge smelling as pungently smoky as your dinner. Considering the caliber of black-Angus beef and topnotch seafood that you grill on copper screens over built-in table charcoal pits ($17–$19), that's not necessarily a bad thing (unless you're dating a vegetarian). A contemporary, accessible alternative to the sometimes insular traditional Korean restaurants that populate this neighborhood, 36 is aggressively helpful: Servers mind your bulgogi, lest the sweetly savory marinated beef start to burn, and demonstrate proper sauce-slathering and lettuce-leaf-wrapping technique. Other attractions: nouvelle appetizers like eel tortilla pizza ($9) and a soju bar upstairs.
360
360 Van Brunt Street, Red Hook, Brooklyn
(718-246-0360)
The difficulty of getting to this cozy, off-the-beaten-track bistro is offset by the ease of ordering: The $20 three-course prix fixe changes daily and includes a choice of three appetizers, two entrées, and two desserts. Co-owner Arnaud Erhart patrols the artisan-crafted, vaguely ship-shaped room, recommending mostly organic or biodynamic wines (his particular passion) and scolding scofflaw cell-phone users who violate the house civility code, which also requires reservations and payment in cash for the time being. Irascible interlopers might balk, but the prospect of roasted scallops with leek fondue, a tender paprika-tinged hanger steak, and lighter à la carte bites like oysters and delectable charcuterie will keep you on your best behavior.
Westville
210 West 10th Street
(212-741-7971)
With the soul of a diner cook and the marketing acumen of a gourmet M.B.A., Jay Strauss has carved out a nice niche for himself—an open-air, whitewashed niche that seats eighteen people elbow-to-elbow. Big salads, appealing sandwiches, and several gratifying variations on the burger and frank theme (turkey, vegan, chili-smothered, Hebrew National) satisfy appetites both virtuous and decadent, with enough ingenuity (and a $14 price ceiling) to turn neighbors into regulars. "Westville Market" blackboard specials like tender grilled asparagus and minted feta-and-tomato salad make it easy to eat your vegetables. Which you'll want to do before succumbing to the berry galette, layer cake, or chocolate-chip meringues displayed fetchingly (and strategically) on the counter.
'Wichcraft
49 East 19th Street
(212-780-0577)
From Craft to Craftbar to 'Wichcraft: If Tom Colicchio continues his downward price spiral, he'll soon be operating a souvlaki cart. We won't complain if it's anywhere near as enticing as this stylishly minimalist sandwich shop, with its gleaming lablike kitchen and tantalizing melted-cheese aroma. Breakfast is available all day, or at least breakfast sandwiches are— frittata on ciabatta ($5), for instance, or fried egg and bacon with Gorgonzola ($6). And even though we love the refreshing, fastidiously assembled Sicilian tuna with shaved fennel and lemon ($8), and the tangy grilled Gruyère with caramelized onions on rye ($5.50), not to mention panini-pressed pork loin, coppa, and fontina on crusty country bread ($9), we try to leave room for deftly seasoned soups and side salads. Buttery blueberry scones, irresistible lemon bars and ganache-filled cream'wiches ($1.50 to $2.50), and comfortable mezzanine seating set this sandwich shrine apart from the proliferating panini pack.