Le Quinze
132 West Houston Street, 212-475-1515
Bernard Liberatore, the he-man ex-rugby hunk who helms the kitchen of this lively new bistro named for France's national team, is secure enough in his masculinity to plate his orange-scented duck breast with a custardy prune quiche. Breakfast and lunch menus embrace what bistro-bred New Yorkers have come to expect, with omelettes du jour and croques monsieur, but dinner abounds with flourishes in the form of a treacherously rich porcini-asparagus risotto ccompanying crisp-skinned herb-basted roast hicken; a bed of mint tabbouleh bolstering fried calamari; and creamy vocado rounding out the salty flavor of tuna illettes. Liberatore gets bonus points for creativity—and showing his sensitive side.
Les Enfants Terribles
37 Canal Street, 212-777-7518)
You don't have to be able to pronounce korhogofefemougou to appreciate succulent steak marinated in Ivory Coast spices—just one of the twists chef Abdhul Traore puts on bargain-bistro classics at this Lower East Side lair with a French-colonial feel. Duet of duck pairs a meaty breast with shredded confit. Muqueca, the Brazilian seafood-coconut-milk stew, is loaded with plump shrimp and served with a steaming bowl of white rice. Tropical-tasting cocktails are well balanced and perfectly refreshing, and an unobtrusive D.J. plays captivating world music at neighbor-friendly decibels.
Loreley Restaurant & Biergarten
7 Rivington Street, 212-253-7077
For sticking to the ribs, nothing beats German food. And for pure liquid refreshment, little beats German beer. The twain meet at this rough, rustic beer hall off the Bowery, where the unvarnished pine tables are communal and little more than beer-company umbrellas are planted in the "garden." But the food is the real deal—heaping plates of chicken paprikasch with squiggles of sauce-sopping spaetzle, savory bratwurst from Schaller & Weber charred from the grill and sided with mashed potatoes, sauerkraut, and coarse mustard, and thin-sliced Gouda on dense German rye. You could do wurst.
Marlow & Sons
81 Broadway, Williamsburg, Brooklyn; 718-384-1441
Café by day, raw bar and small-plates restaurant by night, this quirky Williamsburg canteen is the latest venture from the owners of Diner, the American bistro next door. And even though it is ideally situated to absorb Diner's overflow and ply them with retro cocktails and briny oysters, the dimly lit, wood-paneled space has been forging a cozy Mediterranean-accented identity of its own. Locals congregate at communal tables over good olives, delicate tortilla española, and daily specials like wild-leek-and-goat-cheese tart or a sardine sandwich on pizza bianca. If you come across an ingredient you really love, up front is a quasi-organic gourmet general store, stocked by a retail savant.
Mina Foods and Restaurant
48-11 43rd Avenue, Sunnyside; 718-205-6671
We're willing to forgo both style and service when food tastes as uncommonly delicious as it did on our visits to Mina, an unprepossessing room on a generic Queens block where cognoscenti venture for fresh, flavorful Indian fare that's clearly made from scratch. We say clearly, because nothing else accounts for the sometimes interminable waits andoddly staggered pace. Still, given the all-too-often gloppy, indeterminately seasoned alternative, it's a small price to pay for tangy, aromatic samosa chat; moist, mustard-marinated whole fish; and a flavorful chicken tikka masala that will ruin you for all others. Yellow dal fry (a sort of spiced lentil porridge) and baigan achar (oozing eggplant with Indian pickle) are two of the most voluptuous vegetarian dishes around.
Miss Williamsburg Porta Via
228 East 10th Street, 212-228-5355
Joining the ranks of improvisatory electric kitchens, this homespun, simply designed satellite of Brooklyn's popular diner showcases the sort of Italian-mama baked pastas and braised meat and fish that can be cooked without gas. Not that the average diner would ever notice the cook's constraints. Much more conspicuous are the wonderful aromas emanating from the open kitchen: mingled scents of bread baking, cheese melting, and chocolate soufflé doing whatever it does to achieve such a lush consistency. Chef Massimiliano Bartoli is justly famous for his devastatingly rich lasagne, which comes with meat or without, but we're even fonder of his comparatively delicate anelli, ricotta-and-spinach-stuffed crêpes cut into bite-size pieces and stacked in a pool of tangy tomato sauce.
Natchez
31 Second Avenue, 212-460-9171
Just when we thought Paul Prudhomme had blackened redfish into extinction, along comes a slew of New Orleans-inspired restaurants. Natchez, though, with its soft glow, flimsy red banquettes, old tile floor, and tin ceiling, feels like it's been around forever, or at least since the last great wave of Nawlins-style cooking came and went. Chef Shawn Knight's short menu is both Cajun homey and Creole fancy. It's hard to resist a first-rate oyster po' boy—crunchy fried oysters tucked into a toasted roll slicked with piquant remoulade—or a toothsome andouille-and-duck gumbo thickened with dark roux. If you succeed, there are more elaborate dishes like an unctuous short-rib raviolo to contend with.
Quartino
11 Bleecker Street, 212-529-5133
The East Village is full of rough-hewn trattorias. This isn't one of them. With its sleek, uncluttered design and high ceilings, it's as much of an anomaly as its sister restaurant was when it opened near the culinarily challenged South Street Seaport. The menu fetishizes organic ingredients, which the chef combines in simple, exceedingly satisfying preparations: baked spinach with shaved Parmigiano-Reggiano; thin, chewy focaccia under a rich stracchino cheese melt; homemade taglierini with avocado and tomato. The wine list reflects the sustainable-agriculture theme, with plenty of organic or biodynamic bottles.
Roll-N-Roaster
64 Third Avenue, 212-614-2333
The Manhattan branch is still going through a mere one case of Cheez Whiz a day-much catching up to do to the original Brooklyn branch's seven daily cases. That is, if the plodding line at the counter ever picks up. What's taking so long? Tasty cooked-to-order grilled-chicken sandwiches and decent burgers on excellent kaiser rolls made by an old-school Brooklyn bakery (seven to ten minutes, please). The signature roast-beef sandwiches dunked in gravy are even better, not to mention quicker. We like the unironic seventies prefab fast-food look, the fresh-squeezed orangeade, the baked sweet potatoes, and the apple pie, too.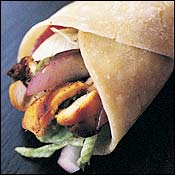 Roomali
97 Lexington Avenue, entrance on 27th Street; 212-679-8900)
In the wake of the horrendous wrap-sandwich craze of the nineties comes the infinitely better Indian way of rolling savory morsels into a round of bread. The Kati Roll Company in the Village spearheaded the movement a couple years ago, but Roomali, a smartly designed counter-service shop in Curry Hill, is a serious new contender. Spicy grilled chicken folded with onion, peppers, cilantro, and a sprinkle of chat masala into a made-to-order griddle-fried roti, one side coated with whipped egg, is superb. Order two at a time, and save a buck.
Sabry's Seafood
24-25 Steinway Street, Astoria; 718-721-9010
Sabry's is Egyptian, like most of its neighbors on Astoria's Cairo corridor, but it feels more like a seafood shack on the coast of Maine—or maybe City Island. Of course, you're not going to get super-puffy pita right out of the oven at Johnny's Reef, never mind the all-important dish of dill-flecked tahini to dip it in. The fish is fresh and the portions generous-all grilled, fried, or baked entrées come with an herb-dappled iceberg-lettuce salad and rice pilaf or fries, which will invariably find their way into that addictive tahini, too. Sabry's tajines aretomato-based, oven-baked stews of calamari or shrimp, and are recommended, as is his whole striped bass seasoned with lemon and cumin, the spice-rack secret to Sabry's success.