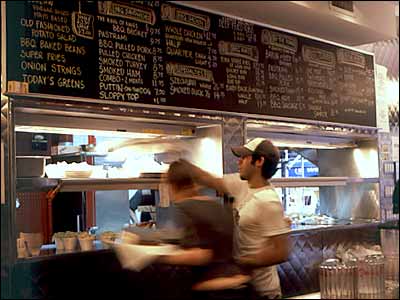 It's an odd thing, this rabid fascination among slick, big-city New Yorkers with the particulars of down-home country barbecue. My own brother, a city slicker to the core, generally demurs when I ask him out to restaurants. But when I called him recently with news that the long-awaited, highly touted barbecue joint RUB (Righteous Urban Barbecue) had opened its doors on 23rd Street, he went slightly berserk. "Where is it, man?" he brayed into his cell phone. "Get in a cab, and let's go!" Other sophisticates had similarly extreme reactions. One book editor, who grew up feasting on barbecue in the wilds of Texas, had already stood in line for 45 minutes to sample the beef brisket at RUB, which she denounced in the most virulent terms. Another magazine editor, an avowed weekend barbecue jockey, declared the dry-rubbed St. Louis–style ribs to be among the best he'd tasted, and when I asked him to lunch to sample them again, he brought along his harried, barbecue-obsessed boss, who'd rearranged his busy schedule for the pleasure.
Much of the excitement surrounding RUB has been generated by its rotund co-owner, Paul Kirk, the self-styled "Kansas City Baron of Barbecue." Kirk is a pit master of national repute, the winner of numerous barbecue awards and competitions (475, according to his Website). His arrival in Manhattan (he consulted on Virgil's in midtown but isn't an owner) is viewed by some members of the city's rabid barbecue community as a significant gastronomic event, on a par, say, with the arrival in town of a great French chef from Alsace or Lyon. Never mind that Kirk doesn't seem to have ever run a real-live barbecue restaurant, or that he commutes on a somewhat haphazard basis to the kitchens of RUB from his home in the suburbs of Kansas City. The signature rubs on the meat are his creation. The Baron also bestowed his blessings on the menu, and oversaw the installation of the three great hickory smokers, as well as the vacuum-powered chimney that rises above them and out into the crowded Manhattan sky.
I never actually glimpsed the Baron on my visits to RUB, although several people swear they've sighted him, propped at the bar in his billowing apron, popping burnt brisket ends into his mouth like bonbons. With or without the Baron, however, RUB exudes the kind of tattered, utilitarian seaminess rarely seen in the tricked-up faux barbecue parlors of New York. The walls are devoid of decoration and painted a light ocher, the color of dried pig's blood. The tables are made of dark beaten wood. The waiters wear monogrammed RUB shirts, and if you ask them for a napkin, they present you with a stack of paper towels. The menu reads like a laundry list of delicious death foods (pork butt, burnt ends, deep-fried ribs, fried Oreos) from the nether regions of red-state America, and these specialties are served in unceremonious heaps on metal pie plates covered in wax paper, garnished only with slices of Wonder Bread and a scattering of pickle chips.
This setup may sound grim to some big-city diners, but to barbecue fanatics, it smells tantalizingly like the real thing. No wonder, then, that RUB is getting bull-rushed most evenings by crowds of barbecue-starved transplants from places like Houston and Memphis, dressed for dinner in their grimy T-shirts and sauce-stained coats. The most popular item on the menu seems to be the Taste of the Baron, a hodgepodge of ribs, chicken, and smoked meats (turkey, ham, pastrami, pulled pork), including a choice of side dishes (good beans, dreary French fries or collard greens, passable cole slaw) served in Styrofoam cups, which costs $45.75. The St. Louis–style pork ribs were nicely smoked the first time I tried them, mildly sticky and caked with a nice spicy rub, and the fried ribs tasted like fried pork, which isn't such a bad thing. The burnt ends (crisp, charred edges of beef brisket) were decent, but the brisket itself was the color of old toast and about as moist. The chicken was properly smoky but empty of chicken flavor. The sausage links were boring, the pulled pork was chunky and flat; the pastrami was good, but the other piles of smoked meat were not.
The quality of this first meal caused some of the barbecue loons at my table to launch into their usual "This isn't like Memphis" lamentations. But then, cooking truckloads of meat to perfection 24 hours a day, six days a week, is a tricky business no matter where you are. A pit boss in Lexington, North Carolina, once told me that his barbecue was fresh only a couple of hours a day, but that his knowledgeable clientele knew his cooking schedule exactly and would always arrive at the appointed time in their Cadillacs and wide-body trucks. That said, the schedule at RUB is clearly still in chaos. The St. Louis and baby back ribs were good the next time I tried them, but the formerly excellent burnt brisket ends were tar-colored and as hard as hockey pucks. A plate of rib tips (the fat end of the pork rib) was mostly fat and gristle, and a unique Baron creation called barbecued Sichuan duck (smoked duck lacquered with hoisin habañero sauce and Sichuan pepper, among other things) was edible only if you avoided the fatty, nearly vulcanized skin.