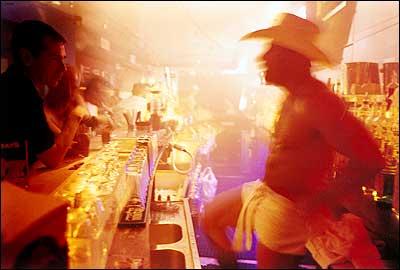 The bar scene at View on Eighth Avenue. (Photo Credit: Edward Keating)
Let's go back to October 22, a warm and clear night in Chelsea. According to Dr. Larry Hitzeman, a colleague of the New York patient's doctor at Cabrini Medical Center, the man had by then negotiated a long courtship with crystal meth. "For five years, he took it one time a month on average," Hitzeman said at the FIT meeting on the case. "He was taking it every weekend for the past two years."
The drug has become endemic among gay and bisexual men in urban meccas. Some users, like a 42-year-old man I have known for more than twenty years, can snort a few bumps every few months without escalation. "In my world, it's an ordinary fixture," he told me recently. "If you go out to big dance parties, late at night, you're probably using a little crystal."
But Crystal, for most, is one of the most dangerously addictive substances around. It is also a powerful disinhibitor, with a remarkable ability to concentrate the attention on sex for hours at a time. Invitations to "party and play," or PNP, are often included in personal ads on sites like Manhunt and Craigslist. A recent survey showed that men taking crystal meth are twice as likely not to use condoms, and this man was no exception.
Among gay men, stories echoing the New York patient's headlong collapse into addiction are commonplace. "It's the most serious problem I'm dealing with," says Dr. Paul Bellman, an AIDS specialist in Manhattan. And with crystal-meth use comes a predictable upsurge in risky behavior—increasingly, people who have avoided HIV for decades are suddenly contracting the virus in middle age. "The way I look at it, Chelsea is like Iraq," says Bellman. "Every day, somebody gets blown up."
On October 22, the patient was still sinking into the drug's grip. He remembers staying up all night and through the next day, thanks to crystal. "He believes this was the night," Dr. Markowitz told a group of AIDS doctors in February. His last HIV test was on May 9, 2003—like four previous tests, it was negative and his immune system tested normal.
His doctors have tended to credit his own theory of when he contracted the virus, in part because two weeks later he suffered severe flulike symptoms, suggestive of what is called acute seroconversion illness. About half the people experience these symptoms following initial exposure to HIV. By mid-December, he was rapidly losing weight, and his fatigue kept him in bed. Concerned, on December 16, he saw his doctor. The news came back almost two weeks later, and it was bad: a massive viral load of 280,000 copies per milliliter, and a near total T-cell obliteration. A normal T-cell count is 700 to 1,200; he had just 80. It meant that just two months after his presumed exposure, he had developed full-blown AIDS.
"This was alarming to me," says Dr. Michael Mullen, the patient's longtime physician, speaking about his patient for the first time. "You wouldn't expect to see that sort of profile in early infection."
On December 29, just before Mullen gave him the terrible news, the patient, assuming he was still negative, picked up a young man in a bar and, according to Markowitz, had insertive anal sex with him, potentially infecting him as well.
Mullen referred his patient to doctors at Aaron Diamond AIDS Research Center, among the most highly regarded facilities in the field. Under the direction of Dr. David Ho, the center has scored some of the most spectacular advances of any AIDS research team. Ho discovered the triple-drug-cocktail approach to treating HIV, credited for turning AIDS from a fatal illness into a chronic disorder, saving tens of thousands of lives. In 1995, nearly 50,000 Americans died of the disease; in 2003, approximately 18,000 succumbed, a fraction of the approximately 850,000 living with HIV. For his efforts, Ho was named Man of the Year by Time in 1996, famously edging out the likes of Bill Clinton and Mother Teresa.
Since then, he has authored a number of important papers on viral replication that have helped shape the field. While there's broad consensus that different viral strains can produce different effects, Ho's focus on the virus as the most important factor in the progression of the disease strikes many as overly narrow. Some doctors say this approach deemphasizes the immunological issues involved, or whether environmental factors, like drug abuse, might be contributing. This has not always been a gentle dispute. A number of years ago, Ho courted fury in the tightly knit field by ordering up lapel pins for his staff that declared, IT'S THE VIRUS, STUPID!
Despite the tensions, Ho is still broadly respected as among the world's best AIDS minds. But more recently, the Aaron Diamond Center has had trouble living up to its reputation. It has quietly changed focus from basic research to vaccine investigation, a field that has not produced promising news in two decades.
To some degree, Ho and his center are victims of their own success. At least among affluent Americans, AIDS is seen as a manageable condition rather than a death sentence. Perhaps as a consequence, funding sources have been going dry. In IRS filings, Aaron Diamond reported $9.4 million in donations and research grants in 2003, the last available year, down dramatically from $20 million in 2000. Ho's compensation package, meanwhile, has gone in the other direction—in the last reported year it was $518,000. With the stipends and consultancy fees from pharmaceutical firms, he is one of the highest-compensated medical researchers in the world.
An unusually large number of researchers have left over the years, many privately citing conflicts with Ho, whom they describe as a poisonous personality with little patience for dissent. In fact, many leading AIDS scientists, while giving him credit for leadership in the field, also criticize him for overplaying his king-of-the-hill standing.