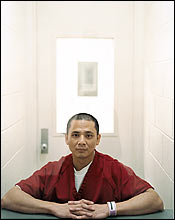 Until the day David Wong was framed for murder, his life was of little interest, even to him. It had been, as Wong would later say, a "stupid" life, "just wandering around like a zombie." By about 14, he'd dropped out of school in his native China. At 18, he was illegally shipped to New York by his worried mother. There, she hoped, his father, a Chinatown restaurant worker, would straighten him out. For a few weeks, Wong's father secured him a bunk in a crowded rooming house (which the son had rights to when no one else claimed it). Then Wong was on his own. He drifted from job to job, making a few friends, though not the right kind. In 1983, at the suggestion of one friend, Wong got involved in an armed robbery. He didn't make it to the scene of the crime—he spoke no English and so had trouble deciphering traffic signs. Still, the police, alerted in advance, found him nearby with a gun in his pocket. Wong never heard from his friend again. And his father, ashamed, shut him out as well. Convicted of armed robbery, he became New York State inmate No. 84-A-5320, sentenced to eight years, and was sent off to Dannemora, a maximum-security prison built into the side of a mountain in upstate New York.
Wong's first years in prison were as uneventful as the rest of his life up to that point. Then, on the afternoon of March 12, 1986, Wong, crew-cut, 135 pounds, stood by himself in the prison yard, reading an out-of-date Chinese newspaper. A light, late-season snow covered the ground. He pulled the hood of his green state-issue sweatshirt over his head against the chill, just like many of the other 600 inmates in the yard that day.
At a few minutes past four, an inmate later said, "a real quietness fell over the whole area." Suddenly, one hooded inmate circled behind another and, as a guard 120 yards away later reported, delivered a blow to the back of his neck with a knife fashioned from a soup ladle. The guard lifted his binoculars and picked out the person he believed to be the culprit. In a prison report, he said the stabber "appeared to be white." Later he'd say the murderer was an "Oriental." There were two "Orientals" in Dannemora. The guard identified the killer as David Wong.
A day or so later, another prison guard summoned an inmate, a convicted forger. Had he seen the stabber? the guard asked.
"Black guy," offered the inmate, who, like the guard, was white. He played the odds. Most inmates were black.
"Wasn't it an Oriental?" The guard showed him Wong's photo.
"Okay, yeah, it was," the inmate said and made a deal to testify against Wong.
Wong was convicted again, this time for murder, one he didn't commit. The year was 1987. Wong was sentenced to 25 years to life, an event, he'd later suggest, that was about to begin his life all over again. The conviction was, as he put it, "a blessing."
A dozen years later, a young attorney named Jaykumar Menon began his first job at the Center for Constitutional Rights on lower Broadway. He stepped over duct tape covering tears in the carpet, pushed through a door bearing an Amadou Diallo poster, and soon put his legal mind, such as it was, to work on the case of David Wong.
An illegal immigrant who drifts from one inconsequential job to another, who commits small-time, even brutish, crimes, attracts little sympathy. But someone wrongly convicted—that person becomes a rallying point, a cause. By then, Wong had become a symbol of a corrupt court system—his appointed translator hadn't even spoken his dialect—and, for some, a convenient place to stash disappointment and anger. In legal circles, his case became notorious—fourteen able lawyers had worked on it over the past decade, including William Kunstler.
Some sympathizers even put Wong on a pedestal; some developed a stake in what they imagined to be his sense of grievance, in what they were sure must be his unhappiness. In the process, inconvenient biographical details got reworked—that armed robbery had been an attempt, it was now occasionally said, to help a wrongly fired friend recoup back wages.
For Menon, Wong didn't have the particularities of a real person; he'd never met him. Menon is a large, mocha-skinned man with a shaggy head of black hair who strikes friends, as one put it, as an "irretrievable dreamer." He aspired, he sometimes said, to lead an interesting life, a cloudy desire that had initially led him to the Internet. Before practicing law, Menon had helped start an Internet marketing company. It was successful, and yet how long could a person seeking an interesting life go on about a terrific new "e-commerce solution"? "I want to do justice," Menon had almost shouted at his interviewer at the Center for Constitutional Rights, before landing the $42,000-a-year job.