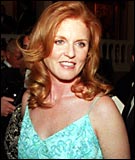 We hear that Universal Television Enterprises has already spent up to $1 million on the production of Sarah Ferguson's upcoming talk show and has filmed only the pilot. An astronomical amount of money, considering that the entire annual production budget for a syndicated show averages about $5 million. Most of the show -- which is supposed to debut in fall 2003 -- is devoted to viewer makeovers. "It's her version of Queen for a Day," cracks our source. "She brings folks in and does makeovers on them -- including mind, body, and spirit!" A rep says that the makeovers are just one part of the show: "It's like a cross between Rosie and Oprah." We've also been told that Fergie demands that she gets put up in the Palace whenever she's in New York on behalf of the show, and if for some reason there's no room at the tony hotel, she gets an extra $500 added to her per diem. The show's rep declined to comment on the show's or Fergie's budget. But one insider isn't surprised: "It's so expensive just to get her around for one day -- with all the security, the hair, the makeup people. It's insane."
Houston: Let's Not Go to the Videotape
Don't look for a video to go along with Whitney Houston's new media-bashing single, "Whatcha Lookin' At?," from her upcoming album. The Grammy-winning diva was supposed to start filming the video last Monday but postponed it until Wednesday. By Thursday, the production was called off entirely. It was to be directed by Dave Meyers, one of the music industry's most in-demand talents, responsible for Enrique Iglesias's steamy "Escape" video with Anna Kournikova, Janet Jackson's "All for You," and Britney Spears's "Lucky," among many others. A rep for Houston confirms the shoot's been canceled and isn't sure whether it will ever be rescheduled: "Arista did not move forward on the video because the album wasn't finished, and they regarded it as more important to finish the album than the video."
Puff Daddy's Crowd Control
Sean "P. Diddy" Combs caused a stir during Mark Baker and Jeffrey Jah's bash at the VIP nightclub in St.-Tropez on August 2 when he showed up with an entourage of 24 (yes, 24!). The Puffster didn't join Donatella Versace and Ivana Trump in the mezzanine, but demanded that the entire main floor be cleared so that his peeps could be near the stage while he put on an impromptu performance. When the mostly French crowd refused to leave, Combs doled out 30 bottles of Cristal for the room and began hopping from table to table while singing "It's All About the Benjamins, Baby." It wasn't long before he won them over, reports an onlooker: "The socialites ended up getting drunk and standing up to dance, so Puffy's people had room to sit."
Ally Hilfiger Is In the House
Ralph Lauren's kids aren't the only designer offspring making names for themselves. Coming up right behind them is Tommy Hilfiger's 17-year-old daughter, Ally. She recently produced Proudly We Served, a $1 million indie film set in WWII, starring Ossie Davis, and now she's producing, directing, writing, editing, and hosting her own show for a local TV station in Nantucket. In the style of MTV's Cribs, the show will feature visits to the island's fab homes, where Ally will receive guided tours from the teenagers who live there. Ally's already told her folks she's not going to college. "They say, 'You're on a good road, you're a creative person, you have a good mind,' " Ally told us. " 'Do what you're comfortable with.' They never went to college, and they're doing okay."
Full Moonves: When CBS president Leslie Moonves ran into Paramount Classics co-president Ruth Vitale recently, she invited him to last week's Gourmet-magazine-hosted premiere of Mostly Martha, a film about a well-known chef who suddenly finds herself taking care of a child after a tragic accident. "But I have to warn you," Vitale said. "It's subtitled." Moonves laughed: "Even though I'm in television, I can read, and I do have an attention span of more than twenty minutes." During the post-premiere party at Union Pacific, Moonves told CBS newswoman Julie Chen and Paramount Classics co-president David Dinerstein, "I got nervous when I heard it was about food and called Mostly Martha."
Lights Out: Carrie Fisher was recently interviewing Jude Law for her Oxygen show, Conversations From the Edge, at the Waldorf when the room went dark. Turns out the crew for Jennifer Lopez's movie The Chambermaid was setting up shots on the same floor and needed more power. A Chambermaid crew member simply unplugged Fisher's set. He refused to give up the outlet, leaving Fisher and Law twiddling their thumbs for half an hour. A few days later, Fisher had more problems when she and her crew were forced to vacate their suite a day early because Secretary of State Colin Powell needed the space for a last-minute meeting.
With Catherine Townsend.