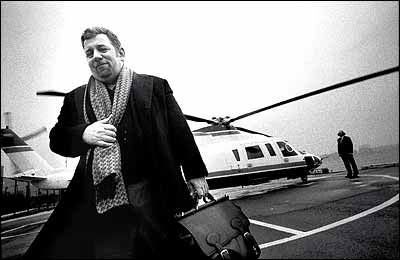 Jim Dolan, at the end of his daily commute from Long Island to the Garden. (Photo credit: Platon)
More than a year ago, the Dolans went down to City Hall to make their case personally to Bloomberg. "We went to visit the mayor, my father and I, we brought with us a deck"—a presentation—"about why we were concerned about a West Side stadium, etc., in the idea that we would talk to him about it and maybe work out something that would be okay for our shareholders," says Dolan. "The mayor was very nice to us and said, 'You need to talk to Dan Doctoroff, he has my proxy on this.' We met with Dan Doctoroff, and Dan Doctoroff basically didn't look at our deck either. He just simply said to us, 'If you give us any trouble, I'm going to take away all your tax abatements.'"
That sent the Dolans home in a fierce mood. Later, under the stands at a Knicks game last spring, Jim tried to have another conversation with the mayor about it. "I told him, look, there's EPA environmental studies to do on this; we don't know the impact," says Dolan. "And he smoked me. He basically rolled me up and smoked me. He said, 'I'm not going to do any of those things. That's not going to stop me. That's all red tape and we're going to cut through all that red tape and this thing is happening whether you like it or not.'"
Was the tone confrontational? "That's almost word for word," says Dolan. "And he said, and this is one of his favorite sayings, 'And you better get onboard.' I know Mike for a long time. And I'm very surprised at this. I've never been able to understand why the mayor is the way he is about it. I think it goes back to his deputy mayor, and it seems like a rather blind loyalty."
By the fall, Cablevision was bankrolling a flurry of ads, tying the $600 million of public investment in the project to subway-fare hikes and shortfalls in education spending. These ads attacked Bloomberg where he is most vulnerable politically, using the examples of hardworking waitresses and firefighters to underscore the message that the billionaire mayor is trampling over the concerns of ordinary people.
It was all-out war; the mayor responded with shots at the Dolans' basketball team and their stewardship of the Garden. Cablevision's ads drew blood, but it wasn't until February, when the company jumped in with its impromptu counteroffer for the stadium site, which is owned by the cash-strapped MTA, that the mayor's plan looked genuinely vulnerable. It was a brilliant tactical maneuver. The offer was for $600 million, a cool half-billion more than the Jets were planning to pay, and rather than a stadium, Cablevision envisioned a vast complex of apartments and offices. Final development proposals were due March 21. Responding to Dolan's recounting of his conversations with the mayor and the deputy mayor, Ed Skyler, the City Hall spokesman, questioned Dolan's version and reacted in harsh terms. "It would be a shame," Skyler says, "if New Yorkers let the person who destroyed the Knicks and Rangers, let Madison Square Garden fall apart, [and] failed at every business venture he has pursued . . . make crucial decisions about this city's economic future."
"As my father's son, I want what my father wants," Jim says. But as a CEO, he has other considerations. "To be honest, I don't have a lot of options."
Meanwhile, there have been whispers that Chuck Dolan is disappointed by his son's behavior and wishes he hadn't gotten so wrapped up in a distracting fight that has little to do with Cablevision's core businesses. But Jim, who has been hearing such talk for most of his career, swiftly counters it. "People would like to think that, but no," he says, adding that on this issue there is actually something of a role reversal. "My father is more outraged by the behavior of the city than I am. He really feels it's very wrong, whereas I'm sort of dealing with it from the more practical point of view."
A major theme of Jim Dolan's life is his recovery from alcoholism and substance abuse. Sober now for twelve years, he candidly describes his mid-thirties as "a festival. It was not a festival of love, it was a festival of self-abuse. Like any other alcoholic and chemically dependent person, every binge, every event, is a little more than the one before."
"To be honest," he adds, "there are stories that I've heard that may be true, but I don't remember them."
With his father's support, Jim went to the Hazelden clinic in 1993. But his former life won't completely go away. Robert Astarita, who headed Cablevision security for eighteen years until 2002, contends in a 415-page sworn deposition that in the early nineties, before Jim was CEO, he was ordered by Chuck Dolan and John Tatta, a now-deceased co-founder of Cablevision, to search Jim's office and home for drugs. He claims in the deposition that he found some, and it was not long afterward that Jim entered Hazelden.
From the statements in the deposition—if true, and given Jim's subsequent recovery—it is possible to view the search order as the act of a concerned father. But Astarita's deposition also paints a grim picture of life as a Jim Dolan subordinate. "He can treat people like shit," Astarita testified, under questioning from a Cablevision attorney. "All of us, every single one of us, and he gets away with it. And why he gets away with it is because he paid us all a lot of money and we all made a great deal of money at Cablevision . . . All I can think of is him yelling and screaming all the time, all the time not listening to people's opinions, not letting the facts get in the way of his opinions."
Astarita is suing Cablevision to recover $1.5 million in severance he says was unfairly withheld. According to Cablevision, the severance wasn't paid for a very simple reason—Astarita took two television sets and put them in his garage. Astarita acknowledges taking the sets but says he brought them home for safekeeping after layoffs left his department in turmoil.