Intellect (and not money) is the gold thread in Kovner's story. A star student at Harvard who could not finish his doctorate, he redeployed his knowledge of government to make billions in international commodities. Now he lavishes his money on the hurdy-gurdies of influence in Washington.
But again there is his outward manner: self-erasing. His press has been mostly limited to financial journals. "Do you know Bruce Kovner? You should," Fortune asked two years back in an article headlined THE $11 BILLION MAN. Kovner wouldn't talk to the magazine; he has declined all but a couple of interview requests. Notwithstanding a series of grand and public gestures, like his restoration of the Georgian palace on the park where he can toss his socks farther than most people go for the Times and coffee, and his sybarite's love of good restaurants, from Nobu to The Four Seasons (where he showed up a few years ago with Renée Fleming as his date), Kovner has nothing to say publicly. A few years back, he co-signed an op-ed piece on school choice in the Times. The only other statements on which you will find his name are the hundreds of soft-green NO TRESPASSING signs that mark the borders of a sprawling estate in Dutchess County.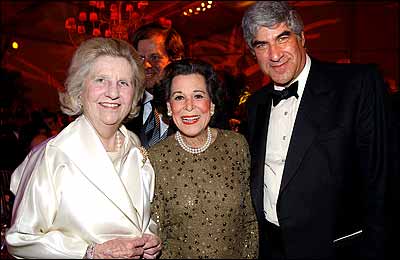 On a day in June, a bunch of workers toiled to make a Gulliver-size berm on the north side of the property, to keep the exotic trees and water features of Kovner's land from the view of the state road. Kovner is very private. Friends use words like secretive, shy, and humble. The editor of The American Enterprise magazine apologizes for mentioning Kovner when he touches on him in an article about the cerebral style of finance. A socialite who encounters him at the opera is surprised by his schlumpy dress and regular-guy mien: "You'd never know he's a jillionaire." "One of his distinguishing characteristics is humility," says Thomas Carroll, president of the Foundation for Education Reform and Accountability. "If you meet him on the street, you would never know who he was. There's no fanfare, no pomposity, no effort to get people's attention."
"Bruce is not the kind of guy who is going to be up on the stage with anybody," says Floyd Flake, the minister and former congressman. "He's more likely to be in the background."
As I discovered. A few days after dropping a letter at the Park Avenue offices of his hedge fund saying that I was writing about him and wanted his help, Kovner sent me a charming e-mail titled "There must be a better topic." The body of the note, which was all in lowercase, contained a hint of flirtation. He had been racking his brains to think of better articles for me. "The 900th piece on The Donald or something about vampy conservative commentators—anyone, pls, but me!"
Neoconservatism's crèche was, famously, the Trotskyite alcove of the City College lunchroom in the forties. Disillusioned by communism, the neocons went to work in academia and at intellectual journals, and then burst onto the American stage in the seventies, when they opposed the idea of any negotiation with the Soviet Union, the evil empire that has given way, over time, to the axis of evil.
Bruce Stanley Kovner was born too late for City College— February 1945—but his own family history recapitulates the arc of the neocons.
Kovner's grandfather Nathan, along with Nathan's brother Benjamin, came to Williamsburg, Brooklyn, from Vilna, Russia, in the early 1900s because they were revolutionary socialists who feared arrest by the czar. "They were atheists. They were fleeing religion as much as they were fleeing the czar," Kovner's cousin Pat Kovner says of her ancestors.
In the only statements Kovner has made about his background, to the Wall Street Journal fourteen years ago, he said that his family was full of socialists. The word favored by some of his relatives is communist. Two of his father's cousins were accused of being communists in the labor movement and were called before the House Un-American Activities Committee in the fifties. Both pleaded the Fifth. Pat Kovner, the daughter of one of them (Julius), remembers, "It was a terrible time of repression and people losing their jobs and being humiliated in public. People were frightened to death." A few weeks after Congress accused Bruce Kovner's cousin once removed, Fay Kovner Mukes, of heading the "Hollywood Communist Club," her lawyer flew out to represent the Rosenbergs in their last-minute appeals before the Supreme Court, shortly before they were executed in June 1953.
In that year, too, Bruce Kovner's father, Isidore "Moishe" Kovner, a union mechanical engineer, moved his wife, Sophie, and four children from Brooklyn to the working-class community of the San Fernando Valley. Moishe is said to have been more conservative than his communist cousins. He crossed a picket line to work in an aircraft factory during World War II. "He was visiting at [his cousin] Julius's house, and when Julius found out he was a scab, he threw him out and said, 'I want nothing to do with you,' " says cousin Fay. "It was the time of 'Which side are you on?' " Pat Kovner says.