The Kovners were big, physical men. Moishe Kovner played pro football for a time. Moishe's older brother, Sam, known as "Big Sam," was a player in the Jewish underworld. "Kovner was perspiring freely," the Times reported of a day in 1941 when the police caught him in a midtown hotel and ordered him to open a door. " 'Not me,' he pleaded. 'When that door opens, the Killer'll start shooting.' " Sam pulled a long stretch in Sing Sing—"the only member of the family who went to music school," cousin Abraham Kovner says jokingly.
Notwithstanding the colorful lumpen activities of his father's generation, Bruce Kovner was to join that great Jewish migration we call the meritocracy. He became a Cub Scout, later a Merit scholar. At 15, he was the youngest member of the Van Nuys High School "Knowledge Bowl" team, and at 16, the student-body president. Pictures in the Valley News show a much broader smile than he has today. But he already possessed the nerveless temperament that has served him in finance. He won one game for the Wolfpups basketball team by scoring the last five points, the margin of victory, by shooting five of seven from the free-throw line.
Kovner entered Harvard College in 1962, and former classmates describe him as introverted and thoughtful, but also as a "regular guy" with a good sense of humor, someone who didn't stand out. It was still the fifties culturally. "We wore coats and ties to all meals. Some guys had clip-on ties. We married our girlfriends," says Dr. Gary Chase. "Bruce stuck with the same girl for most of college." Kovner's girl was a Radcliffe classmate, Mary Wissler, a quietly sharp blonde with softly pretty features who was a reporter for the school paper. She ended up marrying Donald Graham, now chairman of the Washington Post Company.
Kovner's picture in his college yearbook shows a striking and powerful face, but Kovner's eyes are dark and abstracted. One friend says he was "lonely." Between his junior and senior years, he had lost his mother, Sophie, at 47—she had hanged herself in the family's Van Nuys house on a Monday morning in August, according to California State vital records—and he was setting out on what would turn out to be ten years of uncertainty and, by his own description, "floating." In that interval, Kovner tried three different fields and failed in all.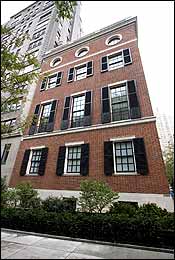 The leading choice, at a time when there were still student deferments from the Vietnam draft, was the academy. At grad school at Harvard, Kovner was the star student of a prominent conservative, Edward C. Banfield, a Harvard professor and father figure whom Kovner has called (in Lois Peltz's book The New Investment Superstars) the biggest influence on his life. A tall and slightly clumsy man wearing outsize horn-rimmed glasses and fiercely devoted to the life of ideas, Banfield had been in Roosevelt's New Deal farm administration, but he became disillusioned with big government. Banfield schooled Kovner in independence and intellectual honesty, he has said. He joined a network that included Daniel Patrick Moynihan and James Q. Wilson. He was a regular at the Banfield farm in Vermont and helped his mentor on what would turn out to be his most famous work, The Unheavenly City (1970), which argues that idealistic government programs can only do so much to help the lower class.
"Ed explicitly or implicitly treated Bruce like he would be a great academic star. Like James Q. Wilson," Samuelson recalls. "It was so obvious that Bruce was not ordinarily bright. And he was articulate. There were people whose thought processes were not organized. This was not true of Bruce. He could see and understand political relationships that would pass right by other people. He was a superstar. I would say to myself, Why can't I be like him?"
Conservative theorists were taken up with the question of whether government planning had any real effect, and Kovner had a sharp idea: to study the role of the Council of Economic Advisers in economic policy-making. "I was puzzled and astonished that he didn't finish his thesis," Samuelson says. "I thought he could throw it off in a couple of weeks." The American Enterprise magazine says Kovner experienced "a fit of writer's block." It would seem that he set impossibly high standards for his work. As he told his Harvard classmates, in a 25th-anniversary report that he wrote with self-lacerating wit, he found that he was a "better consumer of great works than a creator of them."
Other paths also trailed off into dissatisfaction. Kovner worked on political campaigns but found that the "intrigues and dissimulations" of politics were more attractive in theory than in practice. He took courses at the Juilliard school as a harpsichordist and pianist, but his high standards blocked his progress. He was a bad pianist, he has said, a dabbler—a verdict that close friends who have heard him play say is incorrect. He became a music writer. Kovner met Podhoretz while visiting his friend the writer Edward Jay Epstein in the Hamptons, and though Podhoretz, a classical-music aficionado, disagreed with Kovner on the subject of Jascha Heifetz, he hired him as his music critic. Kovner published several "undistinguished but highbrow magazine articles," as he would later say with his perfect pitch for the self-put-down.