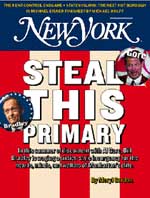 There's blood on Park Avenue this summer, shed in an all-out civil war whose front cuts through East Side duplexes, Hamptons mansions, and Wall Street boardrooms. Husbands are arrayed against wives, close business allies find themselves leading opposing armies, and double agents are playing both sides against the middle. Al Gore and Bill Bradley have come to town, both looking for dollars, and the battle for campaign cash is turning into an all-out Democratic showdown. New York, particularly Wall Street, represents the mother lode for campaign fund-raisers, and no local Democrat with deep pockets will be allowed the luxury of remaining neutral. Iowa and New Hampshire voters will get their VIP treatment later this year, but for now the only primary that matters is the money primary, the earliest skirmish in Campaign 2000. Last week, Gore managed to win -- and simultaneously still lose -- a significant contest when the candidates revealed their first-six-month numbers. The vice-president announced a formidable-sounding $18.2 million campaign war chest. But in politics as on Wall Street, expectations matter far more than raw figures. That's why Bradley, whose candidacy was ridiculed by insiders just a few short months ago, has won a huge psychological victory by pulling in $11.5 million, enough to guarantee a serious challenge. (Of course, they both look like pikers compared with a certain Republican governor from Texas whose six-month score is already well over $36 million!)
To make matters worse for Gore, Bradley seems to be sweeping people off their feet, attracting supporters whose enthusiasm and evangelism make Gore's stalwarts look stodgy. Indeed, Bradley's $7.5 million take over the past three months nearly equals Gore's $9 million.
"I think we're going to surprise a lot of people with the money we've raised," Bradley told a rapt crowd at a fund-raiser at the Harmonie Club last Monday. He compared the early months of the campaign to "playing a basketball game without a scoreboard." Now the world can see he's very much in the game, and that translates into more dollars. "This shows people they're not alone," he told me later. "If they've been intimidated not to give to me, they can have the courage to do it now."
Incredibly, the notoriously unexciting Bradley has become the race's charismatic leader, something that could happen only in a field where Al Gore is the front-runner. Bradley, a former U.S. senator, has even managed to cultivate the image of an insurgent, albeit an embarrassingly safe one. He seems to fill the role of romantic rebel for comfortable boomers who want to relive the rebelliousness of youth, but without shaking things up too much. "There's this underground movement for Bradley, real grassroots pressure," says Gail Koff, an undecided Democrat and founding partner of the law firm Jacoby & Meyers. At the insistent urging of friends, she stopped by the Harmonie Club to hear Bradley's pitch. "I thought I'd be raising money for Gore by now, but I've been pressured by several different people to give Bradley a chance."
The Bradley campaign's upstart, anti-Establishment edge is reminiscent -- at least for Democrats of a certain age -- of 1968, when they went "Clean for Gene," or Teddy Kennedy's roisterous challenge to Jimmy Carter in 1980. An electric fourth-quarter-at-the-Garden magic follows the shambling underdog, even when he isn't saying much at all. And though the Gore campaign can count on the traditional party machinery that's still closely tied to the White House, the Bradleyites are making inroads where it hurts: among the wealthy Manhattan elites who can help finance a nationwide campaign.