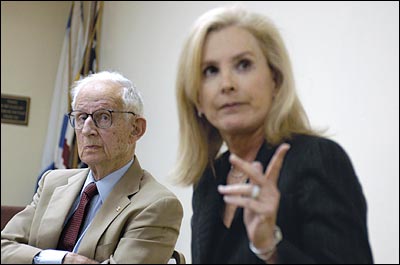 Photo Caption: Robert Morgenthau and Snyder at a NOW-NYC event last month. (Photo Credit: Richard Levine/WireImage)
Judge Snyder's parents were both West End Avenue–bred—and Jewish, however nonobservant. Her father, Lester, the son of a real-estate lawyer, was a French Enlightenment scholar who dropped Krakower for Crocker on his way to a burnished career in academia mainly spent just below the Mason-Dixon Line.
"We were brought up that religion—and I still feel this way—is highly personal and nobody's business," says Snyder, seated behind her messy-busy desk in a corner office at Kasowitz, Benson, Torres & Friedman, where she's been preparing for her run since she stepped down from the bench at the end of 2003.
Lester G. Crocker was an expert on social-contract stuff, the nature of evil: "He was fixated on the Marquis de Sade," Snyder recalls. His wife, Billie, labored as his unpaid assistant. She, too, had some advanced study in French and felt thwarted. One of seven children whose father was a musician born in Warsaw, Billie Danziger had two brothers who would own Luna Park, and Cartier Paris, and produce a handful of feature films (Babes in Bagdad) and scads of cheap detective series for early British TV. Born 30 years later, Billie might have had her own career—and perhaps would have sought a divorce, Snyder speculates. Be independent, do something constructive! she urged her only daughter. She was "the inspiration in my life," says Snyder, still mourning her death last year at the age of 97.
Lester Crocker was a bit old-world, a bit sexist, saving the Diderot discussions for Snyder's older brother (now a mathematician). He disdained the little television set hidden inside a cabinet in the living room, but Friday nights, Leslie was allowed to watch Ralph Bellamy cracking heads in Man Against Crime. "The concept of good triumphing over evil has always fascinated me," says Snyder.
A scholarship student at Baltimore's snotty-rich-kid Bryn Mawr School, she was expected to drop curtsies at her mother's campus salons, where she developed a distaste for intellectual bicep-flexing: "It's great to have an idea, but I like to get to the point, do something about it. I'm impatient that way."
Snyder is assuming some risk in smashing this icon: break a few bones and you might disable a future run. But she's 63—how long can she wait?
Money was tight, but there were vacations in Europe, where her impresario uncles now owned hotels, the Mayfair in London, Monte Carlo's Metropole. A full scholarship took her to Radcliffe at 16, where she studied American history and literature and wore her hair in a Laura Petrie flip. She tried pot. She got engaged to a blond rower. But the relationship fractured—much to her father's irritation ("He really didn't have a lot of tolerance for human frailty," she says), and she bugged out on business school. Dad refused to pay for a school like Yale Law; at Case Western Reserve, where he was now dean of the graduate school, she could attend for free. She was one of only two women in her class.
"There are people who are leaders, and people who are followers. Morgenthau obviously wasn't a leader in this field," she says of the U.S. Attorney's–office snub.
Instead, she interviewed with Frank Hogan, the Manhattan district attorney whose name is usually prefixed by the word legendary. Hogan had just four female attorneys in his employ. He repeatedly asked if Snyder was married. Did he think she was gay, she wondered? "I think if I'd been married, I'm sure I would remember it," she told him. He hired her anyway.
Snyder gently calls Hogan "patriarchal"—at worst, "anachronistic"—even though she was devastated when all the guys who entered the office with her were promoted to trying felonies and she wasn't. Finally, Hogan tossed her some youth cases. Said one judge, "Why don't you go home and have babies? That's where you belong." When she begged to work homicides, Hogan asked for a note from her pediatrician husband, Fred, whom she married in 1968, a little more than a month after they met. "Fred was an extremely smart guy who was mature and didn't have the ego hang-ups like many of the men I knew," she says.
"Leslie, Leslie, Leslie, you should be the next Betty Furness," Frank Hogan would say, nudging her toward consumer affairs. He didn't want her being picked up at 3:30 in the morning by a squad car to go question suspects. After years of this, he relented. These were the most exciting nine years of Leslie Crocker Snyder's life, she says, and why she wants to be district attorney.
Snyder's husband used to call her Siggy (after Freud) because she was always puzzling over people's motivation. Lately, she's been psychoanalyzing Bob Morgenthau: Here is a man horsewhipped by ego. One of those insecures who can't survive without a ginormous office and a cigar in his fist. "I would assume the reason he so desperately wants to stay in office is, it's so much a part of his persona, he can't live without it. Which I think is kind of sad," she says.