The worlds of art, design, and fashion are about to acquire a new meeting place—a juncture where the three come together and, on a good day, ignite. It's down the block from the Dia Center for the Arts in Chelsea, at 542 West 22nd Street, and it opens, appropriately enough (as much as any commercial enterprise can be, it has been conceived as a love letter to its location), on Valentine's Day. It is the Balenciaga store, an intriguing collaboration between the label's designer, Nicolas Ghesquière, and the French artist Dominique Gonzalez-Foerster.
The 5,000-square-foot space—a former garage—will house a grotto, the beginnings of a contemporary-art collection, chairs by Verner Panton and the Memphis Group designer Ettore Sottsass, and fitting rooms based on garden pergolas. There will be a massive skylight, sounds that change as you move around the floor, and a lighting scheme, created by the French designer Benoit Lalloz, that modulates to fill the store with anything from simulated sunshine to the feeling of a rainy day. And on top of all these delights, there will be, of course, Ghesquière's clothing. The new Balenciaga boutique aims, in short, to be a store that is entirely of its time, like Mary Quant's Carnaby Store and Biba, those two famous London boutiques, were in the sixties and seventies, respectively, or like L.A.'s Maxfield was in the eighties.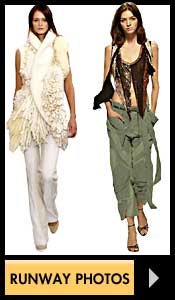 And how surprising that such a twenty-first-century venture should be from Balenciaga—the atelier that, of all ateliers, seemed crystallized in its glorious heyday, so much so that when the great couturier Cristobal Balenciaga ("the greatest dressmaker who ever lived," according to Diana Vreeland) retired in 1968, the famed hostess Mona Bismarck, the story goes, locked herself away in her villa on Capri for three days of mourning. The house was, apparently, dead. Only now it is not only alive but perhaps at its peak. Ask any fashion editor in town. The one show they would not miss this season, and haven't missed any season since 1997, is Balenciaga, and the reason is simple: Nicolas Ghesquière.
Ghesquière is young—31—and impossibly gifted. He grew up in Loudun, a small town in central France, the son of a Belgian golf-course-manager father and a French mother, loved fashion from an early age, and by 14 had gotten an internship at Agnès B. Four years later, he was working for Jean Paul Gaultier, which is also when he first came to New York and fell in love with the city—as well he might. He stayed with a friend in a loft on Lafayette. They went to Indochine and to Beige and, to celebrate New Year's Eve, to a party at Francesco Clemente's Greenwich Village studio.
"Ah," Ghesquière says, his eyes twinkling with pleasure, "I remember it so well. Truffaut's daughter was there. It just seemed the most amazing thing, to be at Clemente's studio with Ewa Truffaut. New York was a big discovery for me then." Back then, of course, Ghesquière was just another beautiful fashion boy who didn't speak all that much English. Now he is the beautiful boy of fashion—and his English is fluent. Last year, Anna Wintour threw the most talked-about party of Fashion Week for him. In October 2000, he was named avant-garde designer of the year at the VHI/Vogue Fashion Awards, and a year later, he was named Womenswear Designer of the Year by the CFDA. He is, according to Suzy Menkes of The International Herald Tribune, "the most intriguing and original designer of his generation," and his fans include Chloë Sevigny ("I worship Balenciaga"), Kate Moss ("I've got so much Balenciaga, but it's never enough"), Nicole Kidman, Charlotte Gainsbourg, and Madonna.
And he effected this transformation simply by working his way up and by producing startling and—mostly—original work. After toiling as a design assistant at Gaultier for two years and doing a stint as a freelance knitwear designer, Ghesquière joined the house of Balenciaga in 1995. He paid his dues working on the Asian market, designing mostly women's golf and mourning clothes. At that time, Balenciaga was owned by Groupe Jacques Bogart, and its head designer was the Belgian Josephus Thimister—until Thimister was fired after his audience walked out on a show that was accompanied by punishingly loud live music by the band Add N to (X). Ghesquière asked for and was given the top job. "I had no idea of a plan," Ghesquière says when asked what it was like, at the age of 26, to be suddenly at center stage, designing Balenciaga's ready-to-wear Le Dix collection. "I wanted to express myself and my designs, yes, but it wasn't like I felt it was my turn. I just wanted a job, actually." He flashes a modest smile.
All the same, for someone who had no plan, Ghesquière seems to have managed his career in a startlingly methodical manner. He has offered a bit of something for everyone: producing, over the years, pencil-thin pants, eighties-style blouson jackets, overalls cut into mini-dresses, pastel-colored combat pants, and skin-toned tops festooned with tassels, yarns, fake-fur tails, and torn ruffles. His friendly and unassuming demeanor is legendary: He is modest and thoughtful, without a single hard or defensive edge. When asked about the furor that ensued last year after one of his designs, a Gladiator-style patchwork vest, was exposed as being a close copy of a vest designed in 1973 by the little-known California designer Kaisik Wong, who died of aids in 1990, he says simply, "Yes, I made a mistake. Now my team and I laugh about it, but at the time I was hurt by some of the things people wrote. But yes, absolutely I made a mistake. It was my fault." And about the not-much-liked dress Jennifer Connelly wore to pick up her Best Supporting Actress Oscar last year, he says: "She loved it, but I had no idea about the rules of Hollywood glamour." He lets out an enormous laugh. "We were making something much more arts-and-crafts."
But while he is as nice as he is reputed to be, perhaps even nicer, this does not mean that he isn't ambitious, or that his vision is only about certain seasonal silhouettes. When the Gucci Group bought Balenciaga in 2001, it was not a case of Domenico De Sole and Tom Ford swooping in and gobbling up the label. They wanted Ghesquière, and because Ghesquière wanted to stay with and expand Balenciaga, they bought him the whole house. "It is a happy relationship," Ghesquière says. "It has worked because they wanted me to explain what I wanted to do with Balenciaga, not the other way around." It makes sense. Ghesquière's collections are ineffably cool and cutting-edge, but they have also had a huge commercial impact—not so much in terms of what he sells (his is a rarefied, high-end designer product) but in terms of his influence on other designers. He's someone the industry watches to see where fashion might go next, and there are very few of those now.