PAPERBACK ROMANCE
She tracks down bad seeds, beatniks, and sassy broads—and Miriam Linna is never beaten to the pulp.

Miriam linna refers to women as "dames" and to rock music as "rock and roll," and just about everything that interests her is classified as "cool." In her converted-classroom apartment, surrounded by shelves and boxes of paperback books with saucy covers and titles like Swamp Lust and A Pound of Flesh, the fifties vernacular begins to make sense. "I've been looking at this stuff for a long time, and nothing looks particularly tawdry to me," she says, picking up one whose cover features a scantily clad, well-proportioned woman draped over a velvet chair. She has about 15,000 books. Linna, a former member of punk band the Cramps who now runs a label called Norton Records, has been collecting vintage paperbacks since she worked at the Strand Book Store in 1976. "They weren't resalable at the time. They went to the quarter table outside, and with the employee discount, they were a dime apiece. It seemed like such a waste." Their throwaway nature poses the biggest challenge for collectors today. "Getting mint-condition copies is tough, because people didn't bother to take care of them. A lot of times the covers are torn off—men hiding the books from their wives." The paperback craze started in 1939, when Pocket Books released The Good Earth, and exploded after World War II. "Today, a lot of collectors specialize in a specific genre: true-crime, crime fiction, sci-fi, hard-boiled," she explains. "I love it all. But right now I'm really into juvenile delinquency. I've got over 500 JDs," she says, pointing out The Young Punks and Hot Rod Angels.

Beyond the thrill of completion—she's got every volume by Avon, Beacon, Signet, and others—Linna gets a kick out of the practical side of her collection: She's read hundreds, maybe thousands, of the books. "Action. Raunchiness. Deceit. Grrrr. It doesn't get any better." -- Tara Mandy

RAREST ITEM Sex Gang, by Paul Merchant (a.k.a. Harlan Ellison).
FIRST ITEM The Amboy Dukes, by Irving Shulman.
DEALER OF CHOICE "Chris Eckoff in Brooklyn, hands down. He shares his knowledge with anyone who cares."
THE ONE THAT GOT AWAY "In 1978, I found a test copy of the first mass-market paperback, The Good Earth. I was erroneously informed that it was a stock copy, and I traded it."
THE HOLY GRAIL A paperback vending machine. "They used to have 'em in the subways. But I've never seen a real one."
DOCTORED PHOTOS
A midtown physician specializes in pictures of (un)health.

'I was a quiz kid, always curious about how the body functions," recalls Stanley B. Burns, a 64-year-old ophthalmologist who lives and works in a Murray Hill brownstone where, naturally, the walls are dotted with optical gear and images of eye maladies. But how about the portrait of a woman with legs swollen from elephantiasis? The photo of a guy with horns growing from his face? Burns, who has dark hair pulled into a ponytail and intense blue eyes, is fascinated by medical history. He owns more than 50,000 photographs, from instructional material to images of medical anomalies, ghastly wounds, and freakish malformations. If one includes his other interests (Judaica, African-Americana, travel), his collection tops 700,000 pieces. Fortunately for him, family members share his instinct: His wife, Sara, collects wedding pictures and images of dogs and children—"the lighter side of life," as he puts it. His daughter Elizabeth is his full-time collaborator.

His favorites are the unexpectedly peaceful postmortem photographs of children, posed as if napping, that were often commissioned by grieving parents; he's compiled these into a series of books titled Sleeping Beauty. Publishers regularly borrow from the online Burns Archive, and he's just opened a gallery. It's all cut into his practice enough that he sees patients just two days a week.

Precious as they are (daguerreotypes he bought for $300 can now cost $30,000 each), many leave his collection nearly as quickly as they're acquired, as they're donated to museums and universities. "When you contribute to an exhibition, it draws people in," Burns reasons. "Every time I've given something really important, more stuff comes back to me. I'm the Johnny Appleseed of photography."-- Betsy Goldberg

FIRST ITEM A daguerreotype of a South American Indian with a tumor of the jaw.
MOST VALUABLE ITEM A May 1848 daguerreotype of the freeing of the slaves in the French colonies.
THE ONE THAT GOT AWAY "A series of police identification photographs by Bertillon. I lost them in 1993 when I said I'd think about it, and it never showed up again."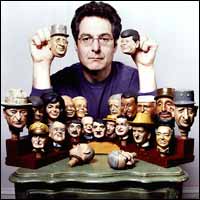 ALL THE WAY WITH JFK
For Randy Ostrow, the Cold War is hot stuff.

At a Hartsdale store in 1961, Randy Ostrow dropped a penny into a machine and pulled out a plastic case holding two tiny rubber skeletons topped with the heads of Nikita Khrushchev and Fidel Castro. "I couldn't have been more than 6," says Ostrow, displaying them in his palm. "I remember thinking even then, This is sick." And a bizarre habit was born.

Ostrow's most recent obsession involves a line of Cold War–era German bottle stoppers, sculpted like the heads of figures from Adolf Hitler to Jackie Kennedy. But his big collection (numbering "in the low thousands") consists of John F. Kennedy memorabilia, ranging from valuable Wedgwood to a cheap painted bust that looks a lot more like Teddy.

More than twenty years ago, in his MacDougal Street apartment, Ostrow turned a breakfront into a JFK shrine, with accompanying figurines of Boo Berry and the Pillsbury Doughboy. "I had somebody rig up a fan so that when you turned the lights on, it made two American flags wave. It looked like something that a 22-year-old with too much time on his hands might do."

Five years ago, Ostrow's growing family forced him to give up that apartment—crammed with fifties telephones and Camelot kitsch—in favor of spacious Brooklyn digs. (The old space was "a little scary," his wife confides.) Most of his stuff is now in storage. Still, Ostrow can't help trawling eBay. "Genetically, I'm a victim of this collecting disease that my father passed on to me," Ostrow says.

Dad collected Remington woodcuts, terra cotta, and bronzes by Rodin teacher Antoine Louis Barye. "There's a big difference between an ugly chalk sculpture of JFK and a Barye mountain lion. But I don't know whether the pleasure my father got out of those bronzes was any greater than the pleasure I get out of my JFK dolls." -- Boris Kachka

TOUGHEST FIND A two-faced ("Janus") Khrushchev head. "By the time someone came up with it, I had ceased believing it existed—and I'd actually seen a picture of it."
DREAM ITEM An Orson Welles stopper, or the Patrice Lumumba. "But I'd settle for the Charles Laughton, or George Bernard Shaw."