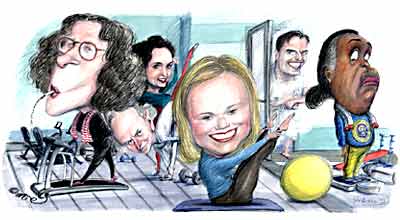 CAROLINE RHEA, 38
TV host
ROUTINE: "I am obsessed with Pilates. I go three times a week. I feel it strengthens you as a woman."
MOTIVATION: "I was like, Okay, I'm about to take over from one of the most beloved people in America. I need a really strong core."
DIET: "I have been on a diet for 26 years. I'm Canadian with winter-hibernating eating habits. I don't want to eat animals anymore, but I can't think of enough protein sources as it is. I have to embrace my carbohydrates in a loving way."
LIKES: "Waist and cleavage."
DISLIKES: My chin fat and my back fat are rent-stabilized. They call each other every night and go, 'Don't worry, she's never going to raise the metabolism. We'll be here forever.' "
ALICE ROI, 26
Designer
ROUTINE: "Obsessive jump-roping. I started at 20 jumps, which was really hard, and now I do 500. It's fun." Also jumping jacks, bicycling, and arm exercises.
TRAINER: Ed Jackowski at Exude. "I only started two months ago. I like that they come and knock on my door every other day. He works with body shape and measurements, which is what people see, rather than weight. Edward's a very excited person. He wasn't like, 'You have to lose weight.' He was like, 'Oh, you have such a nice this and that. You should really show that off!' "
MOTIVATION: "I used to work out all the time, but when I started my business four years ago, I just dropped everything. I gained at least 30 pounds. People were commenting. It was depressing. I tended not to wear my own clothes, because I was embarrassed. They're a little sexy. But for events and stuff, I had to wear my own clothes. I couldn't just wear a big sweater and jeans."
ALEXIS ROCKMAN, 40
Artist
ROUTINE: "I have a terrible back, so I do maintenance every day: 45 minutes to an hour of leg lifts with ankle weights. I even travel with the weights. They've been to South Africa, South America, London, Rome. I'm taking them to Tasmania in January. And I lift weights at NYSC and play basketball three times a week."
VICES: "Marijuana and dessert."
LIKES: : "A part that I can't say."
ANNE HATHWAY, 20
Actress, Nicholas Nickleby
ROUTINE: "I run, power-walk, lift weights three or four times a week. I also go to Jivamukti."
HOLLYWOOD PRESSURE: "I kept thinking I needed to lose weight. Well, actually, I did a TV series, and they kept telling me I needed to lose weight. So I was too thin when I got The Princess Diaries<. That's why [director] Garry Marshall is my hero: He made me eat cheesecake."
ODD HABIT: "When the mood strikes, I drop and do twenty push-ups—at friends' houses, at press events. I just do it all the time!"
KYLE MACLACHLAN, 43
Actor
ROUTINE: "A lot of cardio, plus a mix of free weights and machines at Equinox on Greenwich Avenue. But lately I've been trying the elliptical trainer—easier on my knees."
DIET: "I eat everything. I don't know if it's called a European outlook, but I eat in small quantities."
DISLIKES: "I always wanted my legs to be more defined yet not bigger."
BUFFNESS AS A JOB HAZARD: "For actors, it can get out of control. You can assume the identity of a character that you're doing. Suddenly, you don't look normal."
FRAN LEBOWITZ, 52
Writer
ROUTINE: "I run. I have a cross-country-ski machine. I have a stationary bike. I started this when I was exactly 34 in an effort to keep pace with my smoking. The other option is not breathing. I do it six days a week for 45 minutes, not 46. Because I'm Jewish, I have no endorphins. The only thing I'm happy about is that I'm finished. I also walk everywhere. It's the least annoying way to get around."
HATES: "The incredible boredom. It's not human. Hamsters do this."
PHILOSOPHY: "It's absurd for kids in their twenties to exercise. You don't have to. That's the point of youth."
RUPERT EVERETT, 43
Actor, The Wild Thornberrys Movie
ROUTINE: "I go to the gym and run every day. I swim four times a week."
DIET: I eat a lot. I did once ask at a premiere if they had whole-wheat cotton candy, but, sadly, no."
DREA DE MATTEO, 30
Actress
ROUTINE: "Clay Burwell, my trainer at Crunch on Lafayette, used to be in the Marines, so he yells at me in front of everybody, but we have a lot of fun. Squats, push-ups, jumping rope. I can't do so much cardio because I smoke so much." VICES: "I'm a fast-food junkie. I love McDonald's. I order a Big Mac, six-piece Chicken McNuggets, two cheeseburgers, French fries, and a Coke, plus every dipping sauce. And I'm not lying. I'm down to lighter cigarettes, but now I'm smoking twice as much."
MARCIA KILGORE, 34
Founder, Bliss Spa
ROUTINE: "I'm an example of someone who's gone completely downhill. I grew up in Canada, and I used to be a body-builder. I'd lose all my body fat. When I moved to New York, I was a personal trainer—I'd run ten miles after teaching seven aerobics classes. When I started Bliss, I still fit in the odd six-mile run, then I blew out my knee. I got surgery on my knee last July, then I got pregnant."
GOAL: "To fit in my front door."
DIET: "I can't stop eating—I gained nine pounds in one month."
VICES: "Caramels and Cinnabuns."
DISLIKES: "I have big Polish knees."
TOMMY TUNE, 63
Actor
ROUTINE: Half-hour Bikram-yoga, which he's been doing for 40 years, plus three days a week with trainer Matt Grace. "I do 100 push-ups and 50 jackknife sit-ups and then weights." The two remaining days belong to voice teacher Joan Lader. "She works with the big box, which is your chest and lung region, and the little box, which is your throat and larynx. I tell you, when I finish, I am as physically worked out as from my other training."
DIET: Two meals a day, the first at 2 p.m., the second at 10:30 or 11 p.m. "I do believe the low-carb diet works."
MOTIVATION: "I'm a monk. My religious regime is the theater. It takes a lot to do this. It is blue-collar work; I sweat for a living."
JOHN C. REILLY, 37
Actor, The Hours
ROUTINE: "I love to kayak. Either the East River or the Hudson. I do it regularly. Getting ready for The Perfect Storm, I kayaked every single day to build up my upper-body strength. But before I had kids, I used to exercise a lot more than I do now."
TOM WOLFE, 72
Author
GYM: "New York Sports Club. It's a real stand-up gym, not a cocktail lounge with Cybex machines. So many others have indirect pools of light and sofas, and if you don't come there with a personal trainer, you're a peasant." ROUTINE: "First, 45 minutes of aerobics, either on the bicycle to nowhere, the stairs to nowhere, or the sloopy, as I call the elliptical trainer. Then I do 45 minutes of weights or isometrics. I like dips on parallel bars. Straight push-ups are also terrific. I can do twenty if called upon by my country. " MOTIVATION: "I usually go to the gym in the late afternoon whenever I finish what I've assigned myself to do in writing. I just close up shop like somebody on a factory job. Exercise is a reward." GOAL: "To get and stay supple, at first. Then later on, I thought, Gee, maybe I can look intimidating if I do this. Now it's become like eating. It's just something you do every day." FAVORITE BODY PART: "The gastrocnemius. It's one of the larger muscles in your calves. It's well-proportioned." Body envy: "The one I've admired most was Ken Buchanan. He was the lightweight champion of the world from Scotland, and I watched him at Madison Square Garden. He was the only man I've ever seen who could wear plaid shorts and pull it off. Men shouldn't wear shorts in the first place. The British lost their empire once they started letting colonial officers wear shorts. Who can take orders from a man in shorts?"
DAVID ZINCZENKO, 33
Editor-in-chief, Men's Health
ROUTINE: "Going to the gym 60 to 90 minutes a day. Plus, every day I walk from my house in the West Village to work in midtown. It takes 40 to 45 minutes."
SCHEDULING: "I hate business lunches, so I go for a run with staffers and brainstorm. We'll run in packs based on speed. Some people feign leg injuries to get out of it."
MOTIVATION: "When I was 12 to 14 years old, I was probably about 30 pounds overweight. I didn't like the way I felt, so I did varsity wrestling in high school. It becomes addictive. Now that pressure is always there to be camera-ready."