Rick Sharpell
Relax
Frozen shoulders. Torn hamstrings. Sciatica. The diagnoses that make many a weekend warrior weep are precisely what Sharpell likes to see on his table. His technique, originally based on Swedish and Shiatsu massage, has evolved to become deep-tissue-oriented and orthopedically geared. (He runs the massage program at the Hospital for Special Surgery's Integrative Care Center.) Clients speak of Sharpell's ability to pinpoint a tear an MRI barely registers—and his knowledge of the tiniest of muscles and their attachments. "The muscle is transmitting information, and I'm getting the info from the sensitivity I've developed in my hands," he says. "It's not spiritual. It's functional." His therapy has kept Patrick McEnroe and Michael Kors coming back for years, and since Calvin Klein execs asked him to set up a table at a show in the early nineties, word in the fashion world has spread. $80 per hour. 716 Greenwich Street; 212-206-9714.
Laurie Towers
Physical Advantage
"When you come in here," says Towers, "you're not going to fall asleep on the table." Once a competitive bodybuilder, Towers, who still looks like she could lift a few, gave up the personal-training part of her business thirteen years ago when she realized that massage, a combination of Swedish, Shiatsu, and trigger point, was taking up most of her time. Her clients come in all shapes and sizes, from professional football and hockey players to dancers of both ballet and Chippendales varieties—even opera singers. "The neck is abused in opera," says Towers. At the end of the month, she is opening a Wall Street location; a lot of stress down there. But you don't have to be a pro athlete or a pro stock trader to partake of her hands. "People sitting in front of a computer—what doesn't it affect?" she says. "Neck, wrists, upper back, mid-back, lower back—your entire spine is taking a beating." $85 an hour. 139 East 57th Street; 212-460-1879; physicalknead.com.
Sam Yoon
Acqua Beauty Bar
Sam Yoon looks like a football player with the hands of a pianist—hands that have earned him a following for his soothing and rehabilitative mix of Shiatsu and acupressure. Treating back pain and migraines—with an amazing scalp massage—are his specialties. Part of Yoon's technique is to incorporate a kind of Shiatsu stretch, almost like assisted yoga poses, to increase flexibility and circulation. Treat yourself to a 90-minute appointment, 30 minutes of which are his magical reflexology. $90 an hour. 7 East 14th Street; 212-620-4329; acquabeautybar.com.
Personal Trainers
Christa Bache
David Barton
After teaching children creative movement for years, Bache now tries to unleash that joy of movement in more mature clients. A dark-haired beauty with amazing muscle tone, she started her career as a jazz and modern dancer and expanded her knowledge of the body with a master's in applied physiology from Columbia. "I understood how to move, and I wanted to understand why I was moving,'' she says. Her sessions begin with core strengthening of the abs, back, and pelvic floor muscles, and then she combines weight-training with functional fitness: A row might be paired with a stationary lunge, so that you have to stabilize at the same time you're strengthening. She ends the hour with yoga and assisted stretching. "Classic weight-training is static, but we are not static in our everyday moves,'' she says. She requires a minimum of ten twice-weekly sessions, with an agreement that allows the client full use of the Barton facilities. Sessions are $105 each, or $1,900 for twenty. 213 West 23rd Street; 552 Sixth Avenue, at 15th Street; 646-279-5926.
David Scott Cohen
Excelsior Athletic Club
"There are three things you lose as you get older—strength, flexibility, and balance," says Cohen, whose workout uses a combination of weights, boxing, and an exercise ball to focus on all three areas. Cohen was an illustrator who became fascinated with the human anatomy when he saw Ahnuld in Pumping Iron. He began drawing muscles and bones and then started taking on clients, training them at Excelsior or in their homes. "My goal was to perfect the anatomy on myself or whoever I trained,"' says Cohen, a Vince Vaughn ringer who won the Mr. New York contest in 1991. $100–$120 per session. 301 East 57th Street; 917-696-5916.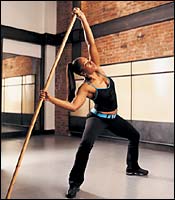 Kacy Duke
Equinox
For Duke, training means working on three levels: the emotional, the spiritual, and the physical. Getting her clients, who include Julianne Moore, Mary J. Blige, and Lenny Kravitz, to tell her about themselves, what they love about their bodies, and what they want to change, is the emotional part. "The spiritual part is the 'I can—believing you can do it," she says, "and the physical is the doing." Pumping and then elongating muscles—for example, a knee lift followed by a back lunge—is her technique. Duke requires two or three sessions a week and is famous for her results, from etching six-packs out of chubby torsos to crafting three dimensions in squishy thighs. She herself is built like the rock-hard dancer that she once was, with a flowing black ponytail à la Madonna circa Truth or Dare. Anyone, she says, can have "Jennifer Aniston arms" or "Ashton Kutcher abs" if he or she goes about the work with the right intentions. "Even if you hate your big butt," she says, "you have to show it love. That's when you get the best results." $175 an hour. Multiple Equinox locations; 917-653-0289.
Ari Weller
Fitness Results
Ari Weller earned his personal-training wisdom the hard way. Ten years ago, he pumped iron and mixed protein-powder shakes and was an incredible hulk—until he tore his rotator cuff, blew out his knee, and suffered a double hernia. His body, he realized, was trying to tell him something. Much like his inspirations Joseph Pilates and Moshe Feldenkrais, he realized, as he healed himself, the necessity of seeing the body as a system. His philosophy of training (he's worked with P. Diddy and model Chandra North, a 20-year-old marathoner and an octogenarian) is not about isolating muscles but about integrating them. Today, Weller is certified in Pilates and Gyrotonic and incorporates yoga, martial arts, and capoeira-style dance moves, as well as weight work, into his sessions. "If you're constantly challenging your muscles in different ways, they never get complacent," he says. "Neither do you." $80–$100 per session. 137 Fifth Avenue, at 20th Street; 917-576-6683; ariweller.com.
Fitness Instructors
Gregg Cook
Equinox
When Cook blew out his knee playing basketball at age 18, he began looking for a type of movement he could pursue without doing further damage. He took up modern dance for eight years, during which time he also started exercising on a mini-trampoline. One day he heard that the trampoline was being used as a new exercise tool, attended a workshop (he was the only guy there), and began developing a group fitness class. Soon he was teaching a hybrid of trampoline and strength training at Crunch, a class that became wildly popular—in part because it's both a full-body and cardiovascular workout, and in part because of Cook's cut physique and boyish good looks. He recently moved to Equinox, where he also is teaching spinning. "I like both of these workouts because they are high intensity and low impact, and you get everything in 45 minutes or an hour,'' he explains. He is now creating a circuit-training class, which will have students moving from one station to the next in intervals of 30 seconds to a minute, alternating between aerobic exercise and core training to increase balance and body awareness and work the stabilizing muscles. Classes are open to members only at multiple Equinox locations; greggcook@hotmail.com.
Elisabeth Halfpapp and Fred Devito
Exhale
Twenty years ago, when feeling the burn in step class was the rage, high-school sweethearts Halfpapp and DeVito were already lengthening and strengthening their clients at Lotte Berk Method. Halfpapp was an accomplished ballerina who answered the studio's ad in the New York Times and got DeVito, a personal trainer and musician, interested, too. They added flexibility and ab work to a ballet regimen, and the results were famous. Spotting Lotte Berk behinds became a cocktail-party game, and many Upper East Side ladies became so addicted to their classes that they'd sign up for three hours in a row. When Halfpapp and DeVito moved to Exhale in 2002, many of those ladies followed, as did Julia Roberts and Mariel Hemingway. Their new class, called Core Fusion, is similar to the old one, and sprinkled with movements from Pilates and poses from yoga. "It's an intelligent class," says Halfpapp. "You're not mindlessly doing 100 reps. You have to be focused, almost in a meditative state." $30 per class. 980 Madison Avenue, at 76th Street; 212-249-3000. 150 Central Park South; 212-561-6405; 212-561-6406.
David Kahn
David Barton Gym
After playing football at Princeton, Kahn found himself at law school at the University of Miami, looking for a way to blow off steam that didn't involve "running into someone with my head." He discovered Krav Maga, the Israeli Army fighting technique, a combination of self-defense and off-the-charts conditioning, and became so obsessed with it that he traveled to Israel to study with grand master Haim Gidon. Kahn has since developed an hourlong class that begins with modified jumping jacks, followed by work to make you nimble on your feet, and then retzef, or continuous, exhausting, explosive motion for a good five minutes. Next come one-on-one play fights with "weapons of opportunity," from rubber knives to cell phones to pocket change. "The idea," says Kahn, "is a seamless transition from defense to an overwhelming offense in response to attack." Kahn has taught James Gandolfini, gym bunnies, NYPD officers, and Amtrak police. Female clients report a rush of confidence from learning how to channel their lower body strength into a punch or an elbow. "Apparently, one girl was practicing on her boyfriend and broke his ribs," Kahn says with a sigh. Classes are free for members; $35 for nonmembers. Kahn's three-hour seminars are $450. 30 East 85th Street, second floor; 212-517-7577.