Look ahead: September | October | November | Memoirs
NOVEMBER
The Feud and Proud
The nasty critical battle over Martin Amis's new book seems like a part of its own plot.
"The Booker Prize is much fetishized, and I think too much attention is paid to it," declares Martin Amis, whose upcoming novel, Yellow Dog, was just long-listed for the award (only one other book of his, 1991's Time's Arrow, has received a nomination). "People like it because it reduces writers to the same level as everyone else. Here they are sweating in their dinner jackets and evening gowns just like any other collection of suckers. It brings them into the swim of things."
Perhaps. But no writer ever turned down Britain's most prestigious literary prize, either. So one suspects that Amis must secretly feel at least a little smug, especially in light of the critical food-fight the novel has provoked.
The book in question is a sprawling satire of British society that closely examines the dirty laundry of everyone from horny tabloid hacks to intellectual authors to His Royal Majesty the King of England—Amis even dedicates a significant bit of attention to an uncooperative corpse. Anyone who cringes at impotence, constipation, and rambling, patchy narrative would do well to steer clear, but admirers of Amis's withering wit will find plenty to sink their teeth into. It's an investigation into "the world of appearances," as he puts it, whether that be a wanker boring holes into a centerfold or the king running spin about a paparazzi shot of his bathing daughter. "I'm also looking at the question of masculinity," Amis goes on. "Male self-image, male desperation, male weakness . . . and male strength."
It makes perfect sense, then, that Yellow Dog has inspired a clashing of mostly male egos both here and abroad. Critics have alternately declared it a work of genius and reviled it as a total failure. Amis claims not to have read the reviews but admits that one critique, that of longtime admirer and Telegraph writer Tibor Fischer, who likened reading Yellow Dog to seeing "your favorite uncle being caught in a school playground, masturbating," did catch his eye. Amis's response? "He was obviously high to write that sort of piece. I think he's even more of a talentless pipsqueak than I did before. " —Sara Cardace
• Details: Yellow Dog, by Martin Amis, November (Miramax Books).
---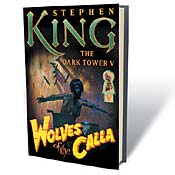 Best of the Rest of November
Genesis, Jim Crace
A hilarious yet revelatory tale of a man whose fertility gets the best of him. (Farrar, Straus & Giroux.)

Queer Street: The Rise And Fall Of An American Culture, 1947–1985, James McCourt
A homosexual history, from Truman Capote to the Christian right. (Norton.)

Wolves Of The Calla, Stephen King
You know what you're gonna get—but you want it anyway. (Scribner.)

By Sorrow's River, Larry Mcmurtry
The final volume of McMurtry's Bohemia-goes-West trilogy. (Simon & Schuster.)

Progress, Fran Lebowitz
More than twenty years after her last published book, here she is again. That's progress? (Knopf.)

Old School, Tobias Wolff
The best-selling author of the memoir This Boy's Life is trying fiction with this first novel. (Knopf.)

The Way To Paradise, Mario Vargas Llosa
A novelized double biography of Paul Gauguin and his half-Peruvian grandmother. Sound postmodern? It's weirder. (Farrar, Straus & Giroux.)

Still Holding, Bruce Wagner
The return of the novelist most often compared to Nathaniel West. (But guess what: He's better.) (Knopf.)

Hello Darkness, Sandra Brown
Texas, talk radio, and a titillating murder mystery. (Simon & Schuster.)

Serious Girls, Maxine Swann
A compelling Swann dive into the psyches of boarding-school girls. (Picador.)