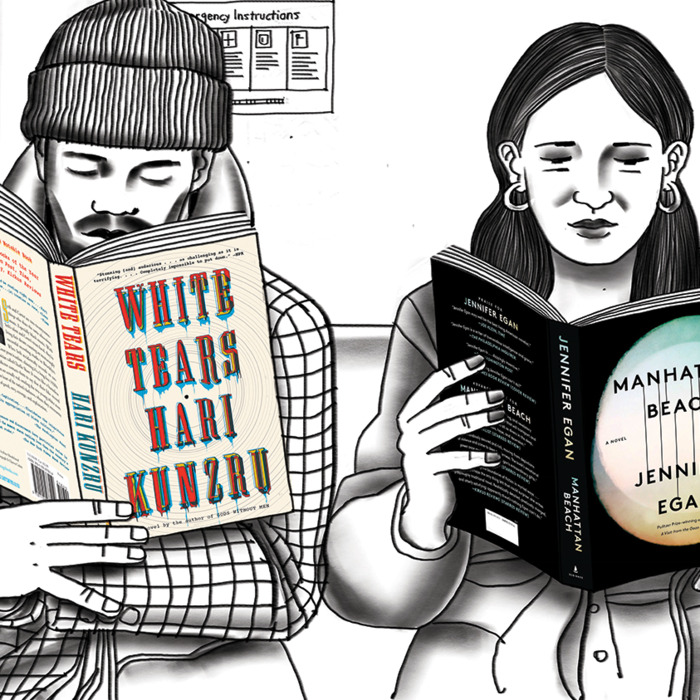 Jorge Colombo's illustration for this year's One Book, One New York campaign.
The New York City Mayor's Office of Media and Entertainment today announced the return of the popular One Book, One New York initiative for its second year, with New York Magazine and Vulture as proud partners. The campaign invites New Yorkers to vote online for one of these five celebrated books, with the winning book chosen for the whole city to read together:
If Beale Street Could Talk by James Baldwin
Manhattan Beach by Jennifer Egan
White Tears by Hari Kunzru
Behold the Dreamers by Imbolo Mbue
When I Was Puerto Rican by Esmeralda Santiago
Working with the Mayor's Office of Media and Entertainment, New York Media created the print and video public-awareness campaign that will run throughout the city on subway ads, flyers, bookmarks distributed at libraries, Taxi TV, and more. The winning One Book author will appear in conversation with an editor at the fifth annual Vulture Festival in May.
New York Media chief creative officer Ian Adelman and associate art director Aaron Garza knew that they wanted to work with an illustrator on the print creative, and after presenting concepts to the Mayor's Office quickly decided on five subway riders, referencing a piece of last year's campaign and immediately relatable to all New Yorkers, with illustrator Jorge Colombo creating the characters. "I hadn't worked with Jorge before, but was very aware of his work and the fact that he's called New York his home for some time now," says Garza (Colombo is originally from Portugal). "Selecting an artist who lives in this city was crucial to being able to accurately portray it — one can't fake New York."
Colombo worked from life to create his illustrations for this project, riding the subways in search of interesting-looking New Yorkers to sketch, which posed a unique challenge: "Having a subject who may run away at the next station makes me work faster." Colombo works with an iPad for his sketches: "I used to draw on sketchbooks but for the past nine years I've been doing all of my work on touchscreens."
"New Yorkers love to read on the subway and the depiction of commuters reading this year's five nominated books captures that perfectly," says Media and Entertainment Commissioner Julie Menin of the campaign that rolls out today across the five boroughs.
New York Media's video department set out to show a sense of community for the video component of the One Book, One New York, campaign, and a mural was one idea brought up in the first creative meeting. Motion-graphics artist Preston Jessee thought about how to make something similar in post-production without having to physically build murals to film. In choosing the locations for the video, "we needed tall, rectangular buildings without too many external features that could allow for the book covers to reveal cleanly," says Jessee.
Video producer Carmen Hilbert says, "We brainstormed possible locations together and then scouted them extensively, biking around and sending pictures to Preston to confirm which buildings would work best." Shooting took place over three days, with all footage except the aerials new for this project.
One Book, One New York has already inspired one book club close to home. "After seeing the great selection of books, I thought it might be nice to start a book club in the office," says New York Media video director Fritzie Andrade. "It's a great way to build community and get to know colleagues while also reading books that might not otherwise be on your radar." The inaugural meeting of the New York Media book club last month discussed Behold the Dreamers by Imbolo Mbue.