Restaurant Reviews
Openings & Buzz
In Season: Weekly Recipe
Underground Gourmet
Ask Gael
Restaurant Roundups
Best of NY Food Picks
Where to Eat 2005
Uptown Delivery Guide
Cheap Eats
Recipe Archive

Restaurant Insider

Weekly e-mail with reviews, recipes, and restaurant news and openings.

Sign Up

Restaurants
The Green Party
Top NYC chef Wylie Dufresne takes us on a tour of the city's premier greenmarket and tells us what to get. Smoked eel, anyone?


BY CHRISTINA NUNEZ

Related Stories

The Union Square greenmarket is also the hunting ground for the talented chef at

Patio Dining

, a new East Village eatery.


Check out our review!

The Union Square Greenmarket is a bit cramped, given the park expansion and water main replacement efforts encroaching on its perimeter. But the market remains a crucial source of top-line ingredients for both amateur and professional cooks. Wylie Dufresne, who made 71 Clinton Fresh Food one of the city's most sought after reservations and who'll open his own restaurant called WD-50 this fall, is a greenmarket veteran who values the relationship between farmer and foodie. "What we do is very similar," he explains. "They produce something with their hands, and we fabricate that into something with our own hands. There's something very honest about that." Dufresne recently took us on a six-stop cook's tour of his favorite Union Square Greenmarket suppliers.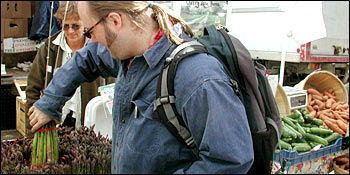 1. Stalking the wild asparagus

Dufresne favors Cherry Lane's stand for asparagus, above, though he'll also check out Heirloom Harvest Farm for "weird, funky stuff" (e.g. golden cauliflower, Japanese mountain yam) and for farmer Dave Size's tomatoes. "The thing about the greenmarket," Dufresne says, "is you have an opportunity to meet a wonderful group of people."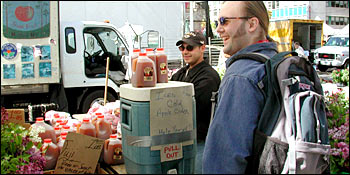 2. Cider savvy
The apples, rhubarb and cider at Locust Grove Farms' stand are terrific, Dufresne says, but mainly, "I come here for my daily abuse from these guys." "He comes here to change his hundred-dollar bills," the vendor cracks.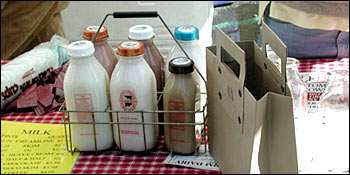 3. Cream of the cream
Dufresne likes Ronnybrook Farms's coffee milk (flavored with coffee and sugar) instead of regular milk in his daily joe, "for that excessive caffeine sugar rush that you need to be a neurotic chef."