A Trip Around the World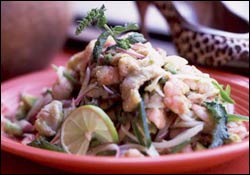 Seafood fiesta: Veracruz-influenced cuisine at Danzón.
If you're still a little shaky when it comes to air travel, but crave a slice of modern Amsterdam, just hop a taxi to Sullivan Street and squeeze into one of the sleek little café chairs at NL. You'll find quirky mounds of risotto laced with sauerkraut on the menu, an authentic sampling of Indonesian-inspired rijsttafel, even a modernist version of Dutch hare stew (hazenpeper) flavored with cloves and slices of roasted pear. In a Latin mood? The Mexican province of Veracruz is Zarela Martinez's latest obsession, although her new restaurant, Danzón, isn't nearly as much fun as Paladar, her son Aaron Sanchez's racy nuevo Latino rendition of the original Zarela uptown. Whenever my globetrotting parents want a taste of Turkey's Mediterranean coast — where they have never been — they make a beeline for the Dalga Seafood Grill, off First Avenue on 62nd Street, to contemplate the restaurant's soothing blue-and-white interior and devour the house seafood bohca (a savory seafood stew baked in phyllo) or platters of fresh grilled anchovies, flown in from the Black Sea. If you want a taste of semi-authentic old Morocco, visit the perpetually doomed restaurant space at 46 Gansevoort, which has recently been reinvented as Zitoune. You'll find a variety of decent tagines (try the veal cheeks, smothered in dates, honey, and almonds) and an alarmingly large (and not at all authentic) beef short rib, infused with lemon confit and cumin and brought to the table in a ceremonial ceramic urn.
NL, 169 Sullivan Street, 212-387-8801
Danzón, 126 East 28th Street, 212-252-1345
Paladar, 161 Ludlow Street, 212-473-3535
Dalga Seafood Grill, 401 East 62nd Street, 212-813-1790
Zitoune, 46 Gansevoort Street, 212-675-5224
The Experience
The Cuisine Types
The Places
---