Cookbook Reviews
Andrea Immer's Wine Buying Guide for Everyone


By Andrea Immer (Broadway; $12.95)
If the exceedingly democratic, user-friendly Andrea Immer's Wine Buying Guide for Everyone reminds you of a certain identically sized, identically priced paperback restaurant guidebook, it's no accident. Immer — Esquire columnist, French Culinary Institute wine dean, and recent James Beard-award winner — would no doubt love to see her new book take its mass-market place next to the Zagat Survey on every bookshelf and checkout counter. To that end, she's pulled together a list of more than 400 top-selling wines around the country and invited her populist tasting panel of wine buyers, servers, and consumers to rate them by taste and value — on a scale of 0 to 30, no less. But we find ourselves more interested in Immer's own opinions, particularly the letter grades she assigns based on the staying power of opened bottles ("Kitchen Fridge and Countertop Survivors") and her own personal recommendations for the "Top 50 Wines You're Not Drinking." After all, she's the expert. Reviewed May 20, 2002.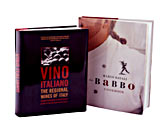 The Babbo Cookbook


By Mario Batali (Clarkson Potter, $40)


Vino Italiano


By Joe Bastianich and David Lynch (Clarkson Potter, $35)
Now that Mario Batali has published The Babbo Cookbook, you too can learn the finer points of turning hog jowls into guanciale, ridding tripe of "the uric smell most people find objectionable," and testing the mettle of your butcher: "The real ones buy whole pigs on occasion and can save a head for a regular customer." To cook well, you must shop well — or, as Batali puts it, "Shop hard and shop smart." And even though there's enough pasta and antipasti to keep vegetarians happy, herbivores are clearly not Batali's target demographic. "Bottom line, find a butcher, make a friend, get your hands dirty, and let's have some dinner." In that case, you'll want wine, and as luck (and a mutual publisher) would have it, Batali's partner Joe Bastianich and Babbo wine director David Lynch have just collaborated on Vino Italiano, a vastly informative, entertaining tome that breaks down the convoluted world of Italian wine by region, with detailed appendices on grape varieties, producers, importers, and retailers (including the Manhattan wine shop co-owned by Batali and Bastianich). With recipes by Batali and Joe's mother, Lidia, this might be the only wine book to ever make you hungry. Reviewed April 22, 2002.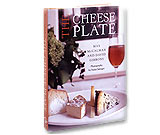 The Cheese Plate


By Max McCalman (Clarkson Potter, $32.50)
In the old dairy days, Kraft and Laughing Cow ruled the supermarket cheese shelf, and "Parmesan" came in a canister. Now, with the burgeoning appetite for handcrafted farmhouse cheeses, we need an expert to guide us through the stinky spectrum of spoiled milk. Who better than Max McCalman, maître fromager at Picholine and Artisanal and outspoken raw-milk advocate? In The Cheese Plate, McCalman reveals how to buy ("If a taste isn't offered, ask for one. If it's refused, leave"), store (when too cold, cheeses are "not dead, they're not ruined, but they're not 100 percent happy"), and taste ("We are a culture that is out of touch with its nose!"). Most helpfully, he assembles plates for every season, wine, and meal, including breakfast. And to dispel the notion that his is a life of glamour and gluttony, he guides us through a typical day, from "reading about cheeses as I ride the subway" to his nightly "six hours of unbroken cheese service." Reviewed March 4, 2002.


Buy It!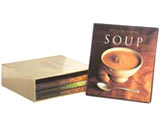 Williams-Sonoma Collection


$16.95 each; $50 for set of four
Sometime last year, the Williams-Sonoma catalog started including recipes in the catalog. Not only were they yummy, they were relatively easy to make (and, of course, conveniently placed on the same page with cookware or accessories required to make them!). Now the company has packaged the recipes into a set of books, à la the James McNair series that was so popular in the '80s. A boxed set includes four books: Salad, Soup, Chicken and Pasta, for $50. — RIMA SUQI Reviewed March 1, 2002.


Available at
Williams-Sonoma
stores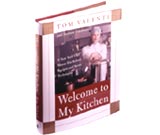 Welcome to My Kitchen
By Tom Valenti (HarperCollins, $29.95)
Tom Valenti has braised and roasted his way from Alison on Dominick to Ouest, serving the sort of hearty, slow-cooked meals you wish you could make at home. Thanks to his new cookbook, you can — while discovering along the way the chef's unabashed passion for iceberg lettuce, white vinegar, Cuban sandwiches, and octopus, not to mention his "love affair with bacon," which he consummates promiscuously throughout the book, in recipes for everything from sea scallops to sweet-pea stew. Along the way, Valenti dispenses helpful hints: Don't skimp on the garlic. Disconnect the smoke detector before attempting the charred-lamb salad. Eat risotto from the outside in. And because "when panfrying soft-shell crabs, things can get a little dangerous," pierce the extremities first with a pin. He presents a convincing argument for making your own stock (in one hour!), and reveals something we'd suspected all along — "all bottled waters are not created equal." He even shares the secret of his signature lamb shanks — the "Free Bird" of his repertoire. If everyone can make them, he must be thinking, maybe he won't have to. Reviewed February 11, 2002.


Buy It!

Da Silvano Cookbook
By Silvano Marchetto (Bloomsbury, $40)
If you've ever wondered just what the hell Silvano Marchetto has been saying the past 26 years, you'll find the Da Silvano Cookbook an invaluable resource. In person, the indefatigable, incomprehensible restaurateur communicates less in words than in effusive actions: Where else would the owner be found kissing your girlfriend (on the lips) to convey something about the difficulty of smuggling a shipment of burrata cheese, plopping down a giant heirloom tomato when you can't fathom what a special appetizer of "aluminum" tomatoes might taste like, or once again engaging your girlfriend in a jiggly dance to celebrate the wobbly nature of his panna cotta? In his book, he lays it all out in plain English, in recipes and anecdotes about everything from panzanella (which he claims to have introduced to New York when he opened in 1975) to pasta (when in doubt, "keep it al dente") to that panna cotta (the long-guarded secret to which turns out to be cooking it twice to make it firmer). And the book is nearly as celebrity-studded as the restaurant, with quotes from the restaurant's guestbook scattered throughout. Our favorite: "Thanks in advance for the free meal!" — STEVE MARTIN Reviewed November 5, 2001.


Buy It!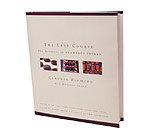 The Last Course
By Claudia Fleming and Melissa Clark (Random House, $40)
There's an unfortunate tendency among modern-day pastry chefs to get carried away, to prize elaborate presentation over simple, straightforward flavor. Not Claudia Fleming, ballet dancer turned James Beard Award-winning pastry chef of Gramercy Tavern, and author, with food writer Melissa Clark, of The Last Course. In her ravishingly illustrated first cookbook, Fleming divides the dessert world into Greenmarket-driven seasonal categories, and thanks her produce purveyors "for getting me the best of the best, every single day." The better the raw materials, after all, the better the nectarine-blueberry cobbler, Concord-grape parfait, or roasted-chestnut-honey pears. But less exalted doughmakers than Fleming also need clear, concise directions, which she provides, along with advice from Gramercy Tavern wine director Paul Greico. And once you master the individual recipes, you can indulge your inner pastry chef in a final chapter on "composed desserts," those multipart compositions that blend textures and temperatures in deliciously uncontrived ways. Reviewed October 15, 2001.


Buy It!
Gael Greene's Picks
I'm reading more and eating less . . . voluptuous cookbooks seem to dim all sorts of cravings. Creamy, crunchy, nutty, and chocolate are my four essential food groups. So the caramelly tarte Grenobloise in Chocolate Desserts by Pierre Hermé (Little, Brown; $40) is cosmically fulfilling. I like the concept of pushy, competitive cookbook writers convening to debate the ultimate lemon curd and other classic indulgences culminating in The Baker's Dozen Cookbook (William Morrow; $40). As for Second Helpings From Union Square Cafe (HarperCollins; $35), it tickles more if you know the cast of characters in the silly snapshots. If not, total immersion in the braised short ribs will do. Mai Pham's Pleasures of the Vietnamese Table (HarperCollins; $27.50) and Zarela's Veracruz (Houghton Mifflin; $35) deliver fantasy voyages as well as phantom calories. The Chefs of the Times in hardcover (St. Martin's Press; $35) is a definite keeper, so I can toss out a tangle of wrinkled clippings. And I hope Santa brings me Julia Child's remastered Mastering the Art of French Cooking (Knopf; $40) to park beside my butter-splotched first edition. — GAEL GREENE Reviewed December 17, 2001.