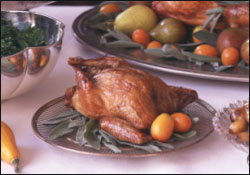 Stuffed Squab

The Chef
EGIDIANA MACCIONI of Le Cirque

Servings
Serves eight.

Ingredients
1 squab
Softened butter
Salt and freshly ground black pepper

Cooking Instructions
Clean the squab, reserving the livers and giblets. Chop the liver and giblets fine, adding them to the same stuffing used for the turkey. Stuff the squab, and tie the legs with string. Rub the bird with melted butter, and season with salt and pepper. Roast in the pan along with the turkey at 400 degrees for 1 hour, basting occasionally.






Photograph by Beatriz Da Costa.