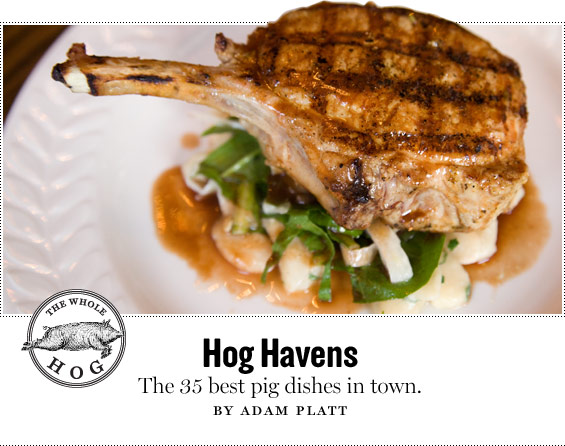 Breeds Apart

How to tell your Mangalitsas from your Ossabaws, and six other heritage varieties.
Splotch and Me

One man's experiment in true farm-to-table dining.
Know Your Pig

Noted porcine enthusiast April Bloomfield provides a nose-to-tail tour.
Unlike some seismic, earth-rattling events, New York's current pig obsession has unfolded slowly. It began in the nineties, as the preoccupation of a handful of pork-loving chefs—Mario Batali, Tom Colicchio, Wayne Nish—who sought out heritage breeds and began preparing the once lowly pig using haute-cuisine techniques. It gained speed during the aughts, thanks to that Johnny Appleseed of the pork movement, David Chang, whose iconic Momofuku creations (pork buns, bo ssäm, etc.) inspired scores of local chefs, diners, and home cooks to join bacon-of-the-month clubs and take butchering classes. Now, thanks to farm-to-table evangelists like Dan Barber and nose-to-tail mavens like April Bloomfield, the city is awash in more inventive, authentic, lip-smackingly delicious pig delicacies than ever. You'll find what our chief restaurant critic, Adam Platt, considers to be the 35 best in the slideshow above.
At the same time we've been wallowing in great pig dishes, the reality of eating pig (a living creature until recently, every last bit of it) has been brought vividly, even unsettlingly close to home. Whole roast suckling pigs are being served all over the place; snouts, tails, trotters, and eyeballs abound. We are being confronted like never before, as they say, with everything but the oink. (There was distinct discomfort among some in our offices on looking at the head-to-hoof pig, pictured here, which, by the way, happens to be the very pig dish Adam Platt calls the finest in New York.) Not that the love of pork and an awareness of its origins are incompatible. The chefs and farmers behind all of this want us to see where our dinner comes from. They aim to reawaken our sense of what's natural, not industrial, and to teach us to honor animals, paradoxically enough, by consuming every morsel of them. To know your food, they say, is to find it more delicious. To test the premise, we dispatched New York's Michael Idov to follow the life and death of a single hog, from an upstate farm to a downtown restaurant table, then consume his profile subject. Can a man meet his dinner and enjoy it, too? Find out in "Splotch and Me."