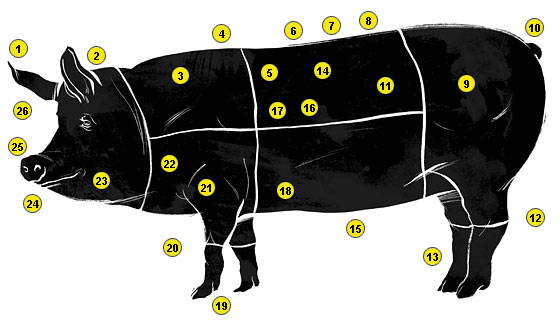 1. Ears

A tough, unctuous body part becomes deliciously crispy when boiled, then fried or roasted. "It's almost like a pork crackling but with more texture because of the cartilage."

2. Head

Mainly used in headcheese, with twice the fat and calories of some other cuts. Bloomfield makes her version by submerging the head, snout, ears, and jowl in a large pot with lots of vinegar, which "cuts through the fat, and just makes it more poppy in the mouth."

3. Pork blade steak and country-style ribs

So named because it encompasses the shoulder blade, the pork blade steak is actually part of the Boston butt. Cut in half, it's called a country-style rib, the meatiest of the rib cuts.

4. Boston butt

Comprising the top half of the shoulder, from just behind the head to the fourth rib, it has a good fat-to-meat ratio, making it ideal for braising. "All that fat—like the rivers of fat running through the meat—keep it moist."

5. Baby-back and spare ribs

The rib cage is often cut lengthwise, with the top section becoming baby-back ribs and the bottom spare ribs. Bloomfield uses lamb ribs, not pork, at the Breslin, but the treatment's the same: dry-rubbed with salt, sugar, and chile and then smoked.

6. Loin

Active muscles like the shoulder and belly have the most flavor, while sedentary ones like the loin are usually blander. This is also where center-cut pork chops come from. "I roast it on the bone to keep it moist, with lots and lots of salt."

7. Tenderloin

This section of muscle running along the lumbar vertebrae has the least fat and is the least flavorful. "I never use it on its own; it goes in my sausages."

8. Sirloin

The back of the loin, or sirloin, has more flavor than the rest of that region. The end of the sirloin, the chump, is Bloomfield's second-favorite cut, after the shoulder.

9. Ham

Though you can make a traditional oven-baked ham out of the ham section of the pig, the two are not synonymous. Butchers know this region as the leg, and chefs will often prepare it as fresh cutlets rather than a cured mound of meat. Bloomfield does it both ways, cured with sugar, salt, spices, and molasses, and beaten into cutlets, mixed with chile and lemon, and grilled.

10. Tail

Intensely delicious when braised and fried, though Bloomfield laments, "In America, they' re never as long and curly as I like them."

11. Leaf lard

The thin layer of fat overlying the tenderloin. "It' s softer than fatback, and more creamy, so it' s really good for rendering. To make a suet pastry with it, you just grind it and toss in with some flour."

12. Bones and scraps

Bones are used in stock. The collagen from knucklebones adds richness and flavor to stews and braises. Extra flaps of muscle can be ground up and tossed into hot dogs or sausage. "We pretty much use everything; nothing goes to waste."

13. Hocks/Shanks

To the pig they're shins, to the butcher hocks. Smoked ones are used in southern specialties like soupy greens; skin off, they' re generally called shanks, which are great for braising.

14. Fatback

Exactly what it sounds like: fat from the pig's back. It' s a go-to component of custom burger blends, although because of fat' s high water content, a patty with too much fatback can shrink considerably on the grill.

15. Stomach

Like blood, stomachs are removed at the slaughterhouse and are rarely available to purchase. They are tough and chewy, and most often braised slowly with an acid, like tomato, to tenderize the meat.

16. Kidney

"They're slightly porky in flavor, and you get a nice smell, kind of caramel-y and sweet. They' re also quite snappy in texture. Along with the liver, they' re probably the funkiest parts."

17. Liver

"It's got a quite intense flavor, with a lot of minerality and great texture—firm and snappy. We put it in our terrines; it makes them more porky, in a tangy kind of way."

18. Belly

Not to be confused with the stomach, the belly is the flesh on the pig' s underside that surrounds the stomach. It' s one of the longest cuts and can be cured to make bacon or cooked fresh as pork belly. " You want a belly that' s got a good meat-to-fat ratio."

19. Feet (trotters)

"There's barely a few nuggets of meat in between the bones," so your best bet is to throw the foot in with a soup. "When all that cartilage breaks down, it adds body to the broth."

20. Blood

Food-safety rules make it hard to find, but Bloomfield has her sources. "It has a warm, earthy flavor; almost puddinglike, quite aromatic."

21. Picnic shoulder

Found behind the head and below the Boston butt, and ending at the fourth rib, this is what Bloomfield dreams of when she dreams of large hunks of pork. "We braise it then pull it off the bone, so you keep the flavor and it gets nice and moist. In this weather, we'd serve it with a steamy polenta, with Parmesan and nutmeg, maybe."

22. Heart

Bloomfield cooks beef rather than pork hearts, but the basic principles are the same. " We take out all the little bits of the ventricles, then butterfly it out and grill it to medium-rare. You have to use a little salt and a little oil because it's got almost no fat." It tastes very porky, yet lean. "As long as you don't overcook it, it's super-tender."

23. Jowl and cheek

In butcherspeak, the jowl is the entire area on the side of the pig's face; the cheek is a muscle nestled behind the pig's jaw. "The jowl is what you make guanciale from; it has a slightly gamy flavor." The cheeks have a stickier texture, becoming silky and soft after lengthy braising.

24. Tongue

It requires slow-cooking for a long time, but the payoff is a different texture from most muscles: "slightly firm but creamy—and a huge, porky flavor."

25. Snout

"It's kind of sticky, gelatinous, and slightly cartilage-y. We did one once at the Spotted Pig; it was confited and then roasted until it got a bit crispy, then drizzled with some lemon vinaigrette."

26. Skin

It can be added to pâtés and sausages or, more commonly, boiled and roasted to make salted cracklings.
Illustrations by Kagan McLeod