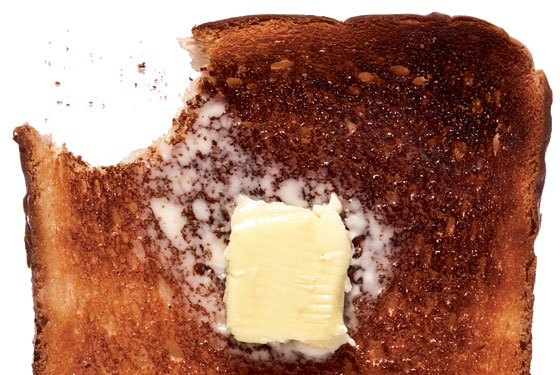 Y
ou may not have even noticed, but we are in the middle of a toast craze. We're not talking about the sumptuous slabs abutting your scrambled eggs, but the sudden plethora of grilled, griddled, or oven-toasted slices exquisitely topped and sent out as ritzy bar snacks, elegant appetizers, or elaborate knife-and-fork affairs at some of the buzziest new restaurants in town.
Bruschetta and crostini are nothing new, true—and browned-bread pioneers like 'ino and Blue Ribbon Bakery Market have been toasting away for years—but New York has officially reached carbo-critical mass. We've got toast menus, toast bars, and toasts of the day. Locavore toasts, Danish toasts, and Texas toast. Today's toasts aren't mere repurposings of leftover loaves. They're scene-stealing conduits for inventive toppings, miniature works of art that turn top-notch bread into blank canvases for inventive chefs. At ABC Kitchen, toast ninja Dan Kluger carves through fifteen loaves of rustic sourdough a day. The new uptown pub Jones Wood Foundry honors the grand British toasting tradition with Marmite and crumpets. And for a bit of theater, you can watch your bread cook in "see-through" toasters at David Burke Kitchen's Treehouse Bar, where jars of toppings come on the side. (We like to think of the woman who greets you there, and sees to your toast, as no mere hostess, but a toastess.) Toast might not be the new sandwich— yet—but it's at least halfway there.
read more [+]
Beyond Bruschetta

Great new toasts are popping up all over.
Toast Like a Pro

ABC Kitchen Chef Dan Kluger's deeply flavorful bread.
The Crunch Heard Round the World

An international glossary.