…Or Maybe Vegetables Are the New Meat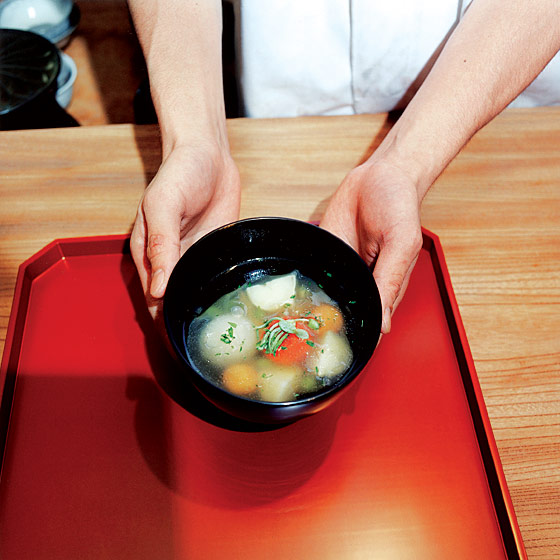 If you're among those who prefer a bowl of brightly colored heirloom carrots to, say, a mallet-size veal chop, don't despair. In the city's most discerning kitchens, vegetables, in all their properly local and seasonal glory, have never been more celebrated. Nowhere is the phenomenon better represented than at John Fraser's Mondays-only $42 vegetable-tasting feast at Dovetail, which, the last time we checked, included pumpkin soup scattered with chestnuts, delicately arranged platters of "autumn tempura," and a little block of "braising-greens lasagne" made with baby carrots and a sprinkling of pine nuts, among other things. Similar plant-based pleasures are available in the chaste East Village vegetable temple Kaijitsu, where I like to repair, whenever I'm feeling bilious or overindulged, to sit in Zen-like silence at the polished wood bar and nibble on the diaphanous specialties of shojin Buddhist cuisine: nibs of tofu carved in the shape of chrysanthemum petals, bits of persimmon touched with sesame cream, and the sticky sweet rice balls called ohagi, which the Michelin-starred chef Masato Nishihara flavors with nutmeg and a hint of citrus.
The last time I dropped into Eataly, the marble-topped bar at the Le Verdure counter was being bull-rushed by assorted food tourists and vegetable geeks clamoring for tastes of the veggie-centric dishes conjured up by vegetable chef Liz Benno. The menu changes with the seasons, but even in the depths of winter you can't go wrong with Benno's elegant Ligurian lasagne laced with a basil-rich pesto, and the towering, beautifully cooked fritto misto, which, on the day I sampled it, was tossed with fresh green beans, segments of baby pink radish, and delicate tempura-coated cauliflower florets.
For the ultimate in nouveau-vegivore cuisine, however, the blue ribbon goes to Jean-Georges Vongerichten. At the multitalented Alsatian chef's new Union Square establishment, ABC Kitchen, he more or less perfects the art of farm-to-table dining. There are meat dishes on the menu here, but the real stars are vegetables like boutique beets (three or four varieties, set over a bed of housemade yogurt), bright-green peas (mashed in an ethereal country-style soup), and fragrant jalapeño-laced Japanese mushrooms, which Vongerichten's executive chef, Dan Kluger, serves on fat, toasty crostini dripped with olive oil. The pizzas are made with whole-wheat dough and scattered with carefully foraged morels, among other things; the ricotta ravioli are dressed with fresh field greens; and when you've finished with your righteous Greenmarket feast, the leftovers aren't dumped on the sidewalk, in garbage bags; they're composted, in proper locavore style, and trucked out to the country, to be planted all over again.