Southern-Fried Brooklyn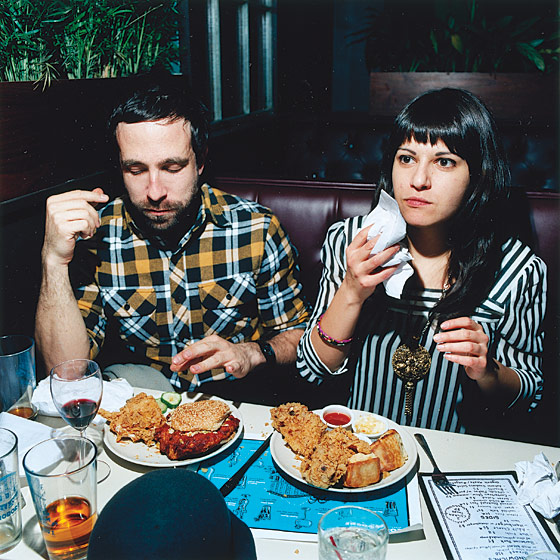 Record numbers of style-conscious Manhattanites are trekking dutifully across the river these days to dine at Brooklyn-style scene restaurants like Vinegar Hill House and Prime Meats. But if you want to know what kind of grub the savvy locals are really obsessed with, join the riotous pack of tattoo artists, musicians, and scruffy backyard pit masters who crowd into Zak Pelaccio's inspired new Asian-fusion barbecue joint, Fatty 'Cue. The best tables at this poky Williamsburg establishment are in the little mezzanine in back, where my daughter Penelope likes to watch the pink Styrofoam pig twirling from the ceiling while taking decorous bites of the excellent heritage-pork ribs, which Pelaccio cooks with a compulsively delicious mix of palm syrup and Vietnamese fish sauce. On Sundays, prizewinning pit master Robbie Richter breaks down an entire hog, smokes it, and serves it, head on, on a platter for $45, complete with steamed rice buns and a supply of latex gloves for proper pork picking.
When I visited, a few weeks back, the new incarnation of Pies-N-Thighs on Driggs Avenue in the shadow of the Williamsburg Bridge, the brightly lit storefront space was so jammed with assorted hipsters and neighborhood southern-food scholars that I had to take delivery of my catfish and the excellent fried-chicken box (three pieces, plus a densely layered biscuit) onto the sidewalk. Southern fried chicken is also the house specialty at the great faux dive bar The Commodore, which opened last May among the increasingly polished, studiously shabby shops along Metropolitan Avenue in Williamsburg. Eleven dollars buys three pieces of golden made-to-order chicken served, in high church-picnic style, with fresh biscuits, a vinegar-based sauce, and a dainty pot of honey-infused butter. Or, if you prefer, try Stephen Tanner's pork du jour special, which, the last time I dropped by, was a football-size Mexican torta stuffed with a pleasingly messy combination of pulled pork, rich crema sauce, and slices of fresh avocado.
My favorite Brooklyn venue for a leisurely, bourbon-soaked midday meal is the great smokehouse Char No. 4, where the lunchtime menu features toasty sandwiches made with slabs of house-smoked brisket, and bowls of steamy New Orleans jambalaya scattered with a credibly spicy facsimile of real Cajun-style andouille sausage. For the ultimate in nouveau southern-fried dining, however, the place knowledgeable chowhounds are flocking to is Robert Newton's new restaurant, Seersucker, which you will find among the hat stores and shabby-chic boutiques on Smith Street. Newton grew up in Arkansas and served time in many of the great kitchens in Manhattan, which means the dumplings in his chicken-and-dumplings recipe have a soft, almost gnocchilike quality to them, and the fried catfish (served with a spicy housemade mayonnaise) has an elevated, tempuralike crunch. The prime time to visit is Tuesday evenings, when Newton lays out his gourmet interpretation of a Tennessee fried-chicken dinner, complete with slices of Wonder bread drizzled with pan drippings, and three crunchy fried pieces of "Bo Bo" fried chicken, which the chef soaks in buttermilk and seasons, in racy urban style, with the faintest hint of Sichuan pepper.