FashionablesMore
By Amy Larocca & Rebecca Ramsey

This summer's little white dresses are all about the bits they're missing.
Best Bets More
Monday 5/20
Friday 5/17
Thursday 5/16
Wednesday 5/15
Tuesday 5/14
Best of NY More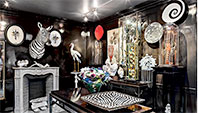 Ecofashion, underground art, pinup dresses, and more.
By Veronica Misako Gledhill

Right here in your backyard.
TrendletsMore
32 Pieces to Pack for a Surfing Getaway

By Diana Tsui

Be it Montauk, the Rockaways, or Malibu, it's finally time to start catching some waves.