TrendletsMore
By Diana Tsui

No better way to dress up a T-shirt and jeans.
Best Bets More
Monday 5/13
Friday 5/10
Thursday 5/9
Wednesday 5/8
Tuesday 5/7
Best of NY More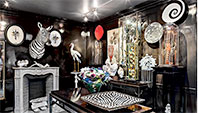 Ecofashion, underground art, pinup dresses, and more.
By Rebecca Ramsey

Easy, breezy pieces you can see right through.
Interior Design
Home Bases

By Jessica Silvester

A trio of new design stores take Manhattan.