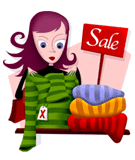 BY AJA MANGUM
Updated every weekday.



New Today



Eve is offering facials and Brazilian waxes for 15 to 30 percent off, $20-$50.
When: Through Friday, March 1. Monday through Friday, 11am-7pm; Saturday and Sunday, 10am-6pm.
Where: 400 Bleecker St., near W. 11th St.; 212-807-8054.




Previously Listed



Albee's sturdy baby furniture from makers like Perego, Evenflo and Child Craft are 20 to 40 percent off, $45-$340.
When: Through Sunday, February 24. Monday through Saturday, 9am-5pm; Thursday, 9am-7pm.
Where: 715 Amsterdam Ave., near 95th St.; 212-662-5740.


Barneys' Warehouse Sale is back! A treasure trove of designer clothing, shoes, accessories, and more is marked down 50 to 70 percent. Don't forget to bring something to read while you wait in line to get in.
When: Through Sunday, March 3. Monday through Friday, 10am-9pm; Saturday and Sunday, 10am-7pm.
Where: 255 W. 17th St., 212-450-8400.
Ted Baker is taking up to 70 percent off all his hip, London-chic men's clothes, $40-$250.
When: Through Sunday, February 24. Monday through Saturday, 11:30am-7pm; Sunday 12pm-6pm.
Where: 107 Grand St., 212-343-8989.


Clea Colet has high-end wedding-gown samples for 50 to 80 percent off, $300-$2,000.
When: Monday, February 18 through Saturday, February 23. By appointment only.
Where: 960 Madison Ave., near 75th St., 2nd fl.; 212-396-4608.


En Soie is taking 50 to 80 percent off its selection of clothing, scarves, and home furnishings.
When: Through Saturday, March 30. Monday through Friday, 10am-6pm; Saturday, 11am-6pm.
Where: 988 Madison Ave., at 77th St.; 212-717-7958.


Mxyplyzyk's lovable gifts, knickknacks, and home furnishings are now 20 percent off.
When: Through Thursday, February 28. Monday through Saturday, 11am-7pm; Sunday, noon-5pm.
Where: 125 Greenwich Ave.; 212-989-4300.


Showroom Seven has samples from hip designers like Petro Zillia, Julia, and Imitation of Christ for up to 60 percent off, $21-$250.
When: Tuesday, February 19 through Friday, March 1. Monday through Friday, 10am-7pm; Saturday, 10am-6pm.
Where: 498 Seventh Ave., near 36th St., 24th fl.; 212-643-4810.


Frédéric Fekkai's taking 75 percent off a selection of his stylish, structured, Provençal-chic handbags and hair accessories, $25-$400.
When: Wednesday, February 20 and Thursday, February 21, 9am-5pm.
Where: 15 E. 57th St., 10th fl.


Mixona's fab lingerie is mostly 50 percent off, $9-$84.
When: Friday, February 22 through Sunday, March 17. Daily, 11am-7:30pm.
Where: 262 Mott St.; 646-613-0100.


Michael's, the Upper East Side consignment shop, is taking an additional up-to-90 percent off the wedding dresses in the bridal department. Prices are all $200. Cash only.
When: Sunday, February 24, noon-5pm.
Where: 1041 Madison Ave., near 79th St., 2nd fl.; 212-737-7273