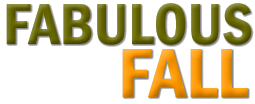 Bursting with energy, New York Fashion Week turned out to be one of the best in a long, long time. Honorable mentions to Calvin, Donna, Michael, Narciso, Ralph, Marc, and Oscar, who, with every American thread, showed us fashion's more relevant than ever. So what if there were fewer celebs and the shows were smaller? The clothes were absolutely fabulous. But don't just take it from us. Listen to the people who were there.
BY MARK HOLGATE AND AMY LAROCCA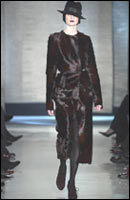 Donna Karan, designer
"I had a message, which was to celebrate New York: the drive and sexiness of the city. Right now, for me, it's really important that the word fun is on everyone's lips. It's about letting loose, having a release, enjoying sensuality. I've really got into dancing lately -- any kind of dancing. It's a great way to feel a release from day-to-day living. After September 11, I think we were all searching for that little piece of nostalgia, and I found it by returning to black. People are always saying to me, 'You always do black, Donna!,' but this time it was different. I mixed the black with brown, the black with blue, added texture to it to enrich it. I used leather, pony skin, double-faced cashmere, and satin, some of which we washed so that they had this soft, worn-already feel to them; they would feel like a favorite sweater. I didn't want anything in the collection that felt too sharp and don't-touch-me."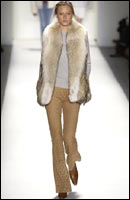 Michael Kors, designer
"One of my clients, who is a shopper of Olympic strength, called me yesterday. She told me that she'd sat at home and had watched my show on Full Frontal Fashion on MetroTV. And I realized that with seating being so limited, a lot of people have been doing the same thing; it's become the car crash of the Upper East Side — you just can't tear your eyes away from it.

"You can talk as much as you like about how people are staying at home more, or that they're spending more time with their families, but the simple fact of the matter is that women still want to look feminine and sexy. And they want things that are practical and indulgent: an anorak lined in sable, jeans hand-stitched, what looks like a straightforward skirt but has been constructed from so many pieces of suede. No woman now shops thinking in trends — It has to be in pink. She knows that there are just a few pieces that she has to have."



Ed Burstell, retailer, Henri Bendel
"It was a terrific week for retailers. There wasn't that element of people trying to go over the top. There were lots of nostalgic, homemade references, things that look like they'd been made by Grandma. I felt that a lot of the younger designers that we sell went to the next level — Matthew Williamson, Luella Bartley, and Alice Roi. Catherine Malandrino evolved her love affair with Americana, Zac Posen has a fantastic exuberance, and Jess Holzworth has a downtown sensibility that's edgy, but she's an original. The flip side to that was the return to wonderful elegance from designers like Ralph [Lauren] and Narciso [Rodriguez]. We're going to sell the hell out of Michael Kors.

"I think people will respond to clothes that look like they have a history to them. People need to make an instant emotional attachment to clothes. One of the highlights of the week for me was Rick Owens. He has this slightly punk, slightly gothic, Hollywood-L.A. sensibility, and he has an amazing ability to fit clothes to the body. The other highlight was the return of Stephen Burrows, who used all this bright, beautiful color for sensual, confident clothes. He feels very relevant again. He designed through the seventies and the eighties before bailing out because of bad business advice. It felt like good karma to have him back."

Behnaz Sarafpour, designer
"I just wanted a very soft, dreamy, romantic look that had a bit of history to it that went with the poetry that I was reading, mostly poems from the 1800s. The main poets that I was interested in have their poems on the pieces. The Emily Dickinson suit is about hope, the Herman Melville long blue dress is about creation of art, and there are two Byron poems on a short, gray georgette dress —- they're embroidered on the hems."


Kal Ruttenstein, retailer, Bloomingdale's


Black was the biggest trend. But layering was big, too; there was more of a feeling of generosity of cut and fabrics, expressed best at Narciso Rodriguez — clothes that skimmed the body, that didn't hug it."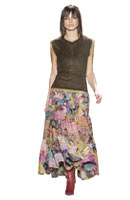 Oscar de la Renta, designer


"Now is not the time to tell the women of New York that they should go out and buy a sweater and skirt. For me, this is exactly the time that people have to dream and fall in love with clothes, that they can lift your morale."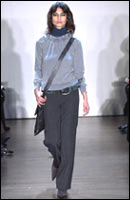 Kenneth Cole, designer
"Last season was our biggest and grandest show to date. This season, it just felt right to bring the show into my office and have the editors enjoy the peaceful and comfortable setting. It is important to convey the message that we need to feel better about ourselves, take care of ourselves, and that it is okay to want to look and feel good."




Linda Wells, editor, Allure
"My feeling is that the clothes have to hit you in the gut, that they have to be so desirable you want to say, 'To hell with the bills.' At Ralph Lauren there was a black denim coat and a black denim jacket that I thought were great; a black shearling vest at Calvin; the leather bomber jacket that opened the show at Balenciaga; and every single coat at Michael Kors. This season, you could go naked and just wear all of the new coats that are out there. I liked the way that there was a feeling of things being a little rough around the edges, that it wasn't about 'I'm dressing up.'

"I was perfectly happy not to hear live bands on the runway, and there were fewer celebrities and that's just fine. I also thought the lack of elevated runways in favor of seeing everything at ground level was interesting; the message seemed to be that fashion wasn't being put on a pedestal."