FALL FASHION 2001 GUIDE
· 15 Fall Obsessions

From Bulgari baubles to Dior cowboy boots.

· A Tale of 8 Cities...

...and the hot fall looks you'll find in each.

· The Muse

Glamorous rocker Chan Marshall is fashion's new It girl.

· The Model

Shalom Harlow sashays onto the big screen.

· The Photographer

The controversial photog behind Gucci has a knack for getting models to strip.

· The Store

Where can Ferragamo go to update its image? SoHo, of course.

STORE SEARCH


1500+ shops: shoes to sofas

NEWSLETTER SIGNUP
15 Magnificent Obsessions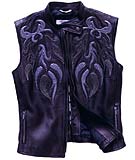 6. The Biker Vest
Say good-bye to puffy vests that make you feel like a marshmallow. This SportMax vest has its roots in Joan Jett and Steven Tyler, with a back-of-a-motorcycle, trash-your-hotel-room vibe. What could be sexier? Pair it with tight, leggy jeans, pointy-toed stiletto heels, and even pointier nails. $1,220 at Max Mara.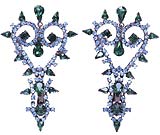 7. Chandelier Earrings
With all the baby-doll dresses and go-go boots that are making this season look like an update of The Mod Squad, Kenneth Jay Lane's outrageous costume jewelry, which he's been producing since the early sixties, should be staging a comeback. His glamourama tiered-and-dropped earrings will make you look like Edie Sedgwick—just add a little kohl around the eyes. $150 at Bergdorf Goodman.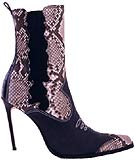 8. Cowboy Boots
You can count on it: Where there's a miniskirt (and you'll be seeing plenty this fall), cowboy boots are not far behind. The combination is just so bad girl. But leave it to John Galliano to keep us from looking like so many Hee Haw extras. The kooky Brit keeps the classic stitching across the toes, but he adds some skin and a wicked stiletto heel. They're enough to make you want to brave a mechanical bull. $500 at Christian Dior.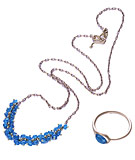 9. Rare Stones

Diamonds are rare, but Paraiba tourmaline is rarer: Not only is it the most luminous shade of green, it's also virtually extinct. David Rees, the owner of TenThousandThings jewelry, gets his from a "crazy Indiana Jones-type guy" who he believes has the only extant piece. "He doesn't even have an address." Rees's stones are of such high quality that they need not be faceted—they catch the light perfectly on their own. Chokers, $2,750 and $5,120, at Barneys New York, Bergdorf Goodman, and TenThousandThings. Ring, $10,400, at Bergdorf Goodman.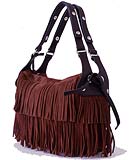 10. Fringe
Who could resist Kate Hudson in Almost Famous: a few parts gypsy, a few parts rock star, a few parts hippie. Hogan's suede-fringed handbag will get you the style (if not the life). It's got everything that's great about a well-made handbag

—

a rich lining, thick leather trim that smells the part

—

and a flavor of Woodstock, too. $640 at Hogan.
Photos: Antonio Achilleos
New York Shops!




Our guide to 1600 of the city's best stores, including a 12-month sales calendar. On sale at newsstands now! To order a copy, call 800-496-7833 ($4.99 plus $2 shipping and handling).




Today's Sales Picks
From designer samples to discounted salon services, we've got the inside info on the best bargains around town—updated every day.

Sign up: We'll send you daily sales alerts!