First Look
On February 15, Resurrection Vintage will reopen with three times the space and enough room for fashion exhibits, art objects, and the full archive collection (45 Great Jones St.).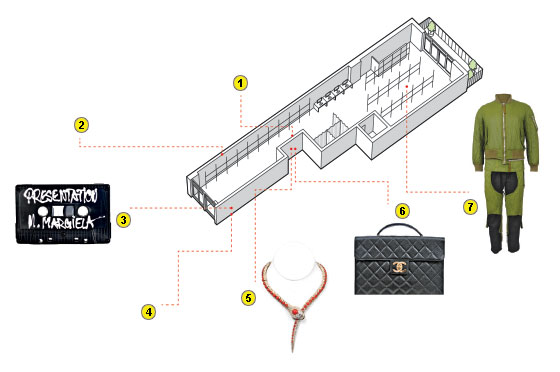 1. Exhibits: A collection of Alexander McQueen runway pieces; Bulgari jewelry and watches from the late 1960s through early '90s.
2. Designer clothes: Yves Saint Laurent purple jersey multitiered gown ($4,800); John Galliano 1985 green plaid wool-and-mohair skirt-and-jacket ensemble (price upon request).
3. Art objects and ephemera: 1920s African ewe men's indigo cloths ($3,200); Margiela presentation cassette tape ($700).
4. Rare books and paper goods: First-edition hardcover of Raf Simons: Redux ($1,500); Harry Gordon's 1968 Allen Ginsberg poetry paper dress ($2,200).
5. Jewelry: Folk artist Joyce Whitaker's 1974 macramé necklace ($5,500); Pierre Cardin silver-metal-and-enamel choker ($3,200).
6. Bags: Chanel black-caviar leather laptop carrier ($3,600).
7. Archive rentals: Alaïa 1991 black bondage gown; Helmut Lang 2003 green metallic flight suit with bomber jacket and matching lace-up pants.
---
2x2: Valentine's Day Toys
More refined takes on the Rabbit.
His
Metal: Swedish-designed 24-karat-gold "Earl," $2,590 at lelo.com.
Glass: Hand-sculpted glass and 22-karat-gold "Ace," by Oro Vidri, $155 at asmileyglass.wix.com.
Hers
Metal: Hand-polished 316-grade stainless-steel "Pure Wand," $120 at amazon.com.
Glass: Handblown glass "Grandfather Clock" with diamonds and rose gold, $15,500 at info@studiocremaster.com.
---
How to Pull Off a Canadian Tuxedo
Advice from iconic Daryl K designer Daryl Kerrigan, who's just teamed up with Madewell for a denim-heavy 19-piece capsule collection launching February 10.
"Keep it monotone — no dark denim shirt with a faded denim pant; it splits the body apart and can make you look shorter. I like wearing a really fitted jacket buttoned up as if it were a shirt, which you can balance out with flared jeans on the bottom rather than skinny ones. It's a tailored, unified look."






---
Side by Side
Two eyewear-centric boutiques offer glamorous alternatives to Warby Parker.
Selima Loves Sucre
9 Christopher St.
Backstory: Relocating from their beloved Bleecker Street clothing shop, owner Selima Salaun and her buyer Candace Mohr now focus on glasses and accessories.
Glasses: Selima Optical circular acetate frames ($360) and Selima's vintage collection, including Dior ski goggles ($650).
Non-Glasses: House of Lafayette wool beanies ($125), gold frog pendants ($1,000), and Lulu Frost 18-karat-gold rings with opals ($1,320).

Atelier Mira
224 Grand St., Williamsburg (early March)
Backstory:
Two French eyewear sellers working in Brooklyn since 1998 open their first storefront, centered on handmade frames.
Glasses:
Anne & Valentin round pink-and-green frames ($520) and Theo Eyewear 24-karat-gold-plated glasses ($930), with all the lenses cut to fit on the premises.
Non-Glasses:
Meo Fusciuni poetry-inspired fragrances (from $150) with plans to add ceramic mugs and leather goods over time.
---
Ask a Shop Clerk
Andrew Deitchman, co-founder of the New Stand, a deluxe newsstand selling golden skateboards and pressed juice by the Union Square L-train stop.
How are the commuters treating you?
"Surprisingly hospitably. We had May Kwok do a magic-hour DJ set in the shop, and people actually stopped to dance. When we first met with our investors, they were like, "You're gonna get robbed blind." Especially since we're selling expensive things, like limited-edition golden skateboards ($241) and one-of-a-kind bags made out of Starter jackets ($400), but we've had almost zero theft. No rats. No dust. No unexpected noise. It would be a bummer if the MTA shuts down the L trains between Manhattan and Brooklyn, but we're already planning on being in ten other locations by then."
---
Top Five
The online marketplace Tictail just went brick-and-mortar (90 Orchard St.). Here, co-founder Carl Waldekranz picks his favorite lentil-inspired textiles and tattooed porcelain from the lot.
"Evan Z. Crane's high-back chair ($1,800) reminds me of traditional Scandinavian furniture, but with plastic detail and animal illustrations."






"The first Tictail brand was actually my mom's business. She prints old-school sailor tattoos over traditional Chinese porcelain ($41)."






"This blanket ($136) is from Swedish designer Simon Key Bertman's collection 'Food.' He generated a pattern based on the main nutritional values of lentils."






"Whenever I have people over for drinks, I'll bring out Saskia Pomeroy's plastic coasters ($30) and it feels like a party."






"I put two of these Ruhling wall hangings ($189) over my bed. I like using textiles on the wall because they reflect and capture light in a cool, unexpected way."