Five years ago, the frumpy Maclaren was New York's dominant stroller and the idea of spending a grand on a carriage was absurd. Then the lightweight, Dutch-designed Frog arrived—for $729—and everything changed. Now, there are more than a dozen baby-mobiles with polymorphic attachments like bassinets and adjustable seat levels. But is aeronautical-grade aluminum really necessary for a trip to Whole Foods? Using the city as an obstacle course and my baby, Ezra, as the tester, I tried nine models in the subway, on the bus, on cobblestones, in crowded grocery stores and narrow stairwells. I loaded in yogurts to check capacity and stuffed each stroller behind my front door to gauge tuckability.
Quinny Buzz
Little Folks, 123 23rd St., nr. Lexington Ave; 212-982-9669
Groovy style and a slick ride, but beware the perilously wide, 25.5-inch rear-wheel spread; good for power walks and park jaunts; not great for doorways or grocery-store aisles. The seat is made of cushy nylon in five grown-up colors.
Accoutrements: Sun canopy, bug net, rain cover.
Specs: *30 pounds. Rated for birth to 50 pounds. Collapses to 39 by 25.5 by 16 inches.
Storage: 7 six-packs of baby yogurt.
Setup & Breakdown: Painless assembly. Much-touted hydraulic fold has a tendency to pop open on its own and makes a jarring cracking noise.
STREET TEST
Pros: Easy to navigate crowded, craggy sidewalks with one hand. Sleeping baby stayed unconscious during cobblestone test and even a hike in woods.
Cons: Clipped a few parking meters with wide rear wheels. Ran over several feet on subway and bus and found climbing stairs unassisted was next to impossible. Nanny grilled at tot lot: "What does your boss do?"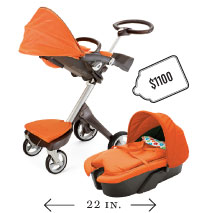 Stokke Xplory
Buy Buy Baby, 270 Seventh Avenue., nr. 25th St.; 917-344-1555
This Norwegian attention-getter is all about the high-altitude seating pod. Instead of being eye-to-eye with exhaust pipes and Weimaraners, the child sits literally on a pedestal. Seat fabric is a machine-washable cotton-poly blend that comes in six colors; the frame is aluminum and automobile-grade plastic.
Accoutrements: The "complete" includes the frame, bassinet, chair, and cute polka- dot blanket. The "basic" doesn't have a bassinet and retails for $900. Both come with rain covers, mosquito net, and shopping bag.
Specs: 28 pounds. Rated for birth to 45 pounds. Collapses to 40 by 22 by 19 inches.
Storage: 11 yogurt six-packs.
Setup & Breakdown: We can't judge the assembly, because the Stokke rep insisted on delivering it pre-built (which made us wonder). Without instructions, which were not supplied, figuring out the collapse required a home visit from another Stokke rep.
STREET TEST
Pros: Being able to see your baby without neck strain. Extremely comfortable hand grip is ideal for one-handed swiveling, making cell-phone conversations much easier.
Cons: Feels rigid on stairs and cobblestones owing to plastic frame. Subway hoist took two friendly strangers; a bus driver refused entry unless stroller was collapsed—couldn't do it.
Dreamer Design/Fisher-Price Infant-to-Toddler
Strollers.com
Squint and it's a Bugaboo. This low-price look-alike has some of the same touches as the European-designed brands for a quarter of the price. You get a reversible seat, a recline lever behind the head rest, and a ton of storage, all in a decent-looking package.
Accoutrements: Sun canopy.
Specs: 21 pounds. Rated for birth to 33 pounds. Collapses to 35 by 26 by 13 inches.
Storage: 15 yogurt six-packs.
Setup & Breakdown: Painless to put together; collapses easily.
STREET TEST
Pros: An excellent deal for the price. An all-around performer with a smooth, if not Bugaboo-league, ride and an effortless one-handed turn. Quick fold and light weight make it one of the best for subways and buses.
Cons: Squeaky sun canopy could wake up baby. Mildly scratchy nylon seat. Wide rear wheels. Design snobs may not like the large logo. Although it's supposed to be in New York stores, it's currently only available on a Website.
Peg-Pérego Skate
Little Folks
The just-released, Italian-designed Skate weighed in nine pounds heavier than the Cameleon and has a shape-shifting pod that starts out as a newborn bassinet and morphs into an infant/toddler seat. It also offers the highest ride next to the Stokke and can collapse with the seat attached.
Accoutrements: Adapters for attaching a Primo Viaggio SIP car seat (not included), cup holder (very welcome and all too rare), rain shield, leg cover, air pump for rear tires.
Specs: 35 pounds. Rated for birth to 45 pounds. Collapses to 36.5 by 23.75 by 20 inches.
Storage: A whopping 16 yogurt six-packs.
Setup & Breakdown: Took three hours and two calls to customer service to assemble; another call to understand how to fold it. No instruction manual in the box or on the Website.
STREET TEST
Pros: Rides like an SUV. The human energy output required means it's great for working off baby weight. Masculine design's a dad-pleaser.
Cons: The weight and wheel width mean that managing subway and apartment stairs without help is basically impossible.